Japanese food has always been and will always be an international favourite 😋 From sushi to bento meals, these Japanese delights have managed to seamlessly make their way into our hearts (and tummy). Not only are Japanese cuisines delicious, most of the time they're freshly-made and healthy too!

With countless halal Japanese restaurants popping up around Singapore, here's a handful of them that's really worth your attention 😉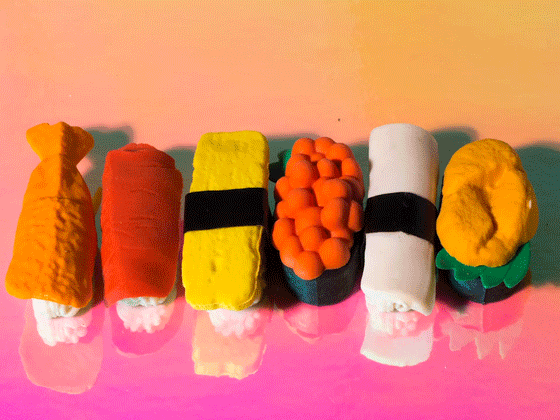 Credit: Giphy
Get exclusive special deals at Singapore's best eateries!
Redeem awesome deals at selected* eateries in Singapore when you sign up on our website! (P.S. it's FREE! ) *Terms and conditions apply.
[P.S If you're a foodie at heart, this ultimate guide to halal food in Singapore will be your dream come true!] 
1. The Ramen Stall
It's everyone's favourite spot in Bugis during a Friday night out! It's no surprise there's always a queue before entering. Being situated in a very popular spot, you and your makan kakis may even drop by The Ramen Stall for supper as they close as late as 5am. With their well thought out interior, you may feel as though you're already in Japan!

Credit: shukrinhenris on Instagram
The Ramen Stall is known for its Japanese cuisines which has been altered to suit the local palate. Dishes such as Volcano Ramen aka ramen with sambal, beef sushi and salmon fried rice are made specially for Singapore!

Credit:wheretoeatinsg on Instagram
Not only are they famous for their ramen (duh!), you may also head down to satiate your sushi/ sashimi cravings 🍣

Credit: dian_anggraeni on Instagram
Address: 787 North Bridge Road, Singapore 198755
Opening Hours: Monday – Friday, 5pm to 5am
Saturday, Sunday & PH, 12pm-5am

2. Santaro by Gion
Featuring Singapore's first premier halal Japanese Restaurant, Santaro by Gion! Located along the busy street of Tanjong Pagar Road, it's the perfect place to head to during a Saturday night out. The food here won't disappoint as this is their second re-opening from their previous location at Royal Plaza on Scotts.
Not only do they serve the basic sushi and sashimi, they also serve dishes you've never heard of before! You can expect nothing but the best from their sashimi bowl. Try getting something new rather than the usual Salmon or Tuna 🤗
[P.S This ultimate guide to halal sushi in Singapore will satisfy all your sushi cravings!] 

Credit: Gion Dining on Facebook 
Chef Santaro is known for his Omakase dishes, which explains why this item is popular amongst the diners. Their various udon choices are well-liked too. It's definitely the best go-to food when you feel like you're in need of a warm bowl of noodles.
If you need some privacy while chowing on these yummies, request for a private room. No one will be bothered by the sound of you slurping down your soba 😅 These tatami rooms may accommodate from 4 to 12 pax, with a minimum spending of $60 per person.

Credit: Gion Dining on Facebook 
Address: 20 Ah Hoo Road, #1-19 Zhongshan Mall, 329984
Opening Hours: 12-3PM, 6-10PM (Closed on Mondays)

3. Hararu Izakaya
To directly translate, Hararu Izakaya means "Halal Gastropub". It's the first of its kind, and is the only halal Izakaya around. They aim to be the first authentic halal Izakaya in South East Asia, and they're fast achieving their goal 😊

Credit: hararu.izakaya on Instagram
Their Japanese themed interior will teleport you straight to Tokyo! With Japanese lanterns and motifs decorating the room, you'll be wanting to add Japan straight onto your travel list.

Credit: hararu.izakaya on Instagram 
[P.S Find out more about Hararu Izakaya, a Muslim-owned diner!] 
One of their best-selling items is the Unagi Don. A bowl of Japanese rice served with grilled eel has been a crowd favourite and for good reason!

Credit: miralesque on Instagram
Address: 16 Bussorah Street, Singapore 199437
Opening Hours: Tuesday – Thursday, Sunday & PH from 5pm to 10pm.
Friday, Saturday & Eve of PH from 5pm to 11pm.

4. Ramen Ten
The pioneer of halal Japanese food in Singapore, Ramen Ten has now been around for more than 10 years and even has franchises around the world. To no one's surprise, they're well known for their ramen dishes; tom yum, super spicy, and if you're not into spicy food, try the original! The chewy noodles will leave you wanting more 🍜

Credit: razilar on Instagram
The breaded crispy chicken cutlet and spicy soup sound like the perfect chicken/spicy combination.

Credit: jewelhenna on Instagram
Address: 14 Scotts Road, #01-22 Far East Plaza
Opening Hours: 11.30am-10.00pm

5. Hei Sushi
Being the first halal certified sushi belt restaurant, what's not to love about this halal version of Sakae Sushi? Offering over 200 various dishes from the obvious sushi choices to their nabemono (Japanese steamboat), patrons will be lining up their plates with stack after stack of sushi!

Credit: luqmanabubakar on Instagram
[P.S These 10 reasons will convince you to dine in Singapore's first halal sushi restaurant!] 
Other than being able to indulge in their Japanese feast, Hei Sushi too has their fair share of fusion food. Try anything under the "Chef's Creation" menu and you know you're in for a treat.

Credit: zeezweng on Instagram
Address: Market Square @ Downtown East, E!Avenue, #02-334, 1 Pasir Ris Close, Singapore 519599
Opening Hours: 11.30AM-10PM

6. Lean Bento
Whoever said Japanese food isn't healthy, bring them over to Lean Bento. Everything in Lean Bento has been created for #fitspo ,who are foodies at heart. Everything in their menu don't exceed the 500 calories mark! And those who are cautious about eating pesticide-free food, fret not for Lean Bento ensures their food are clean.

Credit: peanutbutt.uhh on Instagram
Now who said we can't have a healthy binge while on a diet again? 😅 Their generous yet balanced serving of meat and greens will allow you to leave the restaurant feeling good and full. Instead of the usual carb-filled white rice, Lean Bento provides the healthier alternative of brown rice! Their skinless/boneless chicken has been marinated to perfection, leaving you with a party of flavours in each mouthful.

Credit: benvoda on Instagram
Life need not be boring when you're on a meat-free diet. Your plate won't be filled with greens and only greens. Here at Lean Bento, you can expect a wide array of fruits and vegetables on your plate! From their seaweed salad to their colourful mixture of veggies, your bowl will be a feast for your eyes too 😍

Credit: fadfoodski on Instagram
Address: 43 Holland Drive, #01-49, 270043
Opening Hours: 10am-9pm, Monday-Friday
10am-6pm, Saturday & Sunday

7. Maki-San
No amount of heart emojis can be used to describe my love for Maki-San. (I'm sure you feel the same.) It's like a kid being in a candy store all over again each time you step into the happy, colourful, stripy and pun-ny Maki San store!

Credit: pinkypiggu on Instagram
The first of its kind, Maki-San allows you to design your own plate. Imagine fast food with a sushi version. You're able to design the base to your liking, with their wide range of fresh and healthy ingredients that won't disappoint.

Credit: acamasteo on Instagram
Address: Various
Opening Hours: Varies
8. Isuramuya
It's the first of its kind in Singapore, and a halal-certified restaurant with a marketplace on site! Customers may enjoy authentic halal-certified Japanese food with ingredients flown directly from Japan.

Credit: isuramuya on Instagram
Get the Tori Katsu Curry Rice (above). The sweetness of the Japanese curry and the salty flavour of the Karaage Chicken is like a match made in heaven. The meal is balanced with the egg and small serving of fresh salad. Nothing like a well-balanced yet delicious meal, right? 😉

Credit: nawwarahli on Instagram
Their woody interior gives you the feeling of being in a minka (aka traditional Japanese house!). Their marketplace stocks up a range of Japanese groceries and ingredients, allowing you to whip up your own Japanese-inspired dish at home.

Credit: isuramuya on Instagram
Address: 2 Jurong East Central 1 #04-19 JCube Jurong, 609731
Opening Hours: 11.30AM-9.30PM, Monday to Sunday

9. UYI SG
Everyone has heard of UYI! From their humble Ramadhan Bazaar stalls to having over 3 stalls throughout Singapore now, UYI is definitely a success story. They're well-known for their giant fried squid. It's called giant for a reason, just take a look at this 😮

Credit: uyisg on Instagram
My personal favourite, the grilled squid! It's still as flavoursome, albeit not being as large. You'll have a variety of sauces/powders to choose from! They'll slather a generous amount of sauce on your grilled squid right after it's taken off the grill. As for the giant fried squid, they'll pour a massive amount of powder on your crispy battered squid, right after it's been taken out from the frying pot.

Credit: uyisg on Instagram
Not only do they serve snacks for you to munch on, they've also started selling proper meals! What more can I ask for, my favourite grilled squid on a bed of my favourite carbs: JAPANESE RICE. The sauce of choice will be generously poured onto the squid. A side of seaweed salad is also included!
Address: Varies
Opening Hours: Varies
Omoomodon
Can't decide between having Korean or Japanese? Why not get both! Omoomodon is a fusion of both Japanese and Korean cuisines (aka best of both worlds!).

Credit: nchenggg on Instagram
They have over 10 signature dons and they even have a 'Build My Don,' where you're able to literally make your own! Seems like nothing can go wrong if you have the option of choosing what's going into your bowl 😉

Credit: xd_nat_t on Instagram
Address: 1 Vista Exchange Green, Singapore 138617
Opening Hours: 11.30AM-9.30PM, Monday to Sunday

Get exclusive special deals at Singapore's best eateries!
Redeem awesome deals at selected* eateries in Singapore when you sign up on our website! (P.S. it's FREE! ) *Terms and conditions apply.
With all that, it seems like we don't need to head to Japan for authentic Japanese cuisine after all! I may just bump into any of you while chowing down on my sushi. See you 😊
Tags: halal food guide, singapore,