As the world continues to combat COVID-19, birthdays all across the globe are hitting a little differently this year. With social distancing and stay-at-home measures,  there's no doubt that celebratory plans are out of the question.
Credit: Giphy
If your birthday is just around the corner, don't worry, there are still plenty of fun things you can do at home to celebrate it. You just have to get creative and think outside the box! To help you get started, we've rounded up a list of activities that'll make your special day enjoyable without having to go outside.
1. Have a virtual party
With social distancing and stay-at-home measures, throwing a real-life party may not be an option. So, turn to the wonders of technology that can help you plan a virtual party that's just as exciting (and dare we say even more entertaining than an in-person party ?). Online platforms like Zoom, FaceTime, Skype and Google Hangouts are some of the various spaces where you can meet with friends and family over the screen. If you want something a little spontaneous, hop on Instagram Live and see who shows up! This is another exciting way to invite everyone to your 'party' and have conversations while catching up with different people.
2. Recreate your birthday plans
If your original birthday plans involved having dinner at your favourite restaurant, why not bring the restaurant to you? Get your family or your housemates in on the action and spend some quality time with each other preparing the meal. From
easy Korean recipes
,
Italian dishes
and even
cafe-worthy drinks
, nothing is impossible to do if you set your mind to it. Don't just stop at the food, take it to the next level by setting up your dinner table in a manner that mimics the eatery! Pull out your fanciest dishes, light some candles, play music in the background - whatever it takes to get the full effect, you'll be patting yourself and everyone else's back by the time you see the final product in your very own home.
3. Make your favourite dish or dessert
They say that food is comfort for the soul, and what better way to cure your birthday blues by making your favourite dish or dessert. This is the perfect time for you to try a recipe that you've been eyeing for a while or have another go at one that your're already familiar with. Whether it's
an Italian dish
,
the internet famous Dalgona coffee
, or
Japanese milk bread
, just throw your apron on and whisk yourself into the world of culinary for the day. Unless you're trying to impress Gordon Ramsay, don't worry too much about perfecting it. And if it doesn't come out the way you want, there's always delivery services and takeaway options to save the day ?
P.S. Not familiar with cooking? Don't worry, these 10 essential tips will help you sharpen your cooking skills at home.
4. Throw a Netflix party
Rally up your friends and family for a proper movie night using the convenient
Netflix Party
extension. This Chrome extension lets you sync the playback from the Netflix site itself, and there's even a chat bar at the side for quick comments. Anybody in the room will be able to pause the video to control playback for everyone else, so you won't need to ask anyone to recap what you missed. And the best part about this kind of party? Everyone is responsible for their movie snack, so all you'll have to do is kick back, relax and just enjoy the movie ? You will need a Netflix account for this to work, although multiple people sharing the same account (with enough screens) can use it simultaneously. ? If not everyone has a Netflix account, streaming sites such as 
Kast
 (desktop and web versions), 
Scener
 (desktop, mobile, and TV versions), or 
twoseven
 (desktop version only) are still available! These services are usually more stable compared to a Google Hangout, which is great if someone in the group has a slower internet connection.
P.S. Here's a list of 8 ways you can still hang out with your friends while staying at home.
5. Go on a virtual tour around the world  
Feeling bummed out about having to cancel or postpone a birthday trip? We feel you. It can be disappointing especially if you've been looking forward to plans like exploring some of Japan's beautiful sceneries. But just because your travel plans aren't happening anymore, that doesn't mean you can't experience it from the comfort of your own home. Thanks to social media, live streams, web cams and VR (virtual reality), you'll be able to explore the world right from your very own living room. Of course, it's not exactly the same as being in the actual place but the point here is that you can still enjoy the essence of what could have been on the trip while having some fun along the way. Plus, you get to skip those long flight hours!
6. Dress up and have a photoshoot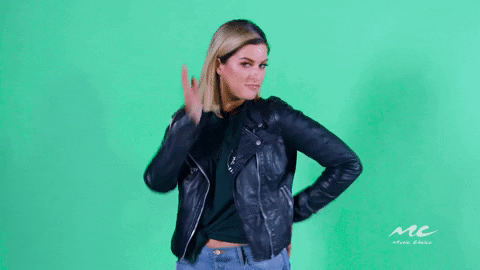 Credit: Giphy
That's right -  as odd as it may sound, dressing up as though you're going out can elevate the feeling of a birthday celebration. Put on your best outfit, try out a different style altogether, or take inspiration from some of your favourite film or television show characters, like
this video capturing the 90's best fashion moment from 'Friends'
! Once you're all dressed up, do a home photoshoot for memories to look back on. If you're not sure where or how to start setting up a DIY photography studio,
Jessica Kobeissi's tutorial
is perfect for beginners.
7. Decorate your room
What's a birthday without balloons and colourful decors? No, you don't have to get 100 balloons or decorate every inch of the house (but if that's what you want to do, don't let us stop you!). All it takes is a small corner in your home or just your room to commemorate your day.
Women's Art And Craft
and
Creative Idea
provide easy, DIY birthday decorations that you can try. And if you're up for the challenge, you can go for more advanced decors from
MASS Art and Craft
.
8. Go online shopping 
Birthdays are usually a time to treat yourself and what better way to do that than go online shopping ? Been wanting that waffle maker since the start of the year? Go for it. How about that unique terrarium to fill that empty corner of your work space? We approve. Even a cute taco outfit for your pet can bring joy to your online shopping experience, so let yourself enjoy this one day browse through all your favourite stores and add everything to cart.
P.S. Browse through this list of 18 online shops that'll give you a head start on your Raya shopping. 
9. Have a self-care day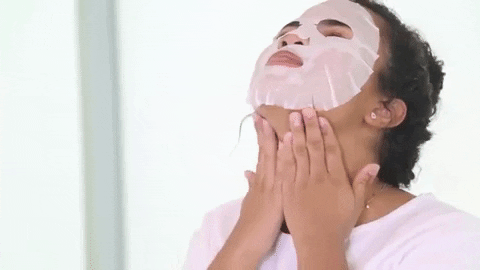 Credit: Giphy
Look forward to an entire day of ultimate self-care with face masks, warm cups of tea, foot baths and more. It can be hard to focus on your birthday especially given the coronavirus situation, so take the opportunity to create a calming atmosphere on your special day and malt your stress away with some 'me-time'.
P.S. Pamper yourself further with these 10 easy ways to have a spa session at home. 
10. Just relax at home
Sometimes, all you need to enjoy your birthday is having some downtime without doing anything. With the current state of the world and its hectic circumstances, carrying on the day with your usual routine gives a slice of peace and solace that is very much needed during this challenging period. In fact, not having to plan an activity or project to do for the sake of your birthday can be stress-free. There is nothing wrong with letting this year's birthday celebration go by, after all, it is your day to spend so what you say goes ? Whatever you choose to do on your special day, remember that you're not alone in this and if you're in the middle of celebrating it, HHWT would like to wish you a happy birthday and good health wherever you are ❤️
Tags:birthdaycelebration