Singapore is blessed with
many halal bakeries that'll have us in pastry heaven
. Whether we're craving for
freshly-baked sourdough bread
,
almond croissants
or
decadent cakes
, the joy and delight from tasting these baked goods are undeniable. If you're planning to add some sugar rush to your day, there's a new bakery that'll deliver straight to your doorstep.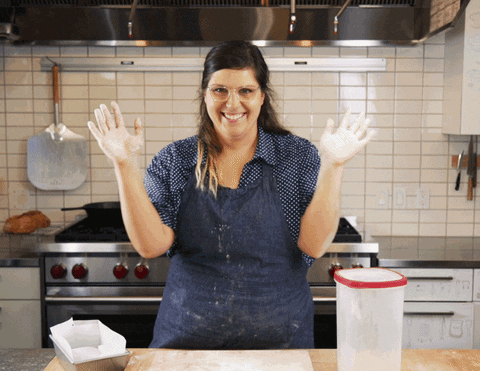 Credit: Giphy
Say hello to this new Muslim-owned bakery,
Boms & Buns
! Established by Singaporean celebrity couple Syarif Sleeq and Malaque Mahdaly, they're also the dynamic duo behind
everyone's favourite churro place, Chulop!
. Conveniently located at East Village in Simpang Bedok, it's a 9-minute walk from Tanah Merah MRT station (you can also take bus 2 or 48 from Tanah Merah MRT station - Exit B).
GIVEAWAY
: Good news, Singaporean readers! Read till the end to find out how you can win two FREE boxes of choux puffs (4 pieces) from Boms & Buns!
Credit: Boms & Buns
Opened on 10 April 2020, the founders came up with the idea for Boms & Buns after serving choux puffs as a supplementary menu item at Chulop! To meet the growing demand for these delicious choux puffs, they've decided to open up a new bakery specialising in this well-loved product alongside their signature cinnamon roll.
Credit: Boms & Buns
Adorably called 'Boms', this bakery serves freshly-baked choux puffs in five different flavours: Nutella, salted caramel, kaya butter, susu keju, and Belgian chocolate. If you love cinnamon rolls, look out for its first release during Ramadan!
Credit: Boms & Buns
Combined with Malaque's self-learned mastery in pastry, all of the recipes were perfected through consistent practice as well as a deep understanding of the equipment and science of baking. The ingredients are also made from scratch to bring out the simplicity of its flavours and baking methods.
Credit: Boms & Buns
All boms are priced at $4.50 each except the Belgian chocolate and susu keju that are priced at $5 each. Starting 20 April 2020, Boms & Buns will also provide islandwide delivery service with a $10 flat rate (no minimum order). You can even combine your delivery order with any menu items from Chulop!
Credit: Boms & Buns
GIVEAWAY: Win FREE choux puffs from Boms & Buns! 
We're giving away two FREE boxes of choux puffs (4 pieces) from Boms & Buns to 3 lucky winners! Just follow these simple steps:
This giveaway is open to everyone residing in Singapore and ends on
17 April 2020, Friday 23:59 (Singapore time, GMT +8)
. Winners will be contacted via Facebook. Good luck!
Halal status
: Muslim-owned
Opening hours
: Open daily; 12PM-8PM (or until all items are sold out)
Address
: 430 Upper Changi Road #01-54 East Village, Singapore
Contact
: +65 9776 5045
Facebook
|
Instagram