There's a journey of flavours to be discovered when exploring the food gems in Kuala Lumpur. You might have found your favourite
halal French patisserie in Shah Alam
or
hidden bakeshop owned by a Masterchef Malaysia winner
, but there are more local bakeries that you should know about.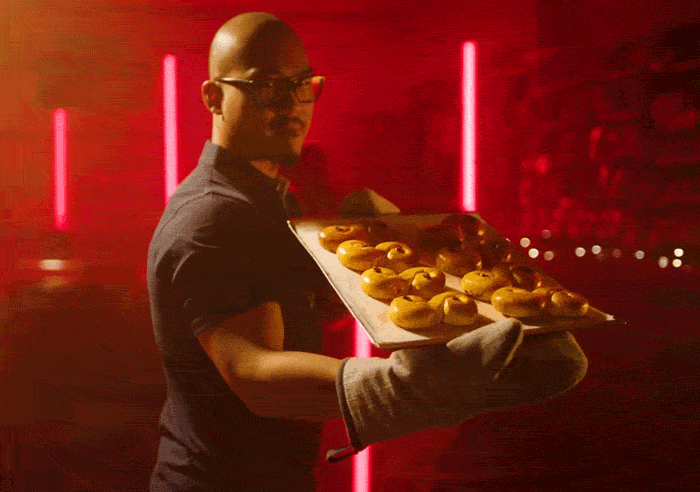 Credit: Giphy
Situated in Bukit Damansara, it's time to plan your next hangout spot at
The Bread Shop
. Founded by owner Peng Merican, the idea was first started by her husband, Kamil Merican, who owns an architectural firm in the same area. The moment they established their bakery in 2009, there's no stopping since!
Just a short drive from Bangsar, the first thing to welcome you at The Bread Shop is their beautifully-arranged display of tarts and pastries. It's even more tempting with the hanging light fixtures shining the spotlight on your dessert of the day. While we're excited to sing praises about its tarts and pastries, The Bread Shop is truly known for its selection of traditionally-baked bread. Come early and you'll find a flurry of activities in the kitchen. With the staff kneading the dough and moulding it into different shapes, it's a true testament to their mission in providing freshly-baked bread and pastries that are made with healthy and fine ingredients. Besides the ciabatta and milk loaf, try the Broom Bread, a super fibre loaf made with whole wheat flour, oat bran and flaxseed. Why Broom Bread, you ask? That's because it helps to clean out the colon and works its way through your system, as every high fibre food would.
If you're here for the pastries, you're going to love what The Bread Shop has to offer. The first section is where you'll find a playground of delicious tarts and sweet pastries. It took a while for us to decide what we wanted, but we ended up trying kouign amann, salted caramel chocolate tart and salted caramel cheese tart, which were amazingly delicious!
If you're tempted to try the molten salted egg, we recommend giving it a shot! You'll never know the surprise that awaits inside its soft flaky croissant until you take a bite! Our co-founder Suzana tried the molten salted egg and was thrilled by the generous and right amount of salty-sweetness.
Another standout pastry at The Bread Shop is the cruffin! A cross between croissant and muffin, choose from a variety of flavours such as lemon, salted caramel, gula melaka, and chocolate. We can't help but say yes to salted caramel cruffin. The moment you dive your fork into this pastry goodness, you'll enjoy the salted caramel drizzle and cream that complements the flaky croissant!
The middle section is where you'll find the savoury pastries you love. From curry chicken danish to ikan bilis egg croissant, we completely understand if it takes a long while to decide which pastry to go for. We read many great things about their freshly-baked scones that comes with a side of cream and strawberry jam. We tried the sausage cheese ourselves, and it was a satisfying meal for anyone who needs a quick bite before speeding off to their next meeting.
As you move towards your right, you'll see another set of pastries waiting to be savoured at the final section. Gloriously drizzled and dusted for the next pastry lover, we wished we have more room for chocolate danish, cinnamon swirl and banana scotch danish!
Credit: The Bread Shop on Facebook
If you swing by The Bread Shop during lunchtime, you can give their sandwiches a try! Using freshly-baked bread, you can try the smoked chicken with ciabatta, melted cheese on toast or mango cheese croissant with beef pastrami! There's also a vegetarian special that's packed with roasted eggplants, sundried tomatoes and topped with basil-tomato sauce.
If you're planning to swing by with your friends, this humble bread shop is decked out with high chairs and wooden tables. There are also a few tables outside of the bakery. Since it's a popular weekday lunch spot, come early or settle for takeaways. Now that The Bread Shop has made its way into your radar, you know where your next meet-up spot will be!
Halal status
: Muslim-owned
Average price of main dishes
: RM7.80 for pastries and RM15.80 for sandwiches
Opening hours
: Mon-Fri; 8AM-7PM, Sat; 8AM-6PM (Closed on Sun)
Address
: 11, Jalan Setiakasih 5, Bukit Damansara, 50490 Kuala Lumpur, Wilayah Persekutuan Kuala Lumpur
Contact
: +603 2093 8734
Facebook
|
Instagram