The journey of finding halal sushi in Kyoto never ends, especially in
a destination known for its halal chicken ramen, wagyu and kaiseki
. After
striking off the famous Fushimi Inari-Taisha shrine and the bamboo forest of Arashiyama
from your itinerary, there's no better way to complement the experience than enjoying authentic Japanese cuisine!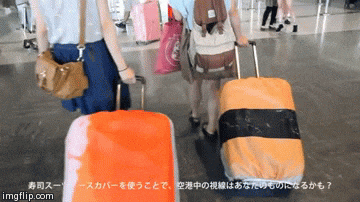 Credit: Giphy
You may be used to seeing conveyer belt sushi, but what if sushi could be presented in another shape and form? Here comes
Sushi Time
, a charming Japanese eatery in Nakagyoku, Kyoto, that are doing things a little differently. Just a 3-minute walk from Kyoto-Kawaramachi station, Sushi Time is reinventing the way sushi is presented to first-timers to Japan. If you've never tried sushi, this eatery will win you over with its casual and inviting ambience complete with a very fun and Insta-worthy menu.
Credit: Sushi Time on Facebook
When we say Insta-worthy, we mean it. If there's one thing on the menu that'll instantly grab your attention, it's the sushi doughnut. Comes in five flavours, you've never seen anything as pretty and delicious as the ones by Sushi Time. The prettiest sushi doughnut of the bunch is the best-selling sushi donut (JPY550). The ring of white grain Japanese rice is topped with salmon, middle toro, sea bream, sweet shrimp, salmon roe, cucumber, tomato and black sesame. Since this eatery is located within a 1-minute walk from Nishiki Market, Kyoto's 400-year-old food market (also known as The Kitchen of Kyoto), the seafood is as fresh as it gets. Sushi Time also takes a great effort in decorating the vegetarian donut sushi (JPY550). Ideal for non-meat eaters, we love the way the cherry tomato, carrot and cucumber add a pop of colour to the fluffy rice. Upgrade to a set (JPY1,110) and you'll have soup and potato salad to keep your tummy full. Never in a gazillion years would we imagine seeing a Kobe beef donut sushi (JPY2,200), but Sushi Time made it happen. With the world's first halal-certified Kobe beef as its main ingredient, the tender Kobe beef slices are topped with lemon, sea urchin, salmon roe and caviar to bring all the flavours together. If you're planning to try more sushi doughnuts, the remaining flavours are broiled scallop donut sushi and broiled salmon donut sushi. To experience sushi on the go, you can enjoy sushi cup (JPY550) that comes with the standard toppings of salmon roe, shrimp, cherry tomato, cucumber and more. Kobe beef sushi cup is another flavour to choose if you prefer some meaty goodness.
Credit: Sushi Time on Facebook
Planning to dine in with your loved ones? Sushi Time only has six seats, and the eatery closes once the ingredients run out. So, do come early! After savouring their Insta-worthy sushi, don't forget to
enjoy halal spicy miso ramen, Japanese curry, and wagyu beef shabu-shabu at these delicious halal eateries in Kyoto
?
Halal status
: All meat, ingredients and seasoning are sourced from halal-certified suppliers. No alcohol is served on the premise or used during food preparation.
Opening hours
: Open daily; 11.30AM-9PM
Address
: Sushi Time, Aarakibiru1F,478 Nakauoya-cho, Nakagyoku, Kyoto-shi 〒604-8125
Contact
: 050-3628-3021
Website
|
Facebook
|
Instagram