Kyoto is one of the best cities in the world, and we can definitely see why! Kyoto has it all – traditional Japanese culture, all the temples you'd want to see, and breathtaking natural beauty that's unique to Japan. Unfortunately, it's also known to be super expensive! ?
Credit: giphy
If you're anything like us i.e. always trying to get by on a budget, the first thing we'd do is check out what the city has to offer for free (which is always a good idea since you'll get to save your hard earned money for other things like shopping, trying to
blend in with the locals by donning a kimono
or more importantly, eating all that yummy 
halal Japanese food!
).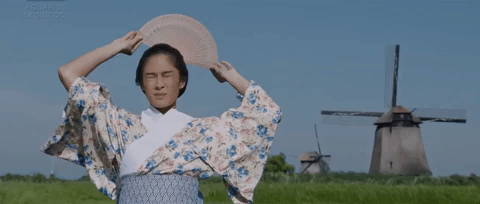 Credit: giphy
Here's a list of all the major attractions, things to do and even a freebie souvenir to take home that's completely f.o.c. while you're in Kyoto. You heard us right, there's plenty to do in Kyoto for free! *cue fireworks* ?
1. Grab a useful souvenir at the Kansai Tourist Information Centre Kyoto
[caption id="attachment_4634" align="alignnone" width="900"]
Information counter and welcome area[/caption]
Credit: traveldailynews
The guides make perfect souvenirs for you to remember places you've been to on your trip, on top of being very useful during your stay too (we grabbed a few copies ourselves!).
Credit: Why KYOTO?
#HHWT Tip:
The visitor's centre also has a prayer area for Muslims. How cool is that?
Address:
3F Kyoto Tower, 721-1 Higashi-shiokoji-cho, Shichi-jo Sagaru, Karasuma-dori, Shimogyo-ku, Kyoto
Contact Number:
+81-75-341-0280
Opening Hours:
10am – 6pm (Closed from December 30 to January 3)
Website:
http://www.tic-kansai.jp/en/kyoto/
Directions
: Two-minute walk north from the Central Exit of JR Kyoto Station
2. Be mesmerized by a sea of orange at Fushimi Inari-Taisha
The
Fushimi Inari-Taisha shrine
is definitely a must visit for a photograph amongst the thousands of vivid vermillion torii gates that the shrine is famed for. Best of all, entrance is completely free! (Most temples and shrines charge between 300 to 500 Yen per entry). [caption id="attachment_4639" align="alignnone" width="1024"]
The entrance of Fushimi Inari-Taisha[/caption] [caption id="attachment_4640" align="alignnone" width="900"]
The path through the torii gates…but don't be fooled! It's nearly impossible to get a photograph without any tourist in your photo.[/caption]
Credit: japan-guide
The entire walk to the summit of Mount Inari and back will take you around 2-3 hours, with enjoyable views of Kyoto along the way. [caption id="attachment_4641" align="alignnone" width="1024"]
Stunning view from the Yotsutsuji Intersection, halfway up the mountain.[/caption]
Credit: mrfoodnotes
#HHWT Tip:
Go further up the path to be able to take photos of just yourselves or the gates without throngs of visitors that crowd the lower levels of the shrine – it is after all, one of the most visited spots in all of Japan.
Address:
68 Yabunouchi-cho, Fukakusa, Fushimi-ku
Opening Hours:
Dawn to dusk
Directions:
5 min walk from Inari Station, JR Nara line or 10 min walk from Fushimi Inari Station, Keihan line [inlinewidget id=34001]
3. Feel tranquil at the bamboo forest of Arashiyama
You've definitely seen a photo of the bamboo forest if you're planning a trip to Kyoto, and it really is a sight not to be missed! However, we personally feel that photos do not do justice to the calming beauty of the sunlight streaming through the bamboo groves – You could almost imagine being the only person there if you get there early enough in the morning, when there are less people about and the air is crisp and cool.
Credit: clf
Besides taking a
leisurely stroll among the towering bamboo groves
, you can also
take rickshaw tours around Arashiyama
! All you have to do is relax in your cab as your guide brings you around to admire the district's breathtaking natural scenery ?
Address:
Arashiyama, Ukyo-ku
Opening Hours:
All day long!
Directions:
10 min walk from Saga Arashiyama Station, JR Sagano line or 15 min walk from Arashiyama Station, Henkyu railway
4. A forest of a different kind – one that's filled with Kimonos!
Also in the vicinity of Arashiyama is the dazzling Kimono Forest, which is a display of nearly 600 poles, adorned with kimono patterns dyed in the traditional Kyoyuzen style. [caption id="attachment_4643" align="alignnone" width="1024"]
Kimono's galore during the day.[/caption]
Credit: notesofnomads
If you're in the area at dusk, you can see the 'forest' lit up by LED lights installed in each pillar, highlighting the uniqueness of the artwork – it's truly magical! It definitely doesn't feel like you're in the vicinity of a train station ?
Credit: R.Gicquel
Address:
Randen Arashiyama Station Hannari-Hokkori Square
Opening Hours:
Open every day, with illumination hours from 4:00pm-9:00pm
5. Get a glimpse of old world charm at the Kyoto Imperial Palace
Located smack in the middle of Kyoto, the Imperial Palace is situated in the sprawling Kyoto Imperial Park that's full of lush trees and perfectly manicured gardens, perfect for a breather from the hustle and bustle of the city. The palace was the residence of Japan's Imperial Family until 1868, when the capital of Japan moved from Kyoto to Tokyo.
Credit: jonathanphotos
Visitors need to book in advance with your passport at the Imperial Household Agency Office located in the northwest corner of Kyoto Imperial Park or book online, for permission to enter the grounds. Free tours are provided in English at 10:00 a.m. and 2:00 p.m. Be punctual for your tour or you'll miss it! No tours are held on Sundays, national holidays and most Saturdays. Do check with the
agency
for their latest schedule.
#HHWT Tip:
The Imperial Palace is also around 15 minutes walking distance to the Kyoto Mosque!
Address:
Kyoto Gyoen 3, Kamigyo-ku
Opening Hours:
10:00am or 2:00pm for tours conducted in English, and all day long for a stroll in the park
Website:
http://sankan.kunaicho.go.jp/english/guide/kyoto.html
Directions:
Kyoto Imperial Palace is a ten-minute subway ride from Kyoto Station along the Karasuma Subway Line, where you can get off Imadegawa Station, which is closer to the Imperial Household Agency Office and the entrance gate of the Imperial Palace.
6. Immerse yourself in the heart of Kyoto's Kitchen at the Nishiki Market
The largest traditional food market of Kyoto is not to be missed if you're a foodie or interested in immersing yourself in the
Kyoto way of life
. Known as The Kitchen of Kyoto (Kyo no daidokoro), you can find all manner of fresh fish, pickled vegetables, traditional sweets, kitchenware and other major ingredients of traditional Kyoto cuisine at the iconic 400 year old market.
Credit: cnn
Nishiki Market was definitely one of our favourite spots in Kyoto to savour authentic Japanese food like sweet mochi (made of sweet rice flour and sugar), green tea and of course, who can say no to fresh sashimi? Check out our guide to some of the
muslim-friendly Japanese snacks
that you can find in Nishiki market too!
There are also a few modern foods and souvenir shops interspersed between stores that have been in families for generations.
Address:
Nishikikoji-dori, Nakagyo-ku (between Teramachi and Takakura)
Opening Hours:
Varies by store, typically from 9:00am to 5:00pm, with closures usually on Wednesday or Sunday
Directions:
 7 min walk from Shijo Station on the Karasuma Subway Line or Karasuma or Kawaramachi Stations on the Hankyu Line.
7. See real life Geisha in Gion!!
That's right! You can definitely catch a glimpse of Kyoto's famous and mysterious Geishas going about their business in Gion, simply by walking around the neighbourhood in the evenings (and if you're lucky, during the day time as well). Even if you don't manage to catch the Geisha's in action, the historical neighbourhood is well worth your time exploring its surrounds. It's definitely an unforgettable experience to be able to glimpse a Geisha in real life [caption id="attachment_4665" align="alignnone" width="1024"]
A geisha on her way to an appointment in the Gion District, Kyoto[/caption]
Credit: carriagebysea
#HHWT Tip:
Although it is definitely tempting to grab a photo opportunity with a real Geisha, do respect their privacy – If you see them out and about, they are usually on their way to an appointment and can't stop for photographs.
Location:
We found that the best places to see Geisha are at Hanami-koji-dori in Gion (the section between Shijo-dori and Kennin-ji Temple).
Directions:
Bus number 100 or 206 can reach Gion from Kyoto Station. Alternatively, the closest train stations are Gion Shijo Station on the Keihan Line and Kawaramachi Station on the Hankyu Line. [inlinewidget id=33995]
8. Take a pleasant stroll along the Kamo river
Take a break from the touristy side of Kyoto and sit by the Kamo River, just like the locals do.
Credit: lensonjapan
At the heart of Kyoto, flows the picturesque Kamo River from mountains north of the city, through the shopping districts, then out from the southern end of the city. The entire length of the river is around 33km, and there are plenty of interesting things to see from the riverbank, from locals walking back from work, people having picnics to milky white cranes and families of ducks! [caption id="attachment_4669" align="alignnone" width="1024"]
Gorgeous on any day of the year![/caption] It's definitely a great place to sit and rest while taking in the sights of its surrounds, and to snap a photo or two! If you're in
Kyoto during spring
, it's also a great place to do some cherry blossom viewing ?
9. Walk down the Path of a Philosopher
Tetsugaku-no-michi as it is known in Japanese, or also known as the Path of Philosophy, runs between Ginkaku-ji Temple in the north and Eikan-do Temple in the south. The walk itself is a beautiful pathway filled with
cherry blossoms in the spring
...
Credit: lightslant
...and colourful foliage in autumn. The path is named after the Japanese philosopher Nishida Kitaro.
Credit: Aleksi Mattsson
#HHWT Tip:
As it's one of the most famous spots to see cherry blossoms in May, be prepared to contend with others sharing your zen-like state of mind! There are also little cafes and curio shops to explore along the 2km path, if you get tired from walking and taking in the sights.
Directions:
From Kyoto Station, take bus #5 or the Raku Bus #100. You can also take the subway and stop at the Keage subway station (Tozai Line), which is a short walk away.
10. Last but not least, savour the modern architecture of Kyoto Station!
Where else to end a great trip around the city by catching panoramic views of Kyoto and its majestic mountains from the top deck of Kyoto Station, one of the largest railway stations in the world and the largest in Japan.
Credit: highlanderimages
The giant staircase with pretty light displays is not to be missed too!
Credit: limitstravelblog
It's best to pay your fare with the 
ICOCA IC Card
as you can enjoy discounted fares on the JR, subway, private railway, buses and shopping around the Kansai region (where Kyoto is)! [
Get the ICOCA IC Card preloaded with 1,500 yen credit here!
]
#HHWT Tip: 
There's also a Happy Terrace on the rooftop of the station, which is a little hidden sanctuary amidst the hustle and bustle.
Address:
901 Higashishiokoji-cho, Karasuma-dori, Shiokoji sagaru, Shimogyo-ku
Opening Hours:
Between 8.30am to 10.00pm, depending on area Need help getting around Kyoto in the first place? You'll be navigating it like a pro in no time with our
handy guide
! Who knew that there are so many things that you can do in Kyoto without breaking your budget? ? Now you've got extra cash to spend on
souvenirs
,
delicious halal food
(we suggest you try
the best halal ramen
you'll ever have in your life, splurge on mouthwatering
halal wagyu
 or indulge on
halal kaiseki
) and immerse yourself in the wonders of
Kyoto just like a local
!