Whenever Ramadan rolls around, one of the things everyone gets excited about is the bazaar. Delicious food, mouthwatering drinks, lively chatter - what's not to love? But as we've all heard by now, Ramadan bazaars in Malaysia have been cancelled this year due to the COVID-19 outbreak.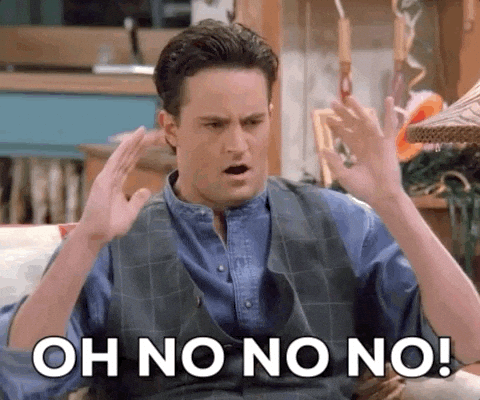 Credit:
Giphy
While you won't be able to visit Ramadan bazaars this time around, don't worry! You'll still be able to enjoy the usual treats and goodies from online sellers and home-based businesses ? That's right - we've rounded up a list of Ramadan bazaar items that you can find online, so there's no missing out on your favourite foods and drinks during the fasting month.
1. Satay
No matter which Ramadan bazaar you go to, the delicious smell of satay is always there to greet you. Served with peanut sauce, cucumbers and onions, this traditional dish is definitely what we're all looking to have at some point or another during the fasting month. So, get them delivered to your doorstep this Ramadan and satisfy your craving of tender, perfectly grilled meat!
Where to get it:
Satay Shafiq
Satay Datuk Keramat by Kak Zah
Contact: +6 019-354 8704 / +6 016-206 6025
Satay Mat Kuala
FVBazaar
P.S. Thinking of making your own bazaar treat? Here's 12 Ramadan bazaar foods you can make yourself at home!
2. Lemang
Hands up if you're a lemang lover! Perfect to eat on its own (with chicken curry or beef rendang) or as an addition to your main meal, this glutinous rice dish is one of the classics during the festive season. Check out these online sellers who will fulfill your dream of indulging in this Malay delight ?
Where to get it:
Lemang Daun Lerek Greenwood
Pak Jol Lemang
3. Murtabak
Who can resist this traditional favourite of Ramadan bazaars - murtabak ? Made from a filling of onions, meat and egg wrapped in a pastry similar to roti canai, there's no reason you can't have this mouthwatering, delicious pan-fried bread delivered right to your doorstep!
Where to get it:
Murtabak Hafiz
Contact: +6 011-1009 8470
Murtabak Mami & Murtabak Sultan
Contact: +6 016-600 0127 / +6 011-1082 0127
P.S. Running out of sahur ideas? Our list of 30 yummy sahur recipes for everyday of Ramadan will help you right out. 
4. Ayam percik
As a must-have food on the menu during the Ramadan and Raya period, get your fix of ayam percik online this year! Its flavourful spices and marinade that beautifully caramelizes on the meat truly makes our foodie hearts flutter ?
Where to get it:
Ayam Percik Merecik's
Ayam Percik Raff Kitchen
Contact: +6 011-1030 2404
FVBazaar
5. Rendang
Rich, tender and explosively flavourful, rendang is well-loved by many Malaysians and it's not hard to see why. It pairs well with steamed white rice, ketupat, lemang and even bread! Sometimes, you'll even be tempted to snack on it as is and we don't blame you ? So if you're dreaming of digging into this fantastic dish for iftar, turn to this list of sellers!
Where to get it:
Rendang Mak Cik Kiah
FVBazaar
P.S. Check out these 10 cooking hacks to make your iftar prep a whole lot easier this Ramadan.
6. Roti John
Far from your average sandwich, Roti John is a popular pick at Ramadan bazaars. Traditionally filled with eggs, onions, ketchup and beef, there are also various takes on Roti John that you'll be able to enjoy from these sellers listed below.
Where to get it:
Roti John Debab Leleh
Roti John Ketageh Daun Lerek
Contact: +6 011-1229 9557
Nz Roti John Putrajaya
Contact: +6 019-399 0803 / +6 011-2128 5541
7. Popiah
Whether you prefer the fried and crispy version or the softer texture one with a coating of spicy sauce, both of them make great snacks to munch on. They're easy enough to make but if you don't have time on your hands, have them delivered instead ?
Where to get it:
FVBazaar
8. Laksa
If you haven't treated yourself to some laksa for iftar, make today the day that you do! From Penang asam laksa to Johor laksa, there are plenty of variations of this dish that you can enjoy this Ramadan. All it takes is one mouthful of the noodles to have you falling in love with it all over again.
Where to get it:
Laksa Johor Meletop
Contact: +6 016 - 325 7441
Laksa Pineng
FVBazaar
P.S. Psst, Mother's Day is coming up! Make sure to check out these 12 online shops in KL for some of the best gifts you can get for your mom.
9. Raya kuih
It's never too early to start hunting for raya kuih. In fact, this is the perfect time to do so! Whether you want to enjoy them as an iftar treat or simply get a head start for Hari Raya, you'll be able to find all sorts of raya kuih online. Pineapple tarts,
semperit, 
almond london biscuits, 
kuih bangkit 
- you name it!
Where to get it:
Kuih Raya KL Cookies
Kuih Raya Onz
Contact: +6 011-310 71450
LovebitesKL
Pemborong Kuih Raya
FVBazaar
P.S. Throw on your apron and whip up these 8 kuih raya recipes that are easy to make and totally yummy.
10. Sweet corn drink
Ah, the taste of sweet corn drink on a hot and humid day, it's the perfect thing to quench your thirst with. And as one of the more popular drinks at Ramadan bazaars, it's not surprising to see it sell out in a short amount of time. In fact, its popularity has inspired Starbucks to release their latest drink just last week - Caramel Sweet Corn Fappuccino!
Where to get it:
Air Jagung Kaw Punya
FVBazaar
11. Sugar cane drink
Another popular drink from Ramadan bazaars is sugar cane. There's almost nothing better than taking that first sip of fresh sugar cane during your iftar or after Terawih prayers. Luckily, there are a several places online where you can get your dose of sugar cane drink this fasting month.
Where to get it:
Air Tebu Fresh
FVBazaar
P.S. Put a refreshing spin on your sahur with these 6 easy sahur recipes with kurma milk.
12. Apparel
While you may not necessarily find apparels being sold at most outdoor Ramadan bazaars, you might be thinking of getting some Raya shopping done as you browse online for food and drinks. So for your convenience, we've put together several online shops where you'll be able to get some Raya clothes and other garments ?
Raya clothesPrayer garments
P.S. Get a head start on your shopping with these other 10 online stores in Malaysia to get Raya clothes (for every budget).
And there you have it! With these online sellers and home-based businesses ready to deliver your favourite Ramdan foods and snacks, you'll still be able to enjoy the usual festivities that come with this special month ?