As you ponder about your wonderful year of travels, you might already be thinking about your next holiday in 2020. Whether you finally have the courage to go skydiving in New Zealand or planning to a solo backpacking trip to Japan, sky's the limit to your upcoming getaway.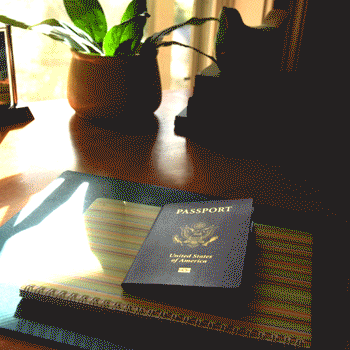 Credit: Giphy
Wherever your journey takes you, it starts with planning and a whole lot of savings. Instead of chasing every single deal out there, why not get a credit or debit card for travellers like you? Plan your trip with Hong Leong Bank Mastercard Credit or Debit/-i card, and enjoy amazing HLB HoliYay travel deals with discounts up to 70% on flights, accommodations and activities! While gearing up for your 2020 trip, let's discover more money-saving tips that'll take you closer to your dream destination. 
1. Look out for flight sales
Credit: Suhyeon Choi on Unsplash
Thrill-seekers might love the adrenaline from booking last-minute vacations and spontaneous trips. As fun as it may sound, it may hurt your wallet since flights tickets are usually expensive. 
Credit: Weyne Yew on Unsplash
Here's where Hong Leong Bank Mastercard Credit or Debit/-i card saves the day! With HLB HoliYay deals, get up to 70% discount on selected destinations with AirAsia. Imagine scoring sweet flight deals on destinations like Melbourne, Tokyo, Seoul and more! Use the promo code AAHLB70 when you book your AirAsia flight tickets here!  
There are more flight deals, of course! HLB HoliYay also lets you take it up a notch with 10% discount on economy and business class flights when you fly with Emirates! Perfect for Hong Leong Bank Mastercard Credit or Debit/-i cardholders, use the promo code MYHLBB2 when you book your Emirates flight ticket here.
2. Create a budget plan
Credit: Sharon McCutcheon on Unsplash
The next stage of planning is finding how much you'll spend by creating a budget plan. It should sum up your accommodation, transportation, expenditure, things to do and other expenses (don't forget to include a budget for souvenirs!). 
Whether you're getting the Japan Rail Pass or staying in a four-star hotel, this amount adds up, and it's important to prepare yourself for what you're about to pay. Once you have a rough idea on how much you'll spend, you can look out for exclusive HLB HoliYay travel deals for instant savings! 
3. Book your accommodations in advance
Credit: Sara Dubler on Unsplash
When visiting a new destination, it's best to stay in bustling neighbourhoods or areas with nearby public transportation. Since you won't be the only traveller with this tip in mind, book your accommodation as early as 3-6 months in advance. The rates are cheaper, and you can avoid last-minute disappointments too.
Search through different hotel booking sites such as Agoda to get the best deals. If you're using Hong Leong Bank Mastercard Credit or Debit/-i card, you can get up to 15% discounts on hotel bookings worldwide. Isn't that amazing?
4. Cut down on your daily splurges
Credit: Eugene Chystiakov on Unsplash
Whether it's a cup of latte from your favourite café or a taxi ride to your office, daily splurges come in many forms. You might not see it, but the costs can add up at the end of the month. Start saving for your next adventure by cutting down on these everyday splurges.
Credit: Ella Olsson on Unsplash
Try brewing your coffee or taking the train to work. Instead of paying for expensive meals, cook at home and bring pre-packed lunches. When all these small savings add up, you're on your way to spending the afternoon at Tokyo Disneyland or travelling across Switzerland with a Swiss Travel Pass.
5. Compare currency exchange rates in advance
Credit: Alexander Mils on Unsplash
As travellers, we're all guilty of last-minute trips to the currency exchange counter. While tackling our busy schedule and getting our work sorted before our big trip, we're faced with expensive currency rates that we're forced to say yes to. Since you've booked your flights on Emirates and accommodations on Agoda in advance, wouldn't it better to do the same for your currencies? 
In the months leading up to your trip, look out for currency exchange counters that offer the best rate and keep an eye on exchange rate fluctuations. We recommend doing it in advance, so you have time to compare and purchase instead of saving it till the last minute. 
6. Shop online for better deals
Everyone loves looking their best during their overseas trips. More so, when we're travelling to a destination where autumn leaves and snowy winter are all around. If you're planning to invest in autumn coats, knitted sweaters and other travel essentials, shop early. 
#HHWT Tip: For Hong Leong Bank Mastercard Credit or Debit/-i cardholders, get awesome HoliYay deals from Universal Travelers! From now till 31 Dec 2019, get 20% discount on Airways Luggage Brand item (capped at RM100). Time to invest in bigger luggage!
Besides window-shopping at department stores, find great online deals from fashion and e-commerce websites. Most of the time, they'll run seasonal and clearance sales that offer clothes and travel items at huge discounts. Some of these products may be cheap because it's shipped from overseas. Remember to do it quickly because it might take 4-6 weeks to reach your doorstep.  
7. Use public transportation during your trip
Credit: Fikri Rasyid on Unsplash
If there's one thing we learned from our travel experiences, using public transportation does save a lot of cash. Depending on the destination you're heading, there are many public transport cards exclusively for tourists. Klook, an in-destination services booking platform, is well-recommended to get your transport passes.
Japan has the ICOCA IC Card and Singapore has its Singapore Travel Card - you can find it all on Klook! Make sure the pass provides better value for money according to your travel route before purchasing.
8. Sign up for tours and activities in advance
Make the most of your trip by searching for one-of-a-kind experiences and things to do during your trip. Besides the free attractions and walking tours, there are many sights and sounds to discover in every destination.
Find an experience that's unique to a destination. At Klook, some experiences may include doing a cherry blossom chase in Tokyo or exploring Bukchon Hanok Village in traditional hanbok. There's also a day tour to see the Terracotta Warriors in Xi'an. Every experience counts in making your trip worthwhile. Get a Hong Leong Bank Mastercard Credit or Debit/-i card, so you can utilise the HLB HoliYay deal of up to 50% off on four Klook activities in selected countries! 
9. Plan your itinerary in detail
Credit: Simon Migaj on Unsplash
It pays to be a master planner. When you plan your itinerary down to the exact detail, you'll discover ways to save money wherever possible. In some countries, lunch sets are often cheaper than dinner time. Knowing this dining tip in advance can enjoy heartier meals in the day and settle for budget dinner take-aways. 
Some tourist attractions also have cheaper admission tickets and passes during certain times of the day. If you're visiting Tokyo Disneyland, swing by in the evening for their After 6PM or Starlight passes. The hours may be short, but you'll deal with lesser crowds and shorter queues. The best part is, it's also half the price of a regular day pass!
#HHWT Tip: Need help with itineraries? Check out our huge selections of itineraries ranging from London and Amsterdam to Tokyo and Osaka!  
10. Get a cashback credit card
Credit: Rupixen on Unsplash
Sometimes, you might need to use a credit card for your hotel deposit or bring less cash when travelling to a destination known for pickpockets. Since you're getting one for your next trip, get a cashback credit card like Hong Leong Bank Mastercard Credit or Debit/-i card. It's a great way to save while spending too! 
Whether you swipe it at a French patisserie in Paris or delicious dinner in Istanbul, you can get overseas dining cashback. Spend RM350 on a single receipt when you dine overseas and get RM30 cashback – just like that!
If you're planning a big vacation in 2020, take the first step by planning and saving for your trip! Besides creating a budget plan and shopping online, make the most of your trip with amazing HLB HoliYay deals. All you need is a Hong Leong Bank Mastercard Credit or Debit/-i card to enjoy amazing travel deals on flights, accommodations and unique experiences. With many discounts and promotions coming to you, let these travel deals take you closer to your dream HoliYay in 2020!
This article is brought to you by Hong Leong Bank HoliYay. Discover exciting travel deals for your next holiday on their website! 
Tags: