Been dreaming of travelling to Japan for two years? Well, now you can! Everyone who has been to the country will tell you that Tokyo, Osaka and Kyoto are the top few cities you must visit for the best Japan trip ever, especially if it's your first trip! Get a taste of metropolitan Tokyo before heading to the magical city of Osaka and wrapping up your trip in peaceful, traditional Kyoto ✈️
Credit: GIPHY
Getting around
The cities in Japan are mainly connected through a series of train/subway lines, which makes travelling around super convenient. In Tokyo alone, there are 13 colour-coded subway lines for easier navigation, 9 of which are operated by Tokyo Metro and 4 by Toei. Fares can get expensive, depending on the operators and how far you travel. Plus, if you're changing operators, a transfer ticket is needed. To save on cost, we'd recommend purchasing the 
Tokyo Subway Ticket
(valid for 24, 48 or 72 hours), which gives you unlimited rides on all Tokyo Metro and Toei subway lines! For those travelling between cities, the
Japan Rail (JR) Pass
is your saving grace 🤗 Valid for 7 days, 14 days or 21 days,  this pass gives you unlimited access to all JR Group Railways,
Shinkansen 
(bullet trains), buses and more!
The pass can currently be purchased at online
. While some stations in Japan sells the passes, it may be a lot more expensive! Otherwise, you can opt to
buy it in advance on Klook
and redeem it at any JR Rail Pass exchange office in major JR stations 😌
#HHWT Tip:
If you're a social media junkie like us, stay connected across Japan with 
a 4G WiFi router with unlimited data
!
Travelling from Haneda/Narita Airport to your hotel
Once you've touched down in Tokyo, you can either opt to take the train or subway to your hotel, and we highly recommend using 
Jorudan
 to figure out the best route to travel around Japan. For those travelling in huge groups, you can also consider booking a private airport transfer (Klook offers this service for travellers arriving from
both Haneda and Narita airport
!).
#HHWT Tip: 
For those with the
JR Pass
, save on transport cost by taking the Narita Express from Narita Airport to Tokyo Station. You'll be there in 53 minutes!
Day 1
Arrival at Narita airport
Konnichiwa Japan! You've officially touched down to the Land of the Rising Sun ✨ If the airplane food left you feeling hungry, swing by KINEYAMUGIMARU, a halal-certified udon eatery at Terminal 1 for a quick refuel  😋
Pick up your JR Pass
If you're from Singapore, you can pick up the exchange voucher from Klook's office. For other countries, you can arrange for mail delivery and receive the voucher in 7 working days. How convenient is that? 🤗
You'll need to present the exchange voucher, along with your passport, and redeem it at any JR Rail Pass exchange office in major JR stations.  Check out the full list here!
Note: The JR Pass cannot be used for travel on NOZOMI and MIZUHO trains on the Tokaido, Sanyo, and Kyushu Shinkansen lines.
Pick up your Tokyo Subway Pass
With the JR Pass in your arsenal, you'll need the Tokyo Subway Pass to get around Tokyo. You can purchase the pass for either 24, 48 or 72 hours!
If you book on Klook, you'll get instant confirmation of your purchase PLUS convenient pick up at the airport!
To use it, simply insert the card into the slot at the ticket gate and retrieve it when it pops out again!
Situated in the heart of Shinjuku, Keio Plaza Hotel Tokyo is perfect for all travellers!
Whether you're travelling with kids, a large group or with your other half, you're in for a great stay, given its spacious rooms and awesome location.
The best part? The hotel offers free shuttle bus services to Disneyland!
P.S. Looking for other family-friendly hotels or hotels near halal food in Tokyo? Check out our full list here!
Dinner at Yakiniku Panga
Grab your buddies and end your first night in Japan with a grill fest at Yakiniku Panga!
Sink your teeth into tender, halal wagyu beef that's been grilled to perfection
Halal Wagyu Yakiniku Panga (Okachimachi)
Halal Status: 
While all the meats served are from halal-certified suppliers, alcohol may be served in the establishment. Do dine with discretion.
The average price of main dishes:
 JPY4900-8500 for wagyu
Opening hours:
 Tues-Thurs, Sat; 11.30AM-2PM, 5PM-10.30PM, Sun-Mon, Fri; 5PM-10PM
Address:
 3 Chome-27-9 Taito, Taito City, Tokyo 110-0016, Japan
Contact: 
+81 3-3839-8929 or reserve via 
Hotpepper
Instagram
Day 2
Visit the happiest place(s) on earth; Tokyo Disneyland or Disneysea!
Disney fans, rejoice! Here's where you can unleash your inner child, hop on thrilling rides and meet your favourite Disney characters 😍
Skip the endlessly long queues and book your admission tickets in advance on Klook! Completely hassle-free, you'll even get instant confirmation of your purchase, which gives you more time to spend on your favourite rides and attractions!
Do note that you'll still need to print a physical copy of your ticket for admission.
#HHWT Tip:
 Interested in a back to back Disney adventure? Check out
Klook's 2 Day Disney Pass
and spend a day at BOTH Disneyland and Disneysea or enjoy two full days at one park!
Snag yourself a FASTPASS* and beat the queue! Disney is notorious for having insanely long queues everywhere, plus the passes are limited and run out quickly 😱
Be sure to get the passes in the right order as well as the FASTPASSes for the popular rides run out fast! Check out this article for our foolproof, FASTPASS battle strategy 😉
Grab a spot 30-45 minutes before the parade starts! If you see people sitting in the middle of nowhere, chances are, they're probably waiting for the parade to start.
Stock up on the most adorable character merchandise! From popcorn buckets, soft toys, collectibles to hats, you'll need an extra luggage just to bring these home 🤭
At the time of writing this article (2019), we mentioned that there is a prayer room at the Main Street House (Disneyland) or Guest Relations (Disneysea). However, we are unable to confirm so for now! We will update once we have more information.
#HHWT Tip:
  Prayer mats and garments are not provided so do remember to bring your own!
Stay till the end for a fantastic fireworks display, no one does it better than Disney ✨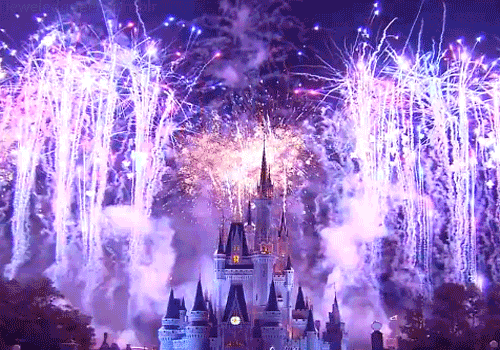 Credit: giphy
Day 3
Sample fresh seafood at Tsukiji Fish Market
The wholesale market of Tsukiji Market, which was also known as the "inner market" and was famous for its tuna auctions, closed on October 6, 2018 and moved to a new site in Toyosu where it reopened as Toyosu Market. However, Tsukiji's outer market with its many shops and restaurants did not close and remains in business.
Check out the freshest seafood this side of Tokyo! Marvel over massive crabs, scallops and morethat's been freshly captured by the local fishermen.
Note: The food items sold at Tsukiji Fish Market are not halal-certified, it's best to check with the individual vendors before consuming at your own discretion.
You'll find many stalls selling various items, ranging from fresh produce, tamago (egg), unagi (eel), Japanese knives, ceramic cutlery to Japanese tea.
How to get there
: Tsukiji Outer Market is located a short walk from either Tsukiji Shijo Station on the Oedo Subway Line or Tsukiji Station on the Hibiya Subway Line. The closest 
JR
 station is Shimbashi, from where you can walk to the market in about 20 minutes.
Opening hours
: Varies by shop, typically 5am to 2pm daily
Late breakfast at Luna Hala Café
This cafe has a halal menu to cater towards their Muslim customers so feel free to dig into their oishii grilled salmon set!
Luna Hala Cafe is located in Ban Hotel, which is a Muslim-friendly hotel - you can rent prayer mats, and their rooms are spacious enough for prayers!
Halal status
: While the eatery serves pork and alcohol, their halal menu is prepared accordingly to the appropriate guidelines.
Address
: 3-17-10 Tsukiji, Chuo-ku, Tokyo, Japan 104-0045 (3 minute walk)
Website
Have a taste of olden day Japan at Asakusa
 Personalised rickshaw tour around Asakusa
 Discover Asakusa like never before while riding in a traditional rickshaw! Pulled by a friendly, English-speaking guide, you'll pass by iconic landmarks like Kaminarimon, Geisha Town and the Tokyo Skytree.
Available on Klook, the ride is 30 minutes - 2 hours long, depending on the package PLUS you can customise the tour! We'd recommend starting at Asakusa station and end the tour at the Sensō-ji area.
Rent a kimono and walk around the oldest temple in Tokyo for the full Japanese experience! Don't forget to snap photos of the iconic Kaminarimon (Thunder Gate) at the outer gate of the temple!
Once you're done exploring, head to Nakamise, a shopping street near the second outer gate. Splurge away on unique souvenirs, halal local snacks and more!
Head on to Hyobando (found at the start of the street) to stock up on okaki or traditional Japanese rice crackers. Yummy flavours include seaweed, red pepper and matcha 😋
#HHWT Tip:
 As you stroll along Nakamise, do look out for Kameya, which makes
ningyo-yak
i – tiny baked doll cakes stuffed with red bean! Plus, you get to watch them being baked. Definitely one of our favourite Japanese snacks 😋
The first halal sushi restaurant in Japan, this eatery uses only the finest ingredients and like many of the restaurants here, it's cheaper to dine here during lunch 😍
#HHWT Tip: 
There's a prayer room on the second floor, with a wudhu area and prayer mats provided!
Halal Status: 
Halal-Certified
The average price of main dishes:
 JPY1300-1800 (rice bowls), JPY2400 (sushi sets)
Opening hours: 
Open daily; 12PM-10PM (closes on 31st December yearly)
Address: 
2 Chome-11-4, Asakusa, Taito-ku, Tokyo 111-0032, Japan
Contact: 
+81 03-5246-6547
Website
 | 
Facebook
 | 
Instagram
Shop till you drop at Shibuya
Home to the one of the world's most busiest pedestrian crossings and huge departmental stores, Shibuya is every shopaholic's dream!
The perfect place for an authentic yakiniku dinner after a day's worth of shopping! 😌
Choose the cut you prefer and they'll serve it to you raw and lightly seasoned for you to grill on the charcoal stove. The beef tenderloin, grilled to medium rare, is just perfect! 😌
Halal Status: 
Food is halal-certified but do note that alcohol is served in the establishment. We advise you to dine at your own discretion.|
Average price of main dishes:
 JPY3000-4000
Opening Hours: 
5PM-12AM, daily
Address: 
3 Chome-14-5 Shibuya, Tokyo 150-0002, Japan
Contact: 
+81 03-5469-2911
Website
 | 
Facebook
 | 
Instagram
Day 4
Onwards to Osaka (3-4 hours)
Getting around
Osaka is largely divided into 2 main areas: the Umeda area, called "Kita" and the Nanba/Tennoji area, called "Minami".  The subway pretty much covers the whole city area, the JR Osaka Loop Line which circles the central districts, as well as other connecting private railways. With the 
2 day Osaka Amazing Pass
, you'll get unlimited rides on buses, trains and private railways PLUS free access to over 30 sightseeing spots in the city! You can easily
get this pass on Klook
(at a discounted price!) and receive your e-voucher instantly 😊 You can exchange the voucher for the pass at Osaka City Air Terminal (JR Namba Station).
Lunch at Matsuri
Halal status:
Halal ingredients used, no non-halal meat or alcohol is sold in establishment
Prayer room:
 Available
Opening hours:
Sat-Sun (11AM-2PM; 5PM-8.30PM);  Fri, Mon-Tues (5PM-8.30PM); closed on Wed and Thurs
Address:
 3 Chome-27-17 Yoshino, Fukushima Ward, Osaka, 553-0006, Japan
Contact:
 +81669406633
Website
 | 
Facebook
 | 
Instagram
Enjoy FREE entrance to top attractions like Osaka Castle, Umeda Sky Building Floating Garden Observatory, and the Kamigata Ukiyoe Museum!
Check out the night scene at Dotonbori
Dinner at Ramen Honolu
Slurp up a piping hot, hearty dinner at Ramen Honulu to end your day 🤤
Halal Status: 
Halal-Certified
The average price of main dishes:
 JPY1000
Address
: 2 Chome-5-27 Motomachi, Naniwa Ward, Osaka, 556-0016, Japan
Opening hours
: 11:30AM–2PM, 5PM–9PM daily; closed on Tuesdays
Website | Facebook | Instagram
This cosy hotel is just a short walk away from JR Namba Station!
Address
: 1-chōme-2-3 Minatomachi, Naniwa Ward, Osaka, 556-0017, Japan
Contact
: +81-6-6645-7111
Website
|
Facebook
|
Instagram
Day 5
Be a wizard for a day at Universal Studios Japan (USJ) ⚡️
No trip to Osaka is complete without visiting USJ! As the park is super popular (and crowded), you don't want to risk not being able to get your tickets or the express pass when you reach the ticketing counter. Remember to book your USJ admission ticket in advance on Klook to get instant confirmation!
Credit: tc_manasan on Flickr
Note:
 You'll still need an 
admission ticket
 (which is a separate purchase) to enter the park.
Note:
The
USJ VIP Wristband
is
not inclusive
of the
USJ Express Pass
.
#HHWT Tip:
DO NOT purchase tickets from unrecognised retailers as your tickets will be nullified!
Stick to authorised resellers like Klook
and book your tickets with them to avoid any last minute disappointments. Oh, and keep a look out on their Facebook page for discount codes, which they offer regularly too 😉
All aboard the Hogwarts express! Time to live out your childhood dream of going to Hogwarts and proudly don your house colours 😍
Complete your Hogwarts student experience with a frothy mug of Butterbeer (non-alcoholic of course 😉) while wondering around Hogsmede
Visit popular attractions like Despicable Me Minion Mayhem, The Flying Dinosaur, The Amazing Adventures of Spider-Man, and more!
#HHWT Tip:
Get the
the USJ Express Pass on Klook
, especially if you're visiting on a peak day or if you hate queueing! You will be assigned specific timeslots to ride the popular attractions and this will be a lifesaver!
Meet your favourite mascots, catch the free parades and splurge on character merchandise like adorable soft toys and popcorn buckets 🤩
Hop on thrilling 4D rides based on popular animes like Evangelion XR Ride, Godzilla, Attack on Titan and Monster Hunter!
Lunch at Azzurra di Capri
Have a slice of delicious vegetarian pizza 🤩
Note: 
Do note that this eatery is not halal-certified, however, vegetarian options are available. We advise that you dine at your own discretion.
#HHWT Tip:
 For those staying late till dinner, there's a Muslim-friendly menu at Red Lobster, just outside of USJ.
Rejoice if you're a chicken lover! Tsuki no Odori, which is known for their chicken dishes has a halal menu. They've taken great care to ensure that the halal dishes served meets their standards and diners' expectations.
Be sure to try the succulent yakitori!
Note: It's best to make a reservation before visiting especially if you're going in a group of 4 or more, as although they do have halal meals on hand, the number of servings are limited.
Halal status:
Halal ingredients used, alcohol is served in the establishment so do dine at your own discretion.
Average price:
 JPY3000
Opening hours:
11.30AM-2.30PM, 5.30PM - 10.30PM daily
Address:
 2 Chome-26-13 Kujominami, Nishi Ward, Osaka, 550-0025, Japan (〒550-0025 大阪府大阪市西区九条南2丁目26−13)
Contact: 
+81 6-4393-0088
Nearest subway station:
Kujo (exit 1/2)
Facebook
 | 
Instagram
Day 6
Kyoto, here we go! (<30 minutes)
With your JR Pass in hand, take the shinkansen to the historic city of Kyoto 😊
Getting around
Just like Tokyo and Osaka, Kyoto is connected by a series of train lines, subway and buses. With the
ICOCA IC Card
,  you can enjoy discounts on public transportation and shopping in the Kansai area (which includes Kyoto and Osaka!)
P.S. Read till the end of the total cost breakdown of our Klook purchases!
Note:
 Before heading over to Kyoto, you can redeem this card at the Osaka City Air Terminal (JR Namba Station).
Check in to New Miyako Hotel Kyoto
Dump your heavy luggage at the New Miyako Hotel, which is just a stone's throw away from Kyoto station
Address
: 17 Nishikujo Inmachi, Minami Ward, Kyoto, 601-8412, Japan
Contact
:
+81 75-661-7111
Website
|
Facebook
|
Instagram
#HHWT Tip:
 Stay near to Kyoto station for easy access to majority of the top local attractions; they're within short walking distance from the station.
Fushimi Inari Shrine
Walk through the thousands of torii gates at the Shinto shrine!
The entire walk to the summit of Mount Inari and back will take you around 2-3 hours, with breath-taking views of Kyoto along the way.
Unlike other temples or shrines, entrance here is free!
#HHWT Tip: 
Go further up the path to take photos of just yourselves or the gates without the throngs of eager visitors that crowd the lower levels of the shrine.
Tofuku-ji Temple
The oldest and largest temple in Kyoto, this attraction is also one of Japan's best autumn viewing spots 😌
Credit: Yusuke Umezawa on Flickr
Nishiki Market
The largest traditional food market in Kyoto, Nishiki Market is over 400 years old!
Savour authentic local food like fresh sashimi and green tea 🤩
Be sure to swing by the market before it closes at 6pm
Disclaimer: 
The food items at Nishiki Market are not halal-certified, we advise that you dine at your own discretion.
Address
: 609番地 Nishidaimonjicho, Nakagyo Ward, Kyoto, 604-8054, Japan
How to get there
: From Kyoto Station, take the 
Karasuma Subway Line to Shijo Station
. Nishiki Market is located one block north of Shijo Avenue, between Teramachi and Shinmachi, less than a five-minute walk from Shijo Station.
This halal-certified eatery serves up delicious bowls of miso ramen and crispy fried chicken karaage 😍
There's even a prayer room, complete with ablution facilities and prayer times!
Price:
 ¥700 –¥1,700
Opening hours:
11AM -10PM daily
Address:
422-1 Rinkacho, Higashiyama Ward, Kyoto, Kyoto Prefecture 605-0062
Contact:
(+81) 075­255­0181
Facebook
Night stroll along Gion
Travel back in time and wander through rows of traditional wooden Japanese houses and shop lots!
Credit: Ryan Scullin on Flickr
Try to catch a glimpse of a real life geisha; the best places to see them are at Hanami-koji-dori (the section between Shijo-dori and Kennin-ji Temple)!
Day 7
Morning walk at Sagano Bamboo Forest
Take a leisurely stroll among the towering bamboo groves and soak in the tranquil vibes of the forest!
#HHWT Tip:
 If you get there early enough in the morning, there'll be less people about and you'll get to take a clear photo without the crowds!
Hop on a train ride of a lifetime
Credit: Klook
Dine with a view at Yoshiya Arashiyama and order hala washoku (traditional Japanese dishes) from their Muslim-friendly menu!
Halal status:
 Halal-certified menu available
Price:
¥1350 - ¥5000
Opening hours:
 11am - 5.30pm daily
Contact No:
 +81 75-871-0448
Address: 
31, Sagatenryuji Tsukurimichicho, Ukyo-ku, Kyoto-shi, Kyoto (右京区嵯峨天龍寺造路町31, Kyoto, Japan)
Directions: 
Yoshiya is about a 4-minute walk from Keifuku Arashiyama Station and 11-minute walk from Hankyu Arashiyama Station
Stroll along Kamo River before taking a coffee break
Take a break from the touristy side of Kyoto and sit by the picturesque Kamo River
Time to head home 😭
Say sayonara to Kyoto and take the shinkansen back to Tokyo using your JR Pass (the journey takes around 2 hours and 40 minutes)
Dinner at Narita Airport
We bet you're as happy as us to find out that Japan is back! Let us know what would you want to know for your upcoming Japan trip!
This article was brought to you by Klook.