Ah, desserts. Who can ever say no to them? Velvety soft cheesecake, cute as a button cupcakes, heartwarming freshly-baked cookies, delightful melt-on-your-tongue cold treats, melted chocolate on warm brownies – just the thought of these delicious goodness is enough to make one salivates.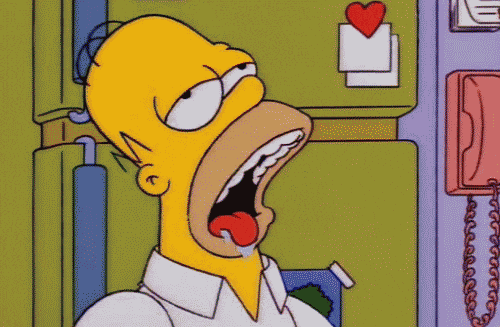 Credit: giphy
If you have a serious sweet tooth and has made it your life mission to scour for the best desserts in town, this one will be perfect for you. Read on as we've picked out the best places for these sweet treats in KL. Happy dessert-hunting, my fellow dessert lovers!
[P.S These 12 unique desserts in KL will definitely make you drool!] 
1. Cookie Nation (Halal-certified)
For fans of cookies, the name Cookie Nation needs no further introduction. With a tagline of "Cookies with Attitude", expect to be greeted with a variety of freshly-baked cookies that reflect your attitude: minty cool, fiery like a volcano, or classic old school.

Credit: @cookienationmalaysia on Instagram
Inspired by the classic American soft baked cookies, their cookies are served in three ways – as it is, a sandwich ice-cream, or together with milkshake. Whichever way you choose, the cookies themselves are scrumptiously amazing. With more than 10 types of flavours, from the classic chocolate chip cookie to the sinful chunky peanut butter cookie with Nutella filling, this place is a definite cookie haven.

Credit: charissachong on Instagram
While you're at it, try their ice cream sandwich! Home to the ice cream sandwich here in KL, their ice creams are imported from New Zealand and come in 8 different flavours, from the classic vanilla to the unusual honeycomb 🍦Pick any two cookies then choose your preferred ice cream flavour and one free topping which include chocolate chips, marshmallows, and colourful sprinkles.

Credit: @shxriffah on Instagram
Address: D-G-13, Sunway Nexis Mall, 1, Jalan PJU 5/1, Kota Damansara, 47810 Petaling Jaya, Selangor
Opening Hours: Daily 12pm – 11pm
Contact: 03-6143 1248 | Facebook | Website | Instagram

2. Souka (Muslim-owned)
No desserts list is complete without an entry of heavenly delicious cakes and that's exactly what you'll find here at Souka 😋

Credit: @soukabakes on Instagram
Initially tucked away in a small corner inside Mukha cafe in TTDI, this low-key bake shop has ventured out to a bigger venue at a shop lot in Subang Jaya. Specialising in vintage and classic cakes, their famous offering has to be the red velvet which has been praised as one of the best, if not the best, in town. Rich, soft, and luscious, with a generous heap of cream cheese frosting, this is one treat you wouldn't want to miss!

Credit: @soukabakes on Instagram
Another bestseller of theirs are the salted caramel chocolate cake, the hummingbird cake which is a banana-pineapple spice cake with cream cheese frosting, and the meringue-dessert pavlova.

Credit: @soukabakes on Instagram
They also cater for parties and functions, be it at their space or your chosen venue. Not only will they provide you with their delightful sweet offerings, they will also set up the dessert table complete with table decorations for you.

Credit: @havehalalwilltravel on Instagram
Address:  53, Jalan SS 15/5a, Ss 15, 47500 Subang Jaya, Selangor
Opening Hours: Daily 10am – 10pm
Contact: 03-5613 3532 | Website | Facebook

Mukha outlet:
Address: 15 Lorong Rahim Kajai 13,TTDI, Kuala Lumpur
Contact: 03-77322248 | Website | Facebook

[P.S These 13 halal food spots along KL's new MRT line will make you stop in your tracks!] 
3. Wondermilk (Muslim-owned)
There's no denying that cupcakes are cute and yummy. These adorable-looking little treats are  just the perfect bite size of happiness and arguably the best cupcakes in town!

Credit: @intandianashah on Instagram
A veteran and long time purveyor of delightful cupcakes, Wondermilk started off as a humble online business based on its founders' own home kitchen. As they gained more and more avid customers, they opened their very first cafe at Uptown Damansara and since then has branched out to other parts of Klang Valley.

Credit: @wondermilk on Instagram
Pretty-looking and delicious, their selection of cupcakes are diverse with amazing flavours such as their signature Foxy Red Velvet and their bestsellers Salted Caramella, Choc Marshamallow Surprise, and John Lemon. They also have cupcakes which are inspired by local flavours such as Pandan Gula Melaka, Gula Hangus, and Apam Balik. Fluffy and moist without being overly sweet, this is one finger-lickin' dessert 😎

Credit: wondermilk on Instagram
Contact: Website | Instagram
Click here for a list of their branches.
4. Cendol Borhan Gombak (Muslim-owned)
Nothing beats the feeling of having something cold to quench your thirst and soothe your dry throat on a hot day. And a favourite among Malaysians for such a cooling dessert is none other than the much-loved cendol.

Credit: @nabilfarhsa on Instagram
For cendol lovers, Cendol Borhan is a well-known and familiar name, especially for those who reside in Selangor. This humble roadside stall is popular with the locals for its cheap and delicious cendol. What makes theirs particularly stand out are their homemade green cendol strands which quite literally melt in your mouth. Pair that with finely-shaved ice, thick gula melaka syrup and flavourful coconut milk and this is one refreshing dish you'll keep coming back for 😉

Credit: @allysnsr on Instagram
Aside from the usual regular cendol, they also offer different toppings for your cendol such as sticky rice (pulut), yam, sweet corn, and the crowd's favourite, durian. While you're at it, try their savoury dishes such as curry mee, laksa, bakso, and rojak as a complement to your sweet dessert!
Address: Jalan Gombak, 53000 Kuala Lumpur, Selangor
Opening Hours: Daily 10am – 11:30pm (closed during Friday prayer from 12:30pm – 2:30pm and for prayer break daily 7pm – 7:30pm)
Contact: 013 3673314, 011 8974019, 019 2404047

In search for more cooling desserts perchance in your quest to beat the notorious Malaysian heat (and to seek for the best desserts near you), head over to Sangkaya for the best coconut ice cream in town!

Credit: @kanace_tan on Instagram
Inspired by the Bangkok Chatuchak-style coconut ice cream, their entire menu is made up of coconut, hence their slogan, "Nuts about Coconuts". Their coconut ice cream has been praised for being creamy and rich in flavour and the secret behind this is the use of fresh coconut milk. 

Credit: @silamakansayur on Instagram
Pick your choice of ice cream served in a husk, cone, cup, with cookies, as a coconut shake, or together with cendol. For every order of their signature menu (husk), you're entitled to 3 free toppings of either corn kernel, toasted coconut flakes, peanuts, cereal, corn flakes or chocolate sauce.  If coconut isn't your flavour, they also have other ice cream flavours such as chocolate, gula melaka, kaya, green tea, and teh tarik.
Contact: Facebook | Instagram
Click here for a list of their branches.
[P.S These 12 halal bakeries in KL will leave you in pastry heaven!] 
6. Sepiring (Halal-certified)
A fan of traditional Malay desserts? Make your way to Sepiring then, where they pride themselves in serving only the best authentic Malaysian dishes, from starters to desserts.

Credit: @sepiring_malaysia on Instagram
Going by the slogan, "Uniquely Malaysian", this eatery aims to provide homegrown meals from all corners of Malaysia to reflect its' colourful heritage. Savour their wonderful Malaysian desserts such as bubur cha cha, ABC (ais batu campur or mixed ice), durian crepe, sago cendol, and pulut hitam with tong yuen (glutinous balls with fillings).

Credit: @sepiring_malaysia on Instagram
If you prefer savoury dessert, try their yam cake. Soft yet dense with flavourful bits of yam in every bite, it's best enjoyed with the homemade chili sauce that comes with it. There's also their penang rojak – an assortment of fresh local fruits and vegetables doused in rich homemade shrimp paste. Be warned though that it is slightly spicy so for those who can't handle the heat, eat with caution 🔥
While you're there, give their one-of-a-kind Gula Melaka Latte a try! Sweetened with coconut palm sugar, this East-meet-West fusion of a coffee is deliciously creamy with a hint of caffeine. For a more stronger buzz of caffeine, order their Gula Melaka Affogato – vanilla ice cream drizzled with Gula Melaka, served with a shot of espresso to pour over.

Credit: @sepiring_malaysia on Instagram
Contact: 03-2856 0460 | Website | Instagram
Click here for a list of their branches.
7. Salon du Chocolat
Chocolate fans, this one's for you. Serving a variety of chocolate staples from brownies to crepe, pancake, waffle, and chocolate drinks, this chocolatier is every chocolate lover's heaven.
Priding themselves in providing only the highest quality of chocolate for their chocolate creations, you wouldn't be disappointed with any of their offering, be it in portion or taste. If you're looking for recommendations, try their waffle stick – waffle on a stick (the name is pretty explanatory) with the chocolate of your choice (be it dark chocolate, milk chocolate, or white chocolate) generously lathered all over it.

Credit: @nurhusnx on Instagram
Another customers' favourite is their brownies in a cup – mini pieces of brownies drizzled with chocolate of your choice on top. Their brownies are served warm and not overly sweet as to complement the sweetness of the melted chocolate 🍫

Credit: @syierahhhhh on Instagram
For a bit of chocolate indulgence, their Salon Wrap should do the trick. This wrapped crepe dessert is stuffed with either strawberry or banana (your choice) and puffed rice cereal and topped with organic rose and the sinfully thick layer of your chosen chocolate. This is one big dish so bring along a friend or two to share it with!

Credit: @fadzrilzin on Instagram
Publika
Address: Lot 26-27, Level G2, Publika Shopping Gallery, Solaris Dutamas, Jalan Dutamas 1, 50480, Kuala Lumpur
Contact: 03 62112300 | Website | Facebook | Instagram

One Utama
Address: Lot FK105A, 1st Floor Centre Court near AEON, 1 Utama Old Wing, Bandar Utama, 47800 Petaling Jaya

Quill City Mall
Address: Lot G-35 & G-36, Quill City Mall, Jalan Sultan Ismail, 50250, Kuala Lumpur

8. Exitowok (Muslim-owned)
Late-night cravings for something sweet are real and at times it can be difficult to find places that are still open at night. Well, look no further than to Exitowok, a food truck which sells one of the best churros in town.

Credit: @shalehaton on Instagram
Though Exitowok menu are largely made up of wok dishes, it is their light dessert churros that people keep coming back to. Open from 6pm till midnight, their churros are well-loved and coveted for its addictive and delightful taste as well as large portions at an affordable price.
[P.S Satisfy your late-night supper fix at these 10 absolutely yummy places in KL!] 

Credit: @blisscakeheaven on Instagram
Crispy on the outside yet soft on the inside, their fried churros are served warm in a plastic cup together with chocolate sauce, caramel sauce, or kaya pandan sauce (we personally recommend the caramel sauce 😉).
Address: Dataran Food Truck Wangsa Maju, 53300 Kuala Lumpur (search for a black food truck usually at the end of the line)
Opening Hours: Tuesday to Sunday 6pm – 12am, closed on Mondays
Contact: 011 27127225 | Instagram

9. Ain's Patisserie (Muslim-owned)
Tucked in a quiet neighbourhood in Shah Alam, this charming little patisserie is a lovely retreat for the nearby residents for its wonderful and unforgettable desserts.

Credit: @ainpatisserie on Instagram
A warm and sweet scent of baking will welcome you as you enter the premise, followed by a display of various desserts from cupcakes, cookies, pastries, and cakes. Their bestseller and signature offerings however have to be their Kasturi Cheesecake, which is a twist on the lemon cheesecake as well as Marie Toffin, or better known as batik cake with an added toffee sauce. Do check out their Keria Gula Melaka, a traditional Malay kuih made of sweet potato donut while you're at it!

Credit: @ainpatisserie on Instagram
Don't expect to be greeted by the same offerings each time you come here though. Always eager to try something new, Ain likes to introduce a new and unique treat from time to time. Their newest creation is Keria Ube which is a twist on the traditional keria. Using yam instead of the usual sweet potato, the keria ube is a new entry to their line of desserts worth trying 😍

Credit: @ainpatisserie on Instagram
Address: No.3, Jalan Sukun 4/7, Seksyen 4, 40000 Shah Alam, Selangor
Opening Hours: Daily 11am – 8pm
Contact: 012 296 4680 | Facebook | Instagram

10. Cake Jalan Tiung (Muslim-owned)
For die-hard cake lovers, you won't be disappointed with any selection of cakes here in Cake Jalan Tiung.  Freshly made every day, the people at Cake Jalan Tiung take their cakes very seriously, and only 10 cakes are made per day for each outlet to ensure quality so do come early to avoid disappointment.

Credit: @cakejalantiung on Instagram
Amongst the patrons' favourites is their Salted Caramel and Chocolate cake. Baked to perfection, each bite is a harmonious balance of saltiness and chocolate sweetness. Their nut-studded Christiung Applegate apple cake and one-of-a-kind Pengat Pisang Cheesecake are also well-loved.

Credit: @cakejalantiung on Instagram
The cakes here are made on rotation; the head baker will change the cakes on display based on his preference so do keep in mind that you won't get the same type of cakes upon each visit. Do visit their Facebook or Instagram page for a list of cakes for the day.

Credit: @cakejalantiung on Instagram
Don't leave without having a bite of their Creampuffsaurus, crisp craquelin shell with overflowing chilled vanilla bean custard goodness inside. They only have these at their Seksyen 9 branch on Wednesday and weekends so time your visit wisely!
Contact:  0128787258 | Facebook | Instagram
Shah Alam Seksyen 9 Branch
Address: 31, Jalan Tengku Ampuan Zabedah J 9/J, Seksyen 9, 40100 Shah Alam, Selangor
Opening Hours: Wednesday to Sunday 12pm – 7pm, closed on Mondays and Tuesdays

Shah Alam Seksyen 13 Branch
Address: Menara Naza, TTDI, Ground Floor, No. 11, Jalan Judo 13/45, Seksyen 13, 40100 Shah Alam, Selangor
Opening Hours: Monday to Friday 10am – 7pm, closed on Saturdays and Sundays

[P.S Bring your food hunt to a whole new level with these 11 cafes and restaurants out of KL that are so worth the drive!] 
And there you have it, 10 places to get the best desserts in KL. As always, there are more to be discovered in this food paradise so leave a comment below if you know any other good desserts in town!
Tags: halal food guide, kuala lumpur, malaysia,