Are you into road trips and a huge food lover at the same time? Well, you'd definitely want to read what we have in store for you because we would like to show you some of the most amazing restaurants in Malaysia that will give you the perfect opportunity to do some road tripping with your family and friends 😃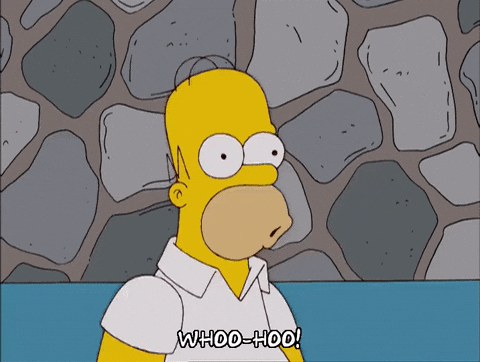 Credit: Giphy
Not only will this satisfy your hunger, but it'll also allow you to explore some parts of Malaysia that you've probably never visited before 😉 Here's 11 cafes and restaurants out of KL that's worth a drive to!
1. Eid Halal Korean Food, Bangi, Selangor (Halal-certified)
Does South Korea comes to your mind when we mention Korean food? 😉 This amazing restaurant is the perfect place when you're craving for some Korean delicacy. Firstly originated in Itaewon, Seoul and thankfully right now you can find this beauty in Bangi!

Credit: @eid.halal.korea.bangi on Instagram
One of their most favorite dishes is Dakgangjeong Tteok and it's the famous and yummy Korean fried chicken. It comes with rice, seaweed soup and banchan (salad, kimchi and fish cake). You'll also have a complimentary refill for the banchan! Isn't that great? 😎

Credit: eid.halal.korea.bangi on Instagram
Other dishes that you have to try includes the Bulgoggi, Kimchi Stew, Chicken Durucigi (Korean version of Bouillabase) and Kimchi Fried Rice. If you're up for a decadent dish that's full of richness, you definitely should try their Fried Rice Cake with Korean Sweet Sauce! This place is absolutely the best place to get your fix of Korean cuisine 😍
Note: EID Restaurant will be closed for Aidiladha celebrations on 1 Sept 2017. Business will continue as usual on Saturday 2 Sept 2017.
2. Nasi Bamboo Sungai Klah, Perak (Halal-certified)
Craving for a traditional authenticity? Head down to Nasi Bamboo Sungai Klah! Located in Kampung Buloh Telor, Sungkai, Perak, this restaurant serve really delicious bamboo rice that you absolutely should try. If you're going north, this is a must visit 🤗

Credit: Nur Huda on Facebook
A set of bamboo rice consists of steamed rice (inside the bamboo), sambal belacan, salted duck egg, spiced grated coconut (serundeng) and a bowl of Curry sauce. You can also choose an option of getting the roasted version of it (Nasi panggang). The price is very affordably cheap and you can always put dishes of your choice to elevate your appetite.

Credit: zakiahmuzaariff on Instagram
#HHWT Tip: Grilled lamb, grilled chicken and grilled stingray (ikan pari panggang) are some of the choices we'd suggest to try!
Opening hours: 10.30am – 5.00pm (Closed on Fridays)
Address: Kampung Buloh Telor, 35600 Sungkai, Perak, Malaysia
3. Restoran Penang Gulai, Klang, Selangor (Halal-certified)
Are you craving for food from Penang but it's too far from you're at? Well, driving to Penang won't be necessary now! Restoran Penang Gulai serves many authentic Nyonya dishes and is definitely more than ready to impress your tastebuds 😋

Credit: wchen on Instagram
One of the crowd's favorites here is Assam Fish and the name itself really speaks mouthwatering right away, right? This dish features sweet and savory taste of the blended spices and the juiciness of the fresh fish 😋

Credit: Restoran Penang Gulai on Facebook
If you're up for something healthy and delicious, tasting Tian Qi is a must! The vegetable has a detoxification effect and it will help remove toxic substances in your body. Other dishes that will definitely blow your mind are Gulai Nanas Udang, Ayam Thai and Rendang 😬
Opening hours: 11:00 – 15:00, 18:00 – 22:00
Address: No. 35 & 37, Jalan Keluli Am7/Am, Seksyen 7, Selangor, 40000 Shah Alam, Malaysia
4. Big Bowl Ice, Melaka (Halal-Certified)
Ready to please your sweet tooth? Say no more and bring yourself to this dessert paradise called Big Bowl Ice! Big Bowl Ice has two brands which is located in Melaka and Johor Bahru 🤗

Credit: lovelyloon on Instagram
One of their amazing delicacies is called Milk Snow Ice with Mango and Ice Cream! Doesn't that combination sound amazing? 😋 This is definitely a hidden gem for a tropical country like Malaysia.

Credit: Big Bowl Ice on Facebook
The menu also offers some other delicacies. Do "Chocolate Snow Ice With Peanuts and Crispy Grains", "Milk Snow Ice With Passion Fruits, Fruits and Ice Cream", and "Grass Jelly with Toppings" The food items are absolutely perfect for a hot day, isn't it? 😉
Opening Hours: 11:15 – 24:00 (Open Every Day)
Address: No 1, Jalan mp 3, Taman Merdeka Permai, Batu Berendam, 75350 Batu Berendam, Melaka, Malaysia
5. Restoran Nasi Ayam Gulai Kawah, Bangi, Selangor (Muslim-owned)
Looking for a family style restaurant with a Western concept? Restoran Nasi Ayam Gulai Kawah is the place you're looking for! The restaurant offers a big plate called "Western dalam Dulang" that can feed up to four pax!

Credit: Nasi Ayam Gulai Kawah on Facebook
The plate consists of Fries, BBQ Chicken Drummets, Spaghetti Bolognaise and three different types of sauces (Mushroom Sauce, Thai Sauce and Black Pepper Sauce), and of course with the addition of chicken chop or lamb chop as a main dish of the plate 😋 If the Western dalam Dulang is not for you, opt for the Nasi Lemak Sambal 6 Negeri!

Credit: Nasi Ayam Gulai Kawah on Instagram
Offering six different type of sambals that are Sambal Ikan Bilis Tempe Kering, Sambal Belimbing Buluh Hitam, Sambal Ikan Bilis Jawa Totok, Sambal tempoyak Ikan Bilis, Sambal Ikan Bilis Pedas and Sambal Ikan Bilis Pandan Manis. Did you know that those type of sambals represent the six different state of Malaysia?
Opening Hours: 08:00 – 23:00 (Open Every Day)
Address: B-G, Bangi Gateway, Seksyen 12, 43650 Bandar Baru Bangi, Selangor, Malaysia
6. Yik Mun Tanjung Malim, Perak (Halal-certified)
Looking for a Halal Chinese restaurant? Yik Mun Tanjung Malim is your answer. Located in Tanjung Malim, Perak is very famous for its delicious Chinese delicacy. Some of the most important dishes of this restaurant is definitely its heavenly Pau. There are four different flavors ranging from Chicken Pau, Beef Pau, Beans Pau and Kaya Pau. Moist and juicy, the tenderness of the buns will definitely melt your heart 😆
Credit: VITDAILY on Facebook
Pau is the only appetizer and of course we'd definitely recommend to explore more delicacy the restaurant has to offer ☺️

Credit: tyajojo on Instagram
With countless of Chinese food, Malay food and Western food to choose from, this place is definitely the best place to fill up your tummies!
Opening Hours: 09:30 – 21:00 (Open Every Day)
Address: 3, Jalan Besar, 35900 Tanjong Malim, Perak, Malaysia
7. Greentown Dimsum Cafe, Ipoh, Perak (Halal-certified)
Dim sum is always appetizing and with so much variety, they'll never get boring!  Greentown Dimsum Cafe is a must visit restaurant when you come to Ipoh. This restaurant also offers gluten-free options for those who follow this kind of dietary.

Credit: @itme.nissa on Instagram
One of their specialties is Chee Chong Fun but they're only available on weekends so do check before you make a visit here! Fried Bean Curd, BBQ Chicken Pau and Prawn Dumplings are the dishes that you definitely should try here.

Credit: @atiiira on Instagram
#HHWT Tip: With a texture so soft and moist, we'd definitely recommend getting the Siew Mai 😃
Opening Hours: 08:00 – 21:00 (Closed on Tuesdays)
Address: 10, Persiaran Greentown 4, Pusat Perdagangan Greentown, 30450 Menglembu, Perak, Malaysia
8. Bumbu Bali Puchong, Puchong, Selangor
An island rich of beautiful cultures and cuisines, there's no doubt as to why Bali is one of the most desired islands on Earth 😍 If you'd like a taste of Balinese food, try out the spread that Bumbu Bali Puchong has to offer!

Credit: Bumbu Bali, Puchong on Facebook
One of their signature dishes is Nasi Campur (mixed rice) that consists of grilled lemongrass, prawns, squid, fish, beef or chicken rendang and Sate Lilit (Balinese minced chicken and seafood on skewers). The dish is also served with Lawwar Kacang (Beans Salad), Rempeyek (Anchovy Crackers), Sambal Balacan and Sambal Mutah.

Credit: Bumbu Bali, Puchong on Facebook
P.S. If you happen to have your birthday on the day you visit this place, this Nasi Campur is free for you!
Opening Hours: 11:00 – 23:00 (Open Every Day)
Address: Persiaran Puteri 1 & Jalan Industri PBP 1/1, Bandar Puteri Puchong, 47100 Puchong, Selangor, Malaysia
Disclaimer: Do note that the ingredients are supplied by a halal-certified supplier. However, alcohol is served at this eatery.
9. Ikan Bakar Parameswara, Umbai, Melaka (Halal-certified)
Around 20 minutes away from the city center of Melaka, there's a coastal village called Umbai which is known for its seafood freshness and ocean delicacy 🤗 Best part is, you'll also get to enjoy the magnificent seaside view and feel the tenderness of its sea breeze!

Credit: Jasmina Majit on Facebook 
One of the most popular restaurants here is Restoran Ikan Bakar Parameswara. When you see the menu, you might probably be a little bit overwhelmed as there's so many things to choose from. But more variety, more fun!

Credit: @nicezam on Instagram
Ikan Pari Bakar (Grilled Stingray) is one of the most desired delicacies here and you definitely have to try it. Looking for a messy experience? Try their sweet and sour crab (Ketam Asam Manis) and you will not be disappointed. Salted fried calamari will be a good addition too if you are up for something crunchy! To refresh your palette, Lai Chee Kang will be a good selection to finish your meal. Peanut can be a good addition to your drinks, eh?
10. Restoran Kacang Pool Haji, Johor (Muslim-owned)
If you happen to plan a trip to Johor, Restoran Kacang Pool Haji is definitely a destination you should not forget. The marriage between humbleness and tradition makes you feel like home and the food here is also fantastic. Kacang Pool (Spiced Fava Beans or Broad Beans) is one of the most popular ingredients in Johor Baru and people really celebrate that.

Credit: farajimmy on Instagram
Restoran Kacang Pool Haji offers two alternatives for your taste and they are Kacang Pool with Beef or Kacang Pool with Goat. Both are super delicious and the richness of Telur Mata Kerbau (Sunny-side Egg) improves the gloriousness of the dish. And don't forget about the addition of roti bakar that is so moist and delicate.

Credit: Mohd Zambri Zainal Abidin on Facebook
Finally, order Ais Kacang and feel the sensation of the sweetness of the ingredients and the coolness of the shaved ice. Combine all of them and you are now in a culinary heaven.
11. Pinto Coffee+ Janda Baik (Muslim-owned)
Looking forward to enjoying the nature in countryside of Malaysia and eating some fantastic food? Say no more! Pinto Coffee+ is the place that answers all your demands. Located in Janda Baik, the road to Pinto Coffee offers you beautiful sceneries and endless nature beauties. Not to mention that the wind breeze and the freshness of the air will also elevate your experience.

Credit: @nzrl on Instagram
The specialty of this restaurant is the various coffee drinks that would definitely awaken your soul 😍 Sumatra Arabica is one of the most recommended drinks here. The robustness of the coffee will definitely tingling your tastebud. Coffee lovers, this is where you should be!

Credit: Ida Zakaria on Facebook
On top of that, this restaurant offers a surau so you don't have to worry about missing your prayers when you visit this restaurant.
Opening Hours: 11:00 – 21:00 (Tuesday to Friday) 09:30 – 21:00 (Saturday and Sunday), Closed on Mondays
Address: Kampung Janda Baik, 28750 Bentong, Pahang, Malaysia
Well, there you have it! Some of the most amazing restaurants outside Kuala Lumpur that you can bring your family and friends to 😃 Ready to hit the road now? If we've missed out on any eateries, let us know in the comments!
Tags: halal food guide, malaysia