Remember our list of top 3 local halal food in Korea? Well, we have good news. Say hello to this new list as we've updated it with more halal Korean food places that you'll HAVE to visit if you're in Seoul! Let your Korean food adventure begin 😀
P.S. Been to Seoul? Leave us a review (or two 🤗) here and tell us all about your experience in this beautiful city!
1. EID – 이드 Halal Korean Food
If you've visited Seoul recently or are planning to, it's extremely likely that you've heard about this particular restaurant. Our writer made a trip down and absolutely loved their food as well as the variety of halal Korean food they serve! Like most halal eateries in Seoul, EID is located in Itaewon and even if this wasn't originally on your itinerary, we highly recommend making a trip down just to try authentic halal Korean food. After all, what's a trip to Seoul if you've not tried the local cuisine!
Like all other Korean eateries, they also serve refillable banchan (side dishes), which we love 😛 If you want to be in close proximity to all these yummy food, be sure to check out the EID guesthouse for muslim-friendly accommodation in Seoul!
Opening Hours: Tues to Sun – 11.30 AM to 9.00 PM. Closed on Mondays
Price: Mains cost around ₩8,000 – ₩12,000.
Address: 67, Usadan-ro 10-gil, Yongsan-gu, Seoul
How to get there: As you reach the main gate of the mosque go on the road which faces opposite the mosque (not the small lane beside the mosque). There's a grocery shop on your right side as you enter the street. Walk straight ahead for 100m and the restaurant is on your left. Check out our guide to Itaewon for more info!
P.S. Have you eaten at EID Restaurant before? Tell us why you love the dishes on our website and help the Muslim travel community!
2. Makan Halal Korean Restaurant
Makan Halal Korean Restaurant is another relatively new restaurant which started operations early this year, located in Itaewon. Similar to EID, this homely restaurant serves your local Korean fare such as bulgogi (grilled marinated beef), dakdoritang (spicy braised chicken), mulnaengmyeon (cold noodles – a must in summer!) and more!
If you can't stop to dine in the restaurant, not to worry. They provide dosiraks (Korean packed lunches) for takeouts as well.
#HHWT Tip: If you're looking for accommodation near the halal eateries, Itaewon is the place to be!
Opening Hours: Mon, Wed-Sun – 10.30am to 10pm. Closed on Tuesdays.
Price: Mains cost around ₩8,000 – ₩12,000.
Address: 52, Usadan-ro 10 gil, Yongsan-gu, Seoul, South Korea 140-911
How to get there: The restaurant is located just in front of the Seoul Central Masjid and a short walk away from EID restaurant.
P.S. If you've been to this eatery, tell us which is your favourite dish here and why you love it!

Credit: @omaralattas on Instagram
Tucked away in the streets of Myeondong, Busan Jib serves delicious authentic Korean cuisine using halal-certified meat. Must try dishes include their Korean spicy chicken stew and ginseng chicken😋 You can also make your very own Bulgogi lettuce wraps here!
P.S. You can also get a FREE tofu stew when you purchase any 2 menu items just by showing HHWT's special code!

Credit: @ribenalemonad on Instagram
Even if you're not a meat person, this is still the restaurant for you as it whips up yummy seafood dishes! Be sure to try their spicy seafood stew and chilli sotong (chilli squid). If you're feeling a little nostalgic and craving for some 'Malay' food, you have to try their ikan bakar (grilled fish) and asam pedas!

Credit: @hanisahzaidan on Instagram

Credit: @nadym9395 on Instagram
For those wondering about the halal certification, one of our writers visited this place and confirmed that the meat is halal-certified☺️
If you've tried the yummy food here, leave us a review of your experience, to share with other Muslim travellers!
Opening Hours: 10am to 10pm daily
Price: Most mains cost around ₩8,000 to ₩10,000
Address: 11-4 Myeongdong 8-gil, Myeongdong 2(i)-ga, Jung-gu, 서울특별시 South Korea
Exact location:

Credit: @busanjib_myeongdong on Instagram
Note: This restaurant is pork-free.
4. BoA Guesthouse – Halal Korean Dosirak
Although it's not an actual restaurant, but rather a guest house – BoA travel house has a total of 8 different halal dosiraks (Korean packed lunch-boxes) on their main menu including a jajangmyeon (black bean sauce) dosirak! You can also try halal Korean rice cake (tteokpeokki) and fried chicken, which are on their side menu! If you're a fan of kdramas, you should know that Korean fried chicken tastes absolutely wonderful 😛 Check out their full menu here. Even though they sell dosiraks, which are often takeouts, you're allowed to dine there as well 🙂
P.S. Exclusive for HHWT readers – you can now get 10% off your total bill when you spend at least 15,000won at BoA guesthouse!
Plus points? BoA guesthouse is located in Hongdae, one of the must visit trendy spots in Seoul. So not to worry, this will definitely fit into your itinerary!
How to order: Simply drop them a message on Facebook indicating the item and quantity, pick up time and your accommodation in Seoul.
Price: ₩7,000 per dosirak if you're a guest at the guesthouse. – ₩8,000 for other guests. The prices for the sides vary.
Address: 15, Sinchon-ro 1-gil, Seodaemun-gu, Seoul, South Korea 120836
How to get there:
1. Exit4 at Hongik Univ. Station.(Airport Railroad, line2)
2. Go straight towards "K2" store
3. Cross at the crosswalk in front of LG Electronics Inc.
4. Keep walking around 30M for GS25 convenience store.
5. Turn left at Bizeun(빚은, rice-cake shop, The Premium Riceteria)
6. Then, you'll see BoA travel house on your left
Credits to BoA travel house
P.S. Been to BoA Guesthouse? If you've stayed here or have had a taste of their delicious halal dosirak, we'd absolutely love to hear more from you!
5. Namisum Kkokko Chuncheon Dakgalbi
After touring Nami Island, rest your feet and fill your stomach at this restaurant! The most raved about food here is their dakgalbi so make sure you order this😌

Credit: @aimzphitchy on Instagram

Credit: @micle0ng on Instagram
The dakgalbi here is cooked differently from those in Seoul particularly because they use hotpans to cook the meat in Seoul, but here they use grills! Yum!

Credit: @si_chiqaa on Instagram

Credit: @j_ngx_an on Instagram
Note: This restaurant is pork-free. Do note that reservation is required for halal menu, so do call the restaurant in advance!
Opening Hours: 9am to 8pm (Weekdays), 9am to 10pm (Weekends)
Price Range: ₩8,000-₩11,000
Directions: Take the Gyeongchun line and get off at Gapyeong station. Take bus no. 33-5 or the Gapyeong city bus
6. Dongmun (Nami Island)
Okay, so technically Nami island isn't IN Seoul but it's one of the must-visit tourist attractions and there's a authentic halal Korean restaurant on the island too! Dong Mun is the fourth halal certified restaurant in Korea and they have an extensive menu selling all sorts of Asian dishes ranging from Vietnamese pho to (of course) halal Korean food!
Think a variety of bibimbab (Korean mixed rice), jajngmyeon (black bean paste noodles) and bulgogi! It's the perfect place to rest and grab a bite after a long day of sightseeing around the gorgeous Nami Island.
Opening Hours: 10am to 7pm (weekdays and winter season), 10am to 8pm (weekends and non-winter seasons)
Price: Most mains cost around ₩10,000 to ₩12,000
Address: 1 Namisum-gil, Namsan-myeon, Chun-cheon-si, Gang-won-do
P.S. Help the Muslim travel community and share your reviews on Dongmun here!
7. Yang Good BBQ – Yeoksam
If you've stared longingly at the locals enjoy their BBQ meal and wished you could try halal BBQ in Korea too, we know how you feel. Boy are we glad that we can have authentic Korean BBQ at Yang Good!
Choose from either unmarinated lamb to enjoy the tender lamb meat in its full glory, or opt for the marinated lamb to savour juicy lamb rack coated with Korean sweet sauce! If there's still room in your tummy, Yang Good also has lamb soup, deonjang-jjigae 된장찌개 (fermented soybean paste soup), mulnaengmyeon물냉면 (cold noodles) and other Korean dishes. The perfect place to drop by for dinner after shopping at Gangnam or cafe-hopping at Garosugil!
*Alcohol is served here as the restaurant serves many locals too, but the ingredients and the lamb meat are halal certified!
Opening Hours: 4pm – 2am
Price: ₩11,000 – ₩30,000
Address: Seoul, Gangnam-gu, Nonhyeon-ro, 95 gil, 15. 서울특별시 강남구 논현로95길 15
Directions: Yeoksam (Line 2). Do visit yanggood01 for clearer directions to Yang Good BBQ 🙂

P.S. If you've visited Yang Good before, tell us all about it right here!
8. Namiok – Gyeonggi-do (Near Nami Island)
If you're visiting Nami Island, you have to make a (side)trip to Namiok for halal Dakgalbi 닭갈비 (Korean spicy stir-fried chicken)! Just picture stir-fried chicken marinated with gochujang 고추장 (red pepper paste) along with sliced cabbage, tteokbokki 떡볶이 (Korean rice cakes) and rice served on a sizzling hot plate! That's enough to make us want to fly to Korea this minute!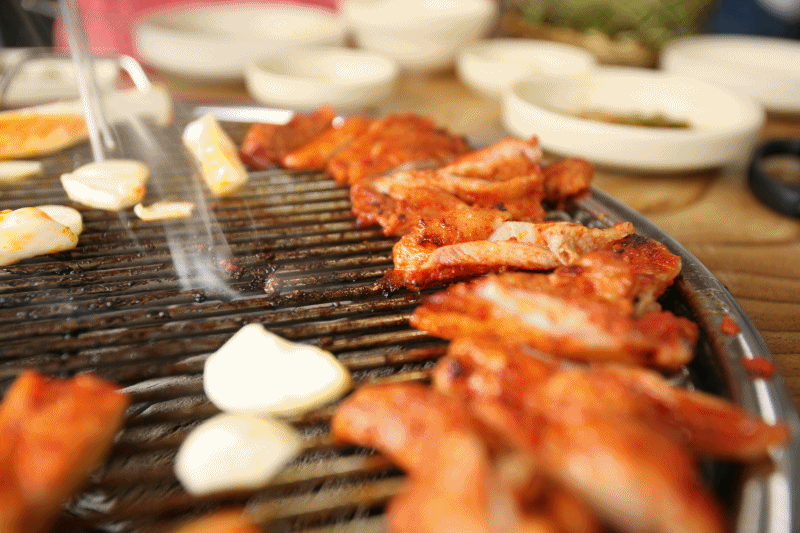 Opening Hours: 09:00 to 20:00
Price: ₩10,000 – ₩18,000
Address:  786-2 Eupnae-ri, Gapyeong-eup, Gapyeong-gun, Gyeonggi-do, South Korea (경기도 가평군 가평읍 읍내리 786-2)
Directions: 15 min drive from Nami Island's Ferry Dock. We highly recommend taking a taxi there, do show the taxi driver the address in Korean!
P.S. If you've been to Namiok, share with us your experience here!
9. Ilji Hanbang Samgyetang
Craving for some ginseng chicken soup with herbs? This restaurant is perfect for you!
Ilji Hanbang requires you to make a reservation for their halal menu, so do ensure that you call in advance!
Note: The information we gathered on this restaurant is from the KTO Muslim-friendly booklet.
Opening Hours: 10am to 10pm (daily)
Price: ₩13,000 – ₩15,000
Address: 48, Myeongdong 8ga-gil, Jung-gu, Seoul
Directions: Go to exit 10 of Myeongdong station of Seoul Subway's Line 4. It's a 2-minute walk from the station.
10. Osegyehyang Vegetarian Restaurant
Insadong with its traditional atmosphere is a hub of traditional Korean restaurants. When you see a line of Hanok styled buildings, you'll know that here are some of the gourmet Korean restaurants in town, places even the locals come particularly for the delicious menu. Plus, it's hard to find alcohol-free halal restaurants in Korea so this one is definitely a gem!
Ohsegehyang which literally means "Aromas of the Five Worlds" is a vegetarian restaurant, well known for its delicacies! With a budget of 15,000 Won per person, you can enjoy a nice meal here and try out some of the dishes which replace meat with soya protein and are very delicious. For example Tang Su Yuk, which is a dish made with meat is replaced with mushrooms, capsicum and capsicum.
P.S. If you're visiting Insadong, our Muslim-friendly travel guide to Insadong will definitely come in handy!
Opening Hours: 11.30am to 9pm (daily)
Price: ₩6,000 – ₩16,000
Address: 14-5, Insadong 12-gil, Jongno-gu, Seoul
Directions: Go to exit 3 of Anguk station of Seoul Subway's Line 3. It's a 5-minute walk from the station
*Noryangjin Fisheries Wholesale Market노량진수산시장 (Not halal-certified)
If you're a seafood lover, you MUST visit Noryangjin Fish Market for the freshest seafood – Korean style! King crabs, lobsters, abalone, scallop, prawns, the weirdest species of shellfishes and more. If you can name it, they have it!
*The restaurants at this fish market are not halal-certified so please visit at your own discretion!
When you reach the market, head straight to the first floor to select your dishes and don't forget to bargain! The stallholders are usually willing to lower their prices if you purchase more items from them. Once you've made your choice, it's time to make your way up to the second floor for them to be prepared in a restaurant. You'll have a choice of steamed, grilled or raw. Do note that there will be a preparation fee per item if you would like your seafood to be grilled or steamed.
Our recommendations:
Maeuntang매운탕 (Spicy fish soup) – Order this at the restaurant!
Jeonbok 전복 (Abalone) – The best way to enjoy your abalone is to have it steamed!
Fishes, e.g. Yellowtail, Flounder – Sashimi (Hoe, pronounced hway회)
Garibi 가리비(Scallop) – Grilled
Ge게(Crab) – Steamed
Opening Hours: General Fish Market – 01:30 – 22:00
Price: This depends on the number of items you order. The most expensive dish would probably be a king crab, which can cost around S$105 (₩85,000), excluding the cost of preparation but we promise you, it's worth every won (so sweet and juicy).
Address: 688, Nodeul-ro, Dongjak-gu, Seoul 서울특별시 동작구 노들로 688 (노량진동)
Directions: Noryangjin (Line 1) – Exit 1. Cross the overhead bridge and you'll find an open carpark area. Head down the stairs and brace yourselves for a bird's eye view of the fish market. (If all else fails, follow the smell of seafood :D)
You can find all these halal eateries along with the top attractions and prayer spaces on our website here!
Useful Phrases
We know it's really hard to find halal food outside of Itaewon so we've prepared some phrases that you may find handy when ordering your food!
Does this dish contain meat / ham? – yi yorineun gogi/haem duroisseoyo 이요리는 고기/햄 들어있어요?
Please do not put meat / ham – gogi/haem neotjimaseyo 고기/햄 넣지마세요
Please remove meat / ham – gogi/haem paejuseyo 고기/햄 빼주세요
I don't eat meat – naneun gogireul an meogeoyo 나는 고기를 안먹어요
I can't eat meat – naneun gogireul mot meogeoyo. 나는 고기를 못 먹어요
I can only eat vegetables and seafood – naneun yachaewa haemulman meogeul suyiseoyo 나는 야채와 해물만 먹을 수있어요.
I'm a vegetarian – naneun chaesikjaimnida 나는 채식자입니다
If you've discovered any other halal Korean food places in South Korea, please share it with us by leaving a comment! 🙂 And do share our guide with your friends and family if you find it useful!
Tags: halal food, korea, seoul