You don't need to dine in luxurious, star-rated restaurants to please your tastebuds. These heartwarming comfort meals are sure to mellow your hearts and lift your spirits, especially after a long, tiring day. Common street fares are tucked in the streets and corners of Malaysia, so consider your stay incomplete without trying ALL of them ?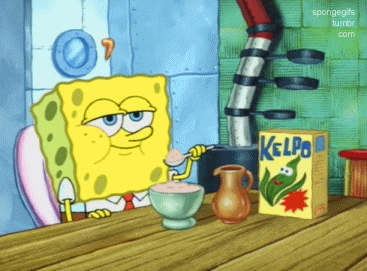 Credit: Giphy[P.S Finding irresistible food that Malaysians themselves adore? Look no further than here!]
1. Nasi kandar
Its almost a crime not to include nasi kandar on the list. While the plate is obviously piled with carbs, we advise those on a diet to skip their dietary plans just for a day ? It'll be so worth it! Hailed from Penang, this tantalising burst of flavours will have you ordering another bowl ?
Credit: Zuraida Noordin on Facebook 
Fluffy, white rice and loads of curry are the essence of nasi kandar, thanks to those days where vendors carry rice and curry around their shoulders with a long pole. Now, the original nasi kandar has evolved to include fried chicken, fish roe, cabbage and okra! For those feeling a tad guilty for tucking into this meal, at least there's some veggies on the side, right? ? Call it a waste to leave Malaysia without a bowl of this vibrant serving.
Credit: Warong Hunter by Kaki Makan on Facebook [P.S For the best nasi kandar spots, this list covers it for you!] 
2. Penang assam laksa
The tangy fish noodle broth is infamous across the streets of Penang. Sour, spicy soup with oodles of noodle strands, chilli, mint, lemongrass and mackerel fish go into making this addictive recipe. Tamarind, or 
assam
, together with ginger flower (bunga kantan) and prawn paste place this bowl of heavenly goodness on a different pedestal than the rest of the laksa dishes we're used to ?
Credit: nana.vella on Instagram
Savour a spoonful of Penang's rich culture through the plethora of ingredients used to making this, and you'll be booking your next foodie adventure to Penang once more ?
Credit: Jonathan Lin on Flickr
Credit: alicewwp on Instagram[P.S Craving for other iconic dishes in Penang? Try them all!] 
3. Apam balik
You'll go nuts for Malaysia's take on the divinely, sweet pancakes! The peanut-laden street fare is crispy on the outside and soft on the inside. The roasted peanuts generously fill the batter, which oozes out with every bite ?
Credit: apambalikmalaysia on Instagram
Stuffed with a buttery, sugary mixture, the pancake's folded up like an omelette after, instead of the standard flat pancakes we're used to. While some rave on for the thick, fluffy apam balik, there's also the thin and crispy version to suit your taste. It doesn't matter which one you're yearning for, both are exceptionally tasty!
Credit: Tourism Malaysia on Facebook 
4. Ipoh hor fun
The flat noodles, shredded chicken, prawns and mushrooms give you a dose of everything on a single plate. Accompany your hor fun with some green chilli for that extra kick! If Penang has its laksa, then Ipoh has the hor fun to boost ?
Credit: Asian Food Trails on Facebook 
The succinct flavour and smooth texture of the noodles complement nicely. Don't forget to slurp the sweet chicken-prawn broth ?
Credit: MALAYSIA NOW on Facebook [P.S For the ultimate food guide in Ipoh, check this out!] 
5. Putu bambu
Rice flour packed with palm sugar (gula melaka), steamed in bamboo tubes and covered with shredded coconut and sugar is THE piping hot treat you'll crave for on a cool day ⛅️
Credit: Malaysia Food Channel on Facebook 
The cylindral-shaped candied treat is sweet-smelling thanks to the fragrant pandan leaves that also give off the bright green shade. While the eccentric shape may tempt you to snap a picture, you'll be too busy gobbling them down to actually snap any ?
Credit: Muhammad Azreein on Facebook 
6. Rojak
The fruit salad dish is prominent not only in Malaysia, but neighbouring countries like Singapore and Indonesia. Expect a variety of different rojak in Malaysia; the popular mamak rojak consists of fried dough fritters, cucumbers, boiled potatoes, tofu and bean sprouts, and soaked in a sweet-spicy peanut sauce. The eclectic combination of ingredients truly makes this a "rojak" (mix) dish ?
Credit: nahzakm on Instagram
You can also dive straight in to the fruit rojak, a fusion of pineapple, fritters, taupok (deep-fried tofu) and pineapple. Of course, there's variations from this and some add in mangoes and apples as well ? Topped with chopped peanuts, its a crunchy teatime snack you'll want to sink your teeth into.
Credit: cornelia_sie on Instagram
7. Char kuey teow
No stranger to the list, char kuey teow is one of the most popular dishes ever. The stir-fried flat rice noodles with soy sauce, prawns, cockles and spring onions is cooked over a wok, giving off the signature smoky aroma. Since its so famous, many vendors have tried to up the game by including giant prawns and crab meat into the mix.
Credit: TST Tourist on Facebook 
Get a dose of this authentic meal in Penang, where its being cooked over a charcoal stove! Inhale the scent of freshly-cooked noodles and enjoy a delicious serving of this ☺️
Credit: Dulichmalaysia.com on Facebook [P.S Eat to your heart's content when you're in Penang at these 13 eateries!] 
8. Chendol
Cool off with a bowl of ice-cold chendol on a sunny day. Strips of jelly-like noodles (chendol), generous red beans and creamy coconut milk served on a platter of shaved ice - doesn't it sound like heaven on a plate? ?
Credit: Malaysia Boleh at Jurong Point on Facebook
It's almost impossible to walk the boardwalks of Malaysia without chancing across a stall vendor wheeling his chendol cart around. Despite new, trendy sugary and honeyed confectionary popping up in hipster bakeries, the familiar nostalgia from a bowl of chendol have a solid spot in our hearts.. and tummies ?
Credit: stevenganner on Instagram
Credit: Rayden Ong on Facebook 
Next time you're around a street stall selling one of these 8 mouthwatering meals, be sure to stop by for a bowl or two ? There's so many beautiful sights and jaw-dropping adventures waiting for your discovery, but nothing quite beat the taste of true Malaysian dishes that'll keep you coming back for more ?