The best hiking trails in Singapore are waiting for you!
The year 2021 is ending and somehow hiking in Singapore is a thing! It gets you to exercise and you get to meet people safely in the open air. No wonder that the places to hike in Singapore have become the people's new favorite hangout spot.
If you haven't jumped on this outdoor activity train, here are some of the best hiking trails in Singapore that are perfect for first timer and regulars!
#HHWT Tip: Get your outfit and camera ready too for you might find scenic views along the way, like this Instagram-worthy hiking trail. Don't forget to check out the National Parks notice board before you go!
1. Jurong Lake Gardens  
Credit: Natural Parks Board
Take in the breathtaking views of Jurong Lake or immerse yourself in nature at the scenic boardwalks. The Rasau Walk goes through a freshwater swamp habitat and there are over 50 species of plants. There are also plenty of IG-worthy spots from the lone tree to the Grasslands and more. Check out our guide to Jurong Lake Gardens to find out more!
Opening hours: Open 24 hours
Address: Yuan Ching Road, Singapore
Website | Facebook | Instagram
2. Fort Canning Park 
Credit: chriskay on Flickr
Fort Canning Park and Fort Canning Hill within it are two of the best hiking trails in Singapore. There are actually several trails you can enjoy in the park including the Ancient History trail and the Colonial History trail. Find out more about it here!
Opening hours: Accessible 24/7, street lamps are lit from 7PM - 7AM
Address: River Valley Road, Singapore 179037
3. Bukit Timah Nature Reserve 
Credit: @viscaya_jurnalis
At 164 meters above sea level, this is the highest point in Singapore with 4 routes leading up to the top. Routes 1 and 2 are marked as 'easy', whereas routes 3 and 4 are marked as 'moderate' and 'difficult'. There is a bike trail for the more adventurous outdoorsman, and public walking groups are often organized to help you better appreciate the variety of native flora and fauna!
Opening hours: 7AM to 7PM
Address: End of Hindhede Drive, Singapore 589318
Want something that is less tiring? Try outdoor glamping in Singapore!
4. Chestnut Nature Park 
This 81-hectare park (the largest in Singapore!) stretches from Bukit Panjang to Bukit Timah and has both hiking and mountain biking trails. You can do that or simply enjoy nature while soaking up the sun. Check out our guide to Chestnut Nature Park for more!
Opening hours: 7AM to 7PM
Address: Chestnut Ave, Singapore 679514
5. Sungei Buloh Wetland Reserve 
Credit: National Parks Board
Sungei Buloh is Singapore's first ASEAN Heritage Park and is an ecological haven for dozens of native wildlife. Keep your eyes peeled when you visit - you might spot anything from monitor lizards to mudskippers to otters! Check out our guide to Sungei Buloh Wetland Reserve to find out more!
Opening hours: 7AM - 7PM
Address: 60 Kranji Way, #01-00, Singapore 739453
6. Singapore Botanic Garden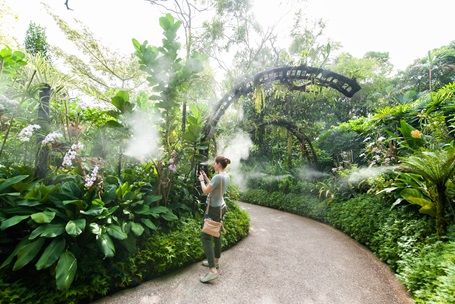 Credit: Singapore Botanic Gardens
Singapore's very own UNESCO World Heritage Site, the Botanic Gardens is one of Singapore's largest parks. Families can enjoy a picnic on the grounds, or visit the Evolution Garden, Learning Forest or Jacob Ballas Children's Garden for a fun yet educational time with the kids. Check out our guide to the Singapore Botanic Gardens for more!
Opening hours: 5AM - 12AM (Specific attractions may have varying hours)
Address: 1 Cluny Road, Singapore 259569
7. Southern Ridges 
At over 9 kilometers long, it's one of the longest routes in Singapore and you can cover peaks such as Telok Blangah Hill and Mount Faber. You can even walk to the Labrador Nature Reserve, or find your way to the Harbourfront area to reach Sentosa!
Opening hours:
Lighting hours for Alexandra Arch: changing LED lights: 7 PM – 12 AM daily
Lighting hours for Forest Walk: 7 PM – 12 AM & 5 AM – 7 AM daily
Lighting hours for Henderson Waves: 7 PM – 7 AM daily
Safety LED lights on bridges: 7 PM – 7 AM daily
Address: Started from Mount Faber Park
8. Coast-to-coast Trail 
Credit: Dewi Illyana
Coast-to-Coast Trail is 36 km long, starting from Jurong Lake Gardens and stretching all the way to Coney Island with 10 checkpoints along the whole trail.
You'll get to see a different side of Singapore and explore new spots like the Lornie Nature Corridor, Sengkang Floating Wetlands, and more. Check out our guide to the Coast-to-Coast Trail for tips, what to see, and halal food along the way!
Opening hours: 7AM to 7PM
Address: Started at Jurong Lake Garden, Yuan Ching Road
9. Rail Corridor (The Green Corridor) 
Credit: National Parks Board
This trail is a favorite spot for hiking in Singapore. It used to be part of Malaysia's KTM railway line connecting Singapore and Malaysia until 2011. The trail goes from Kranji to Bukit Panjang, Bukit Timah, Holland, Tanglin and finally ending at Alexandra.
While the Green Corridor will only be fully completed in 2025, you can still explore the corridor through a mix of dirt paths, designated pavements and remnants of the railway tracks!
Check our guide for Rail Corridor to get the best experience!
Opening hours: 5AM to 12AM
Address: Started near Kranji MRT Station after KF1 Karting Circuit
10. Punggol Waterway Park 
Credit: @slowlyexplorewithme
Cutting through Punggol Town, this park is perfect for all activities. Jog or cycle along its winding tracks and admire the waterside view along the promenade, or sit back and let the kids run wild at the public water playground. You can even rent your own inline skates or bike!
Opening hours: Open 24 hours
Address: Sentul Cres, Singapore 821313
#HHWT Tip: You can add these outdoor activities in Singapore to make your family day out even more enjoyable!
11. Kranji Marshes 
Credit: National Parks Board
Instead of the lush vegetation that you'd normally find in other hiking trails in Singapore, you'll be greeted with sprawling marshlands and grasslands here. Don't forget to climb up the Raptor Tower to get a panoramic view of the Kranji Marshes and Kranji Reservoir!
Opening hours: 7AM to 7PM
Address: 11 Neo Tiew Lane 2
12. MacRitchie TreeTop Walk 
Credit: Schristia on Flickr
MacRitchie Reservoir Park's TreeTop Walk is standing 30 meters above sea level. You'll get a view of the forest canopy's flora and fauna from the TreeTop Walk itself. The Walk is a 250 meter-long suspension bridge, and while the walk up to it is slightly steep, perfect for a pump of adrenaline while hiking in Singapore!
Opening hours: 7AM to 7PM, TreeTop Walk opens from Tue to Fri 9Am to 5PM
Address: MacRitchie Reservoir Park, Singapore 298717
13. Bishan - Ang Mo Kio Park 
Credit: Jimmy Tan on Flickr
Bishan-Ang Mo Kio Park has lots of community spaces for a green day out with the fam! Look out for the Bubble Playground, Adventure Playground, and Water Playground that younger kids are sure to love.
Opening hours: Open 24 hours
Address: 1384 Ang Mo Kio Ave 1, Singapore
14. Coney Island Park 
Credit: National Parks Board
The park is ecologically sustainable, with many nature elements reused to breathe new life into the area. You can look out for Pulau Ubin from the boardwalk, or cycle through the park connector to catch a glimpse of brightly-colored birds, butterflies - and an occasional wild otter or macaque. Check out our guide here!
Opening hours: 7AM to 7PM
Address: Beside Punggol Promenade Nature Walk