[UPDATED 15 August 2019]
With a melting pot like Singapore, it's not hard to find good and halal food, even in Changi Airport ?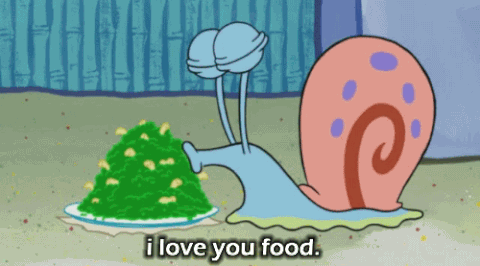 Credit: Giphy
If you're waiting for your flight or have just arrived in Singapore for your holiday, it's time to fill your tummy with delicious cuisine from all over the world! From local to international, there are so many halal dining options at Changi Airport and we've got you covered with the best ? P.S. The eateries in this list are located in the public areas of Terminal 1-4. If you're looking for halal food options at Jewel,
we've rounded up these 13 amazing halal eateries you should try at Jewel Changi Airport
.
Terminal 1:
1. Pappamia
Local cuisines galore at Pappamia! If you're looking for a dining spot that serves homely Singaporean and Malaysian dishes, you have to check this out! From yummy Hainanese Chicken Rice to the familiar Nasi Lemak with Curry Chicken, those visiting the Lion City for the first time will understand why Singapore is pure food bliss ?
Credit: Changi Airport on Facebook
Fret not, if Western food suits your palate more ? Fish and chips and Signature Beef Burger, anyone? The cheesy patties, topped with a brioche bun and fries on the side is perhaps what you need as you daydream to the land of burgers and fries. We can't guarantee that you won't be bursting at the seams by the end of the meal!
Credit: zaidiakim90 on Instagram
If you've got more room, how about trying their ice cream - enveloped in an actual coconut, drenched with gula Melaka and peanuts? Even the desserts are befitting to an Asian theme! ?
Halal status:
Halal-certified
Address
: #03-22
Opening Hours: 
7:00 AM-11:00 PM
Contact No:
62433310
2. Kaffe & Toast
Looking for the quintessential Singaporean breakfast? Look no further than Kaffe & Toast!
Credit: @hsuanning.chan on Instagram
With familiar Singaporean breakfast dishes like kaya toast and half-boiled eggs, it'll make the perfect place to have your meal if you're arriving in Singapore in the morning ? P.S. Wondering what else you should try in Singapore?
Here are 13 halal places where you can savour Singapore's must-try dishes
!
Credit: @wsonataj on Instagram
But that's not all - the eatery also serves some really delicious Thai-style noodles, like their Thai Grilled Chicken Noodles and Beef Boat Noodles. The grilled chicken is really flavourful and the beef simply melts in your mouth.
Halal status:
Halal-certified
Address:
Departure Hall, Opposite Row 1
Opening hours:
24h
Contact No:
65439703
3. Fitra Chicken Rice
Don't worry, we haven't forgotten the chicken rice fans out there ? An interesting addition to the menu - Honey Glazed Chicken with Oyster Sauce Vegetable, makes your plate of chicken rice sweetly delightful.
Credit: choclies on Instagram
Or if you like to savour your chicken rice the traditional way, get their Roasted or Steamed Chicken Rice. The combination of the fragrant rice and juicy, tender chicken is just heavenly!
Halal status:
Halal-certified
Address:
Basement 1, Stall 7, Orchis T1 Canteen
#HHWT Tip:
Love Hainanese Chicken Rice?
Check out these top 7 halal Hainanese Chicken Rice eateries in Singapore
!
Terminal 2:
4. Central Thai
You don't have to travel far to the land of Thai Milk Tea for your fix on tom yum and pad thai! Right here in Singapore, sweet, sour and spicy are served on a single platter, from the classic Tom Yum noodle set, green curry chicken set to other extravagant delights!
Credit: Central Thai on Facebook 
Up for spicy food? Then try the Thai Spicy Minced Chicken Salad! Whatever you choose, just make sure that your taste buds are up for a spicy challenge ?
Credit: Central Thai on Facebook 
Tourists coming to the little red dot are usually asked with "Have you tried the chilli crab?" Guess what? Central Thai ups the chilli crab game by having crab with glass noodle on its menu. Yes, you read that right ? Combining Singaporean's love for Chilli Crab and Thailand's staple carbohydrate, they're uniting two cultures with the love for food. Not to mention, the slippery noodles nicely complement the tender crab meat. Talk about the best of both worlds!
Credit: ronzstagram on Instagram
#HHWT Tip: 
Cool off with a serving of Mango Glutinous Rice for desserts!
Halal status:
Halal-certified
Address: #
036-087
Opening Hours: 
10:30 AM - 11:00 PM
Contact No:
65461585 P.S.
Check out these top 16 halal Thai eateries in Singapore you can't miss
!
5. Chutney Mary
Fall in love with Indian food right here in Singapore ❤️ Have a taste of Pav Bhaji from Mumbai (vegetable curry with some bread) and afterwards, some pani puri with potato, tamarind chutney, onion and chickpeas in a round-like-shape. The tangy-sweet combination will have ordering a second serving! ?
Credit: Hema Ramasamy on Facebook
Dip your thosai into a warm, devilish curry or opt for the masala thosai stuffed with potato!
#HHWT Tip: Order a serving of tandoori chicken to nicely complement your thosai, we guarantee you won't regret it.
Credit: Changi Airport on Facebook 
Of course, Indian cuisine will not be complete without biryani to complete the list. Chicken, mutton or fish, take your pick!
Credit: Changi Airport on Facebook
Halal status:
Halal-certified
Address:
#036-056
Opening hours:
 24 hours
Contact No:
65462790
6. Jinjja Chicken
Who can resist a plate of lip-smacking Korean fried chicken? We know we can't!?
Credit: @tusmakan on Instagram
Whether you choose the soy-based or spicy seasoning, you know you're in for a treat at Jinjja Chicken! Have it with rice or fries and you'll be thoroughly satisfied ?
Credit: @chairani.ong on Instagram
The best part is, you can satisfy all your other cravings for Korean food at Jinjja Chicken too. Savour tteokbokki, jjajangmyeon (black bean noodles) and jjamppong (spicy seafood noodle soup) and you'll be left wanting more!
Halal status:
Halal-certified
Address:
Departure Hall Level 2, beside the entrance to MRT
Opening hours:
24h
Contact No:
62143608
7. Nando's
Credit: @pogui69 on Instagram
Known for their signature peri-peri chicken which is grilled to perfection, Nando's is no stranger to Singapore's food scene. This world-renowned chain has fans everywhere and it's not hard to see why! If you're at Changi Airport and craving for some good quality grilled chicken, there's no other place to go than Nando's. Choose your preferred level of spice and you're all set for a flaming good time ?
Halal status:
Halal-certified
Address:
#036-057
Opening hours:
10.30am - 11pm
BONUS: TP Tea
Say hello to the first halal-certified and 24-hour bubble tea store in Singapore - TP Tea. This famous Taiwanese chain has more than 300 stores worldwide! Try their famous Tie Guan Yin Latte if you like to have a richer tea taste or have their Pearl Milk Tea if it's your first time. What's special about their tapioca pearls is their soft and chewy texture which are freshly prepared and made every 3 hours!
Credit: @mliqigui on Instagram
What's even better is their Pearl Milk Tea soft-serve ice-cream. Imagine smooth and creamy soft-serve combined with the perfect chewiness from the pearls – this is one dessert you can't leave without trying!
Halal status:
Halal-certified
Address:
Departure Hall, #026-015-01
Opening hours:
24h
Terminal 3:
8. Terminal M
Ever dreamt of savouring halal Korean, Japanese and Chinese cuisine all in one place? Well, now you can at Terminal M, Changi Airport's first aviation-themed food hall!
Credit: Terminal M 
Here's where you can have a taste of casual Korean food like the Korean lunch box called "dosirak" where you'll need to shake the ingredients to mix them all together. Other yummy Korean dishes you can expect are Korean fried chicken, rice cakes, Korean Army Stew, bibimbap and more!
For a taste of Chinese food, head over to Yu Long Quan for their signature Singapore-flavoured Xiao Long Bao (soup dumpling, $13). Traditionally made with pork, the dumplings are filled with chicken instead and they come in 6 local flavours such as salted egg yolk, chilli crab, chicken bak kut teh (meat bone tea) and laksa.
Read more about Terminal M in our article here.
Halal status:
Halal-certified
Address:
#B2-32
Opening hours:
10.30am - 11pm
9. So Pho
Juicy and tender beef slices in a flavourful broth? We can't say no to that! Yes, we're talking about the Vietnamese delicacy, 
pho
and where else to sample a halal version of this than at So Pho? With this outlet at Changi Airport, we know we just can't resist tucking into a piping hot bowl of
pho
 when we return from our travels ?
Credit: @jeralynmusteat on Instagram
Other than their delicious pho, you can also look forward to their refreshing spring rolls and prawn cakes. It won't be long before you can say #sophosogood☺️
Halal status:
Halal-certified
Address:
Level 3, near Collin's and Paradise Dynasty
Opening hours:
10.30am - 11pm
10. Saap Saap Thai Desserts
Credit: @intanina on Instagram
Many of you might already know this halal Thai eatery as they are known for their yummy boat noodles and succulent Thai-style fried chicken. Now, aren't we glad they have also opened a branch at Changi Airport? As if the idea of having scrumptious Thai food at the airport isn't appetising enough, Saap Saap Thai at T3 also offers traditional Thai desserts with a twist, perfect for a hot day in Singapore!
Halal status:
Halal-certified
Address:
#B2-33
Opening hours:
10:00 AM - 01:00 AM (Friday to Saturday & Eve of PH), 10:00 AM - 11:00 PM (Monday to Thursday, Sunday & PH)
11. Curry Times
Curry Times caters to all the Old Chang Kee lovers out there with a restaurant of its own. With its famous Curry'O, need we say more on how they're practically experts on curry? ?
Credit: eileen_eats_alot on Instagram
Of course, you have to try the savoury goodness of the Curry Chicken, with the tenderness of the chicken against the taste of the mushy potatoes, drenched in mild curry gravy. Not too spicy, nor too bland - the perfect dose of spices!
Credit: afsyari on Instagram
How about the Curry Chicken Ramen, anyone? While curry is commonly known to go well with rice, prata or bread, ramen is a bold step forward and boy, does it pay off! For those who wish for a morsel of Japanese fusion, this meal combines both perfectly ?
Credit: cweizhi on Instagram
If you're not a huge fan of curry, there are other must-try items on the menu, like the Sambal Chicken Super Drum, Assam Fish Fillet Rice and lots more! Halal status: Halal-certified Address: #B2-51Opening hours: 7:00 AM-11:00 PM
Terminal 4:
12. Andes by Astons 
How do you like your steak? Andes by Astons will answer to your
every
calling. From Prime Sirloin, Wagyu Ribeye Grade 6 to Prime Ribeye, there are so many options to choose from!
Credit: @bafbes on Instagram
Fancy a different cuisine? How about choosing from their Hickory BBQ Chicken or Grilled Fish with Herbs? With affordable prices, it'll sure help you save some pennies as you dine with pleasure ?
Credit: Jia Chen on Facebook
Halal status:
Halal-certified
Address:
Level 2M
Opening hours
: 10.30am - 11pm
Contact No:
63861074
Eateries with outlets across terminals:
13. Crave - The Original Adam Road Nasi Lemak By Selera Rasa
Move aside Nasi Lemak Burgers and make way for the original! The beloved neighbourhood dish is authentically a flash from the past. Steaming coconut rice, crispy chicken wing and aromatic chillies (cooked for up to 5 hours!), Crave's Nasi Lemak is
the
real deal. Oh, but wait! There's more. Add freshly grilled fish cake (otah-otah) to the set and you'll be wondering if you can call the airport home right now. While you're at it, have the meal ready with Teh Tarik, and you'll be coming back for more ?
Credit: PAssion Card on Facebook 
Those who are used to the original flavours of Nasi Lemak, try your hands at a different combo: The fish fillet or kuning fish set! If it sounds too fishy for you, spice up your meal with the spicy thai otah as well! If chicken is still your favourite, there's the chicken cutlet set just for you!
Credit: sin_ana on Instagram
#HHWT Tip:
 We'd say, what's an Asian meal without bergedil (potato patties)? Remember to add that to your plate?
Halal status:
Halal-certified
Terminal 2Address: Level 1 Arrival HallOpening hours: 
24h
Terminal 3Address:
B2
Opening hours:
10.30am - 11pm
14. Heavenly Wang
Slices of brown, toasty bread for that extra crisp, a generous spread of their signature Kaya and eggs boiled to just the right level of cooking! Sounds heavenly ? Accompany your ideal breakfast with a cup of roasted, aromatic coffee or sweet-smelling brewing milk tea. The choice is yours.
Credit: kayecce on Instagram 
A popular hot favorite among patrons is the Mee Siam! Add the sweet-sour tanginess of the gravy to a plate of tau pok, bean sprouts and thinly slit noodles, and it'll be your go-to place for good food and great conversations.
Credit: iammrstannanie on Instagram
Halal status:
Halal-certified
Terminal 1Address:
Level 2 Opening hours: 24h
Terminal 3Address:
#01-25
Opening hours:
24h
Whether you're at the airport to board a plane to your holiday destination, touching down from a flight or simply in the area for new mouth-watering delights, Changi Airport is your gateway for awesome food. With varieties from all over the world, here's a list of some halal dishes not to be missed. That being said, it's no wonder that food in Changi Airport lands on our number one spot as a food paradise ? P.S. Going cafe-hopping instead?
These 25 awesome halal cafes in Singapore will be perfect for you
!