It is easy to fantasise about the luxurious lifestyles of the rich and famous. Especially with the advent of social media, our feeds are flooded with pictures of enchanting travel destinations, exquisite food, and exhilarating activities that probably come with a huge price tag ?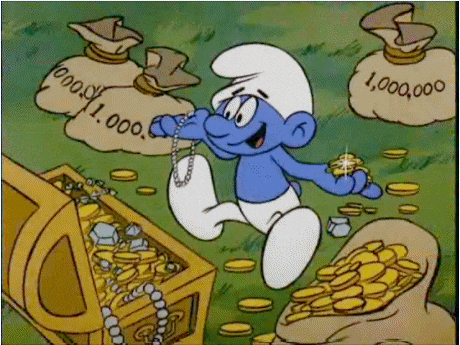 Credit:
Giphy
But luxurious experiences need not be expensive if you know where to look for more wallet-friendly alternatives! These may not be exact replicas but hopefully a taste of affordable luxury would encourage us to save up for the real deal in future. Meanwhile, here are 10 affordable alternatives you can indulge in to mimic the luxurious lifestyle ? [inlinewidget id=32155]
1. Hop on to a private island-que beach (without using your passport!)
Dreaming of soft white sands and turquoise waters without having to leave Singapore? Well, head on over to Sentosa's manicured beaches for there is a secret hideaway laying quietly in Singapore's very own backyard!
Credit: @allanespolong on Instagram
Enjoy a day full of sun, sand and sea at Lazarus Island! Lounging around this scenic spot would definitely give you that private island vibes with pristine natural wonders that are largely undeveloped. How gorgeous are the colours of the water? Whether you choose to dip your toes in or go on a full swim, Lazarus Island offers a tranquil respite from the usual city life ?
Credit: @llcooljohnny on Instagram
As an non-commercialized island, there aren't any shops to purchase any food or drinks from. So if you're planning to have a picnic or worry about going hungry, do bring everything you need to Lazarus Island. Include food, drinks, and even sunblock in your packing list!
#HHWT tip:
Do bring a trash bag if you plan to have food here. As there are no rubbish bins on the island, it is expected that you clean up after yourself and bring your litter to the mainland to dispose of it.
Price:
Two-way tickets are priced at $18 for adults and $12 for children aged 12 and below. Do note there is only one ferry on weekdays which departs from the terminal at 10am. For more information on ferry schedule, 
click here
.
Getting there
: Take the train to Marina South Pier (on the north-south line) and take Exit B. Purchase tickets to St John's Island from the Marina South Pier terminal. It is a 30-minute ferry ride to St. John's Island before a further 10-minute walk to Lazarus Island.
[ P.S. Dreaming of a quick getaway? Here's 10 gorgeous secret islands near SG you have to visit (no plane ride needed!) ] 
2. Enjoy a fine dining-like experience
Cured salmon, dry-aged grilled beef, duck ragout, sous vous steak – all these delicious offerings are readily available on the menus of upscale fine dining restaurants. Bet you'll be surprised to know that you can enjoy these dishes at a casual Muslim-owned café located right in the heartlands!
Credit: @
dingd_ong
 on Instagram
While not exactly fine dining, Brothers in Fine Food (BFF) serves up scrumptious fare that can certainly rival swanky restaurants! With modern cooking techniques often used in more posh kitchens, BFF strives to bring quality, high-end dishes to the masses without the expensive bill. And what a treat it is to be served such tantalising and photogenic food ?
Credit: 
Brothers in Fine Food
 on Facebook
Whether its brunch, lunch or dinner, the impeccable food service here would leave you coming back for more ?
#HHWT Tip:
 Do note that the kitchen closes between 5pm-6pm!
Address:
 Tampines West Community Club, 5 Tampines Ave 3, #02-07 Singapore 529705
Opening hours
: Tue to Fri: 12pm - 10:30pm; Sat & Sun: 9am - 10:30pm. Closed on Mondays.
Contact: 
 9008 9314 | 
Facebook
[ P.S. Craving for more? Dine with a view at these 9 picture-perfect halal restaurants in Singapore! ] 
3. Book a pamper session at affordable spas
A luxurious spa session does not have to come with a hefty price tag. If expensive packages and membership fees scare you, there is always the option of one-off sessions at more wallet-friendly rates that you can indulge in, guilt-free!
Credit:
Rule of Thumb Sanctuary Spa
on Facebook
At Rule of Thumb, a sixty-minute deep tissue body massage starts from as low as $60! Let your aching muscles be soothed as the masseuse works out all the knots and tension in your body. Or, if you prefer, get a body scrub which includes a 15-minute shower for the same price!
Credit:
Rule of Thumb Sanctuary Spa
on Facebook
Other services include foot reflexology ($48) and aromatherapy (&75). Whatever your needs are to get that optimal relaxation, Rule of Thumb is likely to offer it. So sit back, relax and enjoy the pampering that you deserve.
Address:
289 Beach Road, #01-01, Singapore 199552
Opening hours:
Daily, 10am to 4am
Contact:
Website
|
Facebook
| (+65) 6295 5000
4. Take a dip in Singapore's own onsen
Minerals-dense
onsen
s ("hot springs" in Japanese) are highly sought after for their healing effects on the skin and overall health benefits. From healing acne to moisturizing the skin, relaxing muscle aches to relieving joint pains, there is something exclusively luxurious about taking a bath in one. And you don't even have to buy a plane ticket to Japan because there is one – albeit manmade – here in Singapore!  
Credit: 
Yunomori Onsen & Spa Singapore
 on Facebook
Located in Kallang Wave Mall, Yunomori Onsen & Spa is designed to replicate the
onsen
experience. Adults pay the entrance fee of $38, which allows for the use of the
onsen
pools for the day. These pools include bubble, soda, jet, silk, cold and hot settings. With each pool offering different health benefits, it would be tempting to try them all! Remember to hydrate throughout your time here though, and to not linger in each bath for more than 20 minutes.  
Credit: 
Yunomori Onsen & Spa Singapore
 on Facebook
Yunomori truly strives to bring authentic
onsen
experience to guests; they even provide yukata for you to change into! Much like the real deal, you are expected to wash before entering the baths and showers are open communal-style. Facilities are also separated by gender. Apart from the baths, you can add on a massage at additional costs and be immerse in the full
onsen
and spa experience.
Address:
Kallang Wave Mall, 1 Stadium Place, #02-17/18, Singapore 397628
Opening hours:
Daily, 10 am to 11pm
Contact:
Website
 | 
Facebook
 | (+65) 6386 4126
5. Learn to fly with indoor skydiving
Skydiving – who doesn't have this on their bucket list? While you might be saving up to dive out of a plane high above Dubai's scenic Palm Jumeirah, there is a cheaper alternative for you to try first – indoor skydiving!
Credit: 
iFly Singapore
 on Facebook
At iFly Singapore, you get to experience true free-fall conditions just like the real thing and at only one-fifth of the cost of a tandem jump!
Credit: 
James Lim
 on Facebook
Enter the air-conditioned wind tunnel and let the instructor guide you on experiencing skydiving without the need of a plane ?
Address:
iFly Singapore, 43 Siloso Beach Walk #01-01 Singapore 099010
Opening hours:
Thu to Tues: 9am – 9:30pm; Wed: 11am to 9:30pm.
Price:
Skydive rates start 
from $109
Contact:
Website
 | 
Facebook
 | (+65) 6571 0000
6. No private hot tub? No problem!
If the luxury of time is all you can afford at the moment, there is the even cheaper alternative for a warm and relaxing soak. Head on over to the Tampines Swimming Complex @ Our Tampines Hub for a surprising find!
Credit:
Lim Ji Cai Vincent
on Facebook
The roof-top complex boosts of six pools in total including – wait for it – a jacuzzi! Yeap, it is that accessible to delve right into the luxurious lifestyle of chilling in a hot tub. At 0.9 metres, it is just the right depth to fully submerge your entire body while allowing your head to comfortably float as you enjoy the pressure of the water jet bubbles.
Credit:
Very Agung Madrianto
on Facebook
While the jacuzzi itself cannot exactly be compared to the real deal, the palm trees and wooden boardwalk does add a nice fancy touch. Plus, adults pay only $2 on weekends ($1.50 on weekdays) for access to all the pools so it's really quite a steal!
Address:
Our Tampines Hub, 51 Tampines Avenue 4, Singapore 529684
Opening hours:
Mon, Wed, Fri & Sun: 6:30am to 9:30pm; Thu, Sat & Public Holidays: 8am to 9:30pm. Closed on Tuesdays.
Price: 
Weekdays; $1.50 (Adult), Weekends; $2 (Adult)
Contact:
Website
 | 
Facebook
7. Have a go at virtual reality golf
Known as the gentlemen's game, golf is often perceived to be an expensive sport with exorbitant club membership fees and golf equipment. But there's an affordable alternative to playing out on the green course – virtual reality or screen golf at Happy Golf!
Credit:
HappyGolf
on Facebook
What screen golf essentially does is letting you play with a golf simulator, all within the comforts of an air-conditioned indoor area. Weekday rates are $40 per hour or $60 for 18-holes; weekend rates are $48 per hour or $72 for 18-holes. No need for club memberships or even own your personal cubs; now you can enjoy this fancy sport at a fraction of the cost!
Credit:
Rafi Ansari
on Facebook
The high-speed camera and computer can even analyse ball speed, launch angle, and ball trajectory among others so you can learn how to improve on your next hit. Practise your swings before aiming at the screen!
Address:
WestWay Mall (opp. Haw Par Villa MRT), 27 West Coast Highway, #02-24 Singapore 117867
Opening hours:
Daily; 11 am to 11pm
Price: 
Weekdays – $40 per hour or 18 holes for $60
Weekends – $48 per hour or 18 holes for $72
Contact:
Website
|
Facebook
|+65 8809 3535
8. Rent a fancy yacht with your best pals
Throwing a lavishly grand party on a yacht truly epitomises the luxurious lifestyle, wouldn't you agree? This seemingly extravagant activity is quite affordable if you can gather up some friends to split the cost! The Alaska 45 from Marine Bookings accommodates up to 18 people and is available for rental at $888 for 4 hours. Likewise, the Monako Yacht takes up to 10 people with a rate of $1000 for 4 hours.
Amounting to $50 to $100 per person depending on which boat you choose, this affordable luxury is one grand way to spend time with your best buds which enjoying the scenic views of Singapore's skylines from the water. Yup, time to start reviving all those group chats!
Credit:
Marine Bookings
Address: 6 Eu Tong Sen Street #06-21 Singapore 059817 Contact:
Website
|
Facebook
| (+65) 6808 6303
9 . Catch amazing live performances for free!
This one is for the culture vultures! Fancy catching a performance or two at a posh venue without forking out a single cent? That's right, you actually can! Over at the Esplanade, you get to enjoy live performances such as theatre productions and music concerts for free ?
Credit: 
Esplanade - Theatres on the Bay
 on Facebook
Be spoilt for choice as The Esplanade brings a year-round line-up of impressive performances and festivals that you can watch for free. For full listing of free performances, 
click here
!
Credit:
Marina Bay Singapore
on Facebook
Address:
1 Esplanade Drive, Singapore 038981
Contact:
Website
|
Facebook
10. Go on an antique shopping hunt
From antique cars to vintage couture dresses, vintage items are prized possessions of the wealthy. Charming old finds at Hock Siong & Co may not be valued on the same grand scale but the novelty knick-knacks and gorgeous second-hand furniture you could find will transport you back in time to a colourful past.
Credit:
Hong Siong & Co
on Facebook
The price tag on some items may be on the luxury end but you can also just snoop around the store and marvel at these beautiful pieces without purchasing any.
Credit:
Hong Siong & Co
on Instagram[ P.S. Get the best deals in Singapore with our ultimate shopping guide! ] 
Address:
153 Kampong Ampat Singapore 368326
Opening hours:
 Daily, 9:30 am to 5:30pm
Contact:
Website
 | 
Facebook
 | (+65) 6281 8338 [inlinewidget id=32158] And there we have it – ten luxurious experiences you can explore trying that would not break the bank. While these are not identical substitutes for those that require more dime, they'd make for a pleasant introduction before you have the means to splurge on the real deal ?