There are few things that Singaporeans are more passionate about than…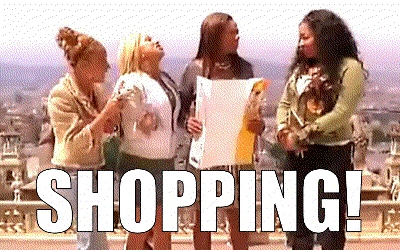 Credit: Giphy
Dubbed the national pastime, it's no wonder that Singapore is dotted with shopping paradises left, right, front, and centre. But if you have no idea where to even start or which places best suit your preferences, no worries: we've got you covered! 😉
P.S. Visiting Singapore soon? Be sure to check out all the best attractions, halal eateries and nearby prayer spaces on our website! 😊
Mix of Budgets 
1. Orchard Road
Ask a Singaporean what comes to mind when you say the word "shopping", and they'll most likely tell you "Orchard Road!" Singapore's representative shopping avenue, Orchard Road boasts the highest concentration of shopping malls in the world. Whether you're into designer boutiques or wallet-friendly stores, you're bound to find something here to suit your taste! 😉

Credit: QiHuii Hanabi on Flickr
The most luxurious (and Instagram-worthy!) shopping malls on this strip include Ion Orchard and Ngee Ann City, where you'll find established international brands like Cartier, Michael Kors, and Juicy Couture.
#HHWT Tip: If you're lucky, you can catch the seasonal sales that take place at the Ngee Ann City atrium. Everything goes for really cheap here!

Credit: Chris Hoare on Flickr
Further down the street at 313@Somerset and Orchard Central, you'll find flagship stores by popular youth brands like the Uniqlo, Forever21, and H&M 😍  Not forgetting the budget shoppers, though, Lucky Plaza is full of good bargains and super affordable finds!
P.S. Shopped your way through Orchard Road before? Share your tips and finds with other Muslim travellers by leaving a review on our website for it!
If all that shopping has left you feeling so, so hungry, just pop over to Encik Tan at 313@Somerset to refuel yourself before you continue on your next shopping spree! 😋  From wanton noodles to Hainanese curry rice, a range of authentic local halal dishes await you.
While you're here, don't forget to sign up on our website and use our special discount code to get 10% off the Wanton Noodle Set!
Address: 313@somerset, 313 Orchard Road #B3-39/40, Singapore 238895
Price: 4 – 6 SGD / 12-18 RM
Website

Amidst all those gleaming shopping centres and boutiques, Orchard Road is also full of prayer spaces you can use in between your shopping spree. One such prayer space is situated inside Wisma Atria Shopping Centre, which is right outside Orchard MRT station and down the street from Ion Orchard.

Credit: Our Musollah on Facebook
The musollah is located on the staircase landing of the 7th floor of Wisma Atria. Ablution areas and telekung are available here too! 😊
2. Arab St & Haji Lane
One of the most picturesque and photographed areas in all of Singapore, this area is full of vintage stores and independent boutiques that draw you in with their vibrant storefronts 😍  Prices range from the affordable to the expensive, depending on the shop itself.

Credit: Mark爱生活 on Flickr
For all your hipster fashion and Instagram needs, walk over to the colourful Haji Lane, where you can go from shop to shop finding all kinds of cheap vintage clothing, regardless of whether you're into Asian or Western styles! 😉

Credit: Chin, Singapore on Flickr
Halal eateries: Wilder
A 5-minute walk from Haji Lane, this is one of the most hipster cafes in the area. Serving Western cuisine with a local twist, this is definitely one cafe you don't want to miss. Just one step into the industrial interior of this cafe will have you scrambling for that perfect Instagram cafe-hopping shot!

Credit: @wilder.sg on Instagram
To make things even sweeter, you can get 15% off the total bill when you sign up on our website! Be right back, heading straight for Wilder right now! 😋
Address: 749 North Bridge Road
Price: 12 – 19 SGD
Website

Probably one of the most beloved old mosques in Singapore, Sultan Mosque rises majestically over the rooftops of the traditional shophouses of Arab Street. It has been drawing locals and tourists alike in droves!

Credit: helen@littlethorpe on Flickr
Be sure to check out all the small shops lining the pedestrian walkway directly in front of Sultan Mosque! From Muslim-friendly bookstores to eateries serving Middle Eastern cuisine, there's something for everyone here.
3. Vivocity
Situated on Singapore's harbourfront, Vivocity is one of the biggest shopping malls in Singapore, complete with an open-air rooftop for you to laze around on once you're done with your shopping escapades!

Credit: ComfortDelGro Taxi on Facebook
Filled with huge electronics department stores, small-time clothing brands and large boutiques by brands like Pull & Bear and Mango, you can spend hours here without running of things to buy or do! 😌

Credit: Interior File Pte. Ltd. on Facebook
Halal eateries abound here in Vivocity, so you definitely won't run out of options, but one of those you should try out is Fish & Co! Prawns, dory fish, calamari–you name it, they serve it! 😋

Credit: @nitaptri on Instagram
Address: #02-116, 1 Harbourfront Walk
Price: 14 – 20 SGD
Website

A short walk across the road from Vivocity lies this old mosque, with its large green carpeted prayer halls and whitewashed exteriors. Surrounded by greenery, it has such a peaceful vibe that's perfect for you to get some rest and quiet me-time in between shopping 😌

Credit: @shammmnr on Instagram
Bargain Hunters
Don't underestimate the popularity of this area–Chinatown is one of the most popular tourist hotspots in Singapore. Lined with pretty shophouses, and colourful storefronts, you definitely can't miss a visit to this area!

Credit: mauro gambini on Flickr
From scarves to handbags to nifty little souvenirs, Pagoda Street in Chinatown is THE place to go to find Singapore gifts that you can take home for your loved ones! 😊

Credit: Swee Oon on Flickr
Hands down, these are probably THE best apple strudels in Singapore! If you find yourself starving in the midst of all your shopping, pop over to Ritz and choose from seven different flavours of pastry, from apple to durian! 😍
Address: 133 New Bridge Rd, #B1 – 02, Chinatown Point
Price: 2-55 SGD
Website
This quiet mosque sits right in the heart of Chinatown, just 5 minutes' walk from Chinatown MRT, and part of what makes it so unique is its South Indian-influenced architecture with contrasts against the Chinese architecture surrounding it, so it's worth a visit both to perform your prayers and to admire its beauty.

Credit: Religious Places on Facebook
5. Bugis Street
Right across the street from Bugis Junction lies Bugis Street, a bargain shopping haven especially for youngsters. It is frequented by locals and tourists alike both during the day and the during night, and especially on the weekends!

Credit: David Yap on Flickr
Most of the clothes here are extremely cheap, and you can even find t-shirts for as little as five dollars! For trendier styles of clothing, footwear, and accessories, head to the second floor where you're bound to chance upon some great finds!

Credit: @bugisst on Instagram
If you're a fan of all things Korean, be sure to try Jinjja Chicken, just down the road from Bugis Street. Serving sumptuous Korean fast food like the ever-popular Korean Fried Chicken and Jajangmyeon, you'll be licking your fingers and wishing for more by the time you're done! 😋

Credit: @izadd on Instagram
P.S. Get 10% off your total bill at Jinjja Chicken when you sign up on our website!
Address: 249 Victoria St, Singapore 188034
Price: 7.90 to 15 SGD
Website

Prayer spaces: Raffles Hospital Musollah
Located on the 9th floor of Raffles Hospital, this musollah is a short 5-minute walk from Bugis Street. Ablution areas and telekung are also available here.

Credit: Our Musollah on Facebook
Sleepless Shoppers
The shopping literally never stops at this huge 24-hour shopping mall located in the heart of Little India. You can find everything from textiles to swimwear to health supplements to jewellery here, all at prices that are cheaper than normal!

Credit: Craige Moore on Flickr
You can also find lots and lots of brands being sold here, although here's fair warning: not everything is authentic. For those prices, though, we don't mind at all!

Credit: HelloFoto77 on Flickr
Halal eateries: Santap
The newest addition to Singapore's halal cafe scene, Santap serves Western cuisine and prides itself on choosing only the freshest ingredients from the nearby market. It's perfect for a short chill-out session before you continue on your shopping adventures! 😋

Credit: @chrixtinee on Instagram
What's more, you can even get 50% off your second main when you sign up on our website! What's not to love? 😍
Address: 16 Madras Street The Daulat Singapore 208413
Price: 15-25 SGD
Website

Tired from all that bargain hunting? head over to Anggullia Mosque located just across from Mustafa Centre to perform your prayers for the day. With its Indian-inspired architecture, this mosque perfectly embodies the soul of Little India.

Credit: Tuah Bugis on Facebook
Luxury Lovers
Chances are, you've probably seen Marina Bay Sands before even if you haven't actually been to Singapore–its iconic architecture is well-known and celebrated around the world! It is also a luxury shopper's paradise, with 800 00 square feet of retail and restaurant spaces.

Credit: Jimmy McIntyre on Flickr

Credit: Erwin Soo on Flickr
Here, you'll find the likes of Chanel, Dior, and Louis Vuitton filling up the walkways within the Shoppes, so rest assured that you'll never run out of options!

Credit: xiquinhosilva on Flickr
Situated right next to the indoor fountain within Marina Bay Sands, you can dine in style here while admiring the passing gondolas being rowed down the canal that leads up to the fountain 😍

Credit: @jacinthawee on Instagram
Address: 2 Bayfront Avenue #B2-20/20A The Shoppes at Marina Bay Sands
Price: 3-30 SGD
Website

Prayer spaces: Singapore Flyer
Across the twisting Helix Bridge, you'll find a dedicated prayer room for Muslims at the Singapore Flyer. Make sure you take as many photos as you can of the huge Flyer while you're here! It's also a beautiful place to have an evening stroll once you've completed your prayers 😉

Credit: Rose Had on Facebook
Flea Finders
8. *Scape
Located around the Orchard Area, right next to Cineleisure Mall, this local flea market is extremely popular with the younger crowd.

Credit: SCAPE Marketplace on Facebook
Here's where you'll find everything from creatively designed handphone covers to the latest trendy men and women's fashion and accessories! 😍

Credit: SCAPE Marketplace on Facebook
Pop over to this popular fast food chain outlet located inside 313@Somerset, just a short 5-minute walk from *Scape. You can never go wrong with some good old fried chicken, biscuits and mashed potato! 😋

Credit: @mrtimothyhuang on Instagram
Address: 313 Orchard Road #B2 – 15/19, 313 @ Somerset
Price: 3-10 SGD
Website

One of the most highly frequented mosques in Singapore, Al Falah Mosque is nestled snugly within the area surrounding Orchard Road. Have some respite from all your shopping and take a break after you perform your prayers inside its spacious prayer halls 😊

Credit: Islamic Religious Council of Singapore (MUIS) on Facebook
Singapore is one of Asia's best countries when it comes to shopping: not only is it almost a national sport here, but you can find something you'll love in every price range and every budget. While you're here, make sure you check out all the best attractions, eateries and prayer spaces in Singapore on our website so you can have a ball of a time 😉
Tags: singapore, travel guide,