You know how people say "There's always room for dessert!"? It's no surprise that we simply can't end our meals without cleansing our palate with cupcakes or ice-cream. But on days you're feeling like venturing out of your comfort zone, there are a few places you can seek out to satisfy that craving of yours ?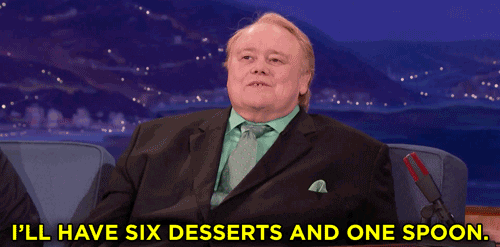 Credit:
giphy
But of course, we should eat everything in moderation. Therefore, continue reading this post with caution ? [inlinewidget id=29713]
1. Churros by Chulop!
At Chulop! by The Syarifs, the churros are coated with just the right amount of sugar and spice (cinnamon) - which makes everything nice! Though traditionally eaten at breakfast, you can definitely indulge in this sweet snack at any time of the day ?
Credit: @
hazwanimn
 on Instagram
When choosing your dip, why go for the usual chocolates when you can have premium dips like Thai Milk Tea, Oreo Cheesecake or Kinder Bueno! And hey, if you've a dangerously sweet tooth, we definitely recommend getting Churros with Toppings ?
Credit: 
@
farnaaachuck
 on Instagram You'll be asking for more after having a taste of the S'mores Churros, which consists of the classic churros sitting on a bed of graham biscuit crumbs, crowned by ribbons of delicious chocolate drizzle, and topped off with a row of marshmallows torched to toasty perfection! ?
Credit: @
itsfahmyy
on Instagram
Another great thing about Chulop! is that they have 2 outlets – one in the east and another in the west! Talk about equality. Now you don't have to scramble to just one corner of the island for delicious churros ?
#HHWT Tip:
Do make a trip down on weekends, as that's when they usually serve up other yummy goodies like Nutella Cheese Tart, and Caramelised Banana Cake!
Outlets and opening hours:
430 Upper Changi Road #01-93/94, East Village, Singapore 487048
JCube Shopping Centre, 2 Jurong East Central 1 #B1-K02, S609731

Open daily, 12pm – 9.30pm
Website
|
Facebook
|
Instagram
2. Cupcakes at Fluff Bakery
With a rotating menu of desserts weekly, you almost never know what to expect when you visit this bakery at Jalan Pisang. In early August last year, Fluff launched Mango, Sticky Rice and Coconut cupcake! These are some of the many Fluff cupcakes that will bring you straight to the Land of Smiles ?
Credit:
Fluff Bakery
on Facebook
Another cool flavour they created was inspired by the traditional kuih putri salat. With pulut on top the pandan cake, and pandan custard & coconut inside, it truly resembles the taste of the kueh.
Credit:
Fluff
Bakery
on Facebook
Feel like sticking to the familiar? Fluff's best-selling Nutella Red Velvet and Salted Caramel cupcakes are always in store, waiting for you.
Address
: 4 Jalan Pisang Singapore 199071
Operating hours
: Tuesdays - Saturdays, 12:00pm - 7:30pm
Website | Facebook | Instagram
3. Egglet waffles by Lickety
Credit: @amyrosewalter on Instagram
Craving some Hong Kong egglet waffles? Well, the team at Fika Swedish Café has got you covered. Available in both Buttermilk and Red Velvet, the waffles are everything you dreamt of – soft on the inside, crisp and buttery on the outside. Fill those waffles right up with colourful scoops of icecream and toppings like marshmellows and Pocky sticks.
Credits: Lickety Sg on Facebook
Or, you can opt for just ice-cream without waffles. There's a whole spread of flavours to choose from, the notable ones being Mao Shan Wang, Lychee Rose Sorbet and Gula Melaka.
Credits:
licketysg
on Instagram
Address
: 34 Bussorah Street, Singapore 199452
Operating hours
: Open daily, 12pm – 11pm
Facebook
4. Galaxy donuts by Sinseh: The Grocery  Closed permanently.
For something out of this world, Sinseh: The Grocery has just the thing to offer you – galaxy donuts. These are comforting donuts which are simultaneously almost too pretty to eat as they come decorated with glitter and sprinkles. They're not too sweet so you could grab the big one, or a couple of the mini ones.Looking for more ethereal edibles? Unicorn cupcakes and galaxy mirror cakes are up for grabs here. Contrary to the name, Sinseh: The Grocery is not a shop selling TCM but freshly-baked pastries and treats. Last we heard, this Lab SG's sister café is also offering baking classes. Wow, soon you can have your cake and eat it too, right at home!Address: 9 Jalan Pisang, Singapore 199076 Operating hours: Mondays – Saturdays, 12pm-8.30pm Facebook | Instagram
4. Gula Melaka Scones by All Things Delicious
When it comes to desserts baked from the heart, All Things Delicious is where it's at. The most raved desserts here are the scones, and the Gula Melaka ones are not for the faint of heart.
Credit: @allthingsdelicioussg on Instagram
But scones aren't the only unique desserts here! You'll want to dig in to the other mouthwatering and irresistible delights such as their Blueberry Sponge with Frosted Lemon Drizzle and Vanilla With-A-Kiss-Of-Lemon Bundt Cake.
Opening hours: 
8am – 7pm (Opens at 9am on Saturday & Sunday)
Address: 
34 Arab St, Singapore 199733
Website | Facebook | Instagram Contact no.
: 6291 4252
5. Goreng pisang with cheese by Pisang Melokek
If you love adding cheese to just about anything you eat, you will enjoy Pisang Melokek's rendition of goreng pisang, also known as banana fritters. Coupled with sweet toppings like ice cream, rainbow sprinkles and crushed oreo, this unique take on the traditional goreng pisang is soft on the inside, crispy on the outside.
Credits: @syazwantonmee on Instagram
Fret not if you are prefer the good ol' goreng pisang as Pisang Melokek offers this option as well, along with chilli sauce on the side. Besides their outlet at Adam Road, they do sell at bazaars from time to time too, such as the Geylang Serai Bazaar Ramadhan in 2017. So look out for them the next time you see one!
Credits:
yananep_cinta
on Instagram
Address
: 2 Adam Road #01-17 Singapore 289876
Operating hours
: Wednesdays to Mondays, 11am–9pm
Facebook | Instagram
6. Gloriously-decorated cakes by Butter Studio
Butter Studio is not one to shy away from being challenged in making customised cakes. Their cakes are so intricately designed, they seem too beautiful to be eaten. Take a look at the gorgeous creation- aptly named Orchid Blossom Cakelet- the talented bakers at Butter Studio baked in celebration of Singapore's 52nd National Day! ?
Credit: Butter Studioon Facebook
Another cake that is easy on the eyes and even more on the palate is the Salted Caramel Red Velvet cake – seems like a wonderful union of two crowd favourites. If you're a fan of Nutella and cookie dough, Butter Studio has both under one roof too.
Credit:
linasshi
on Instagram
Address
: 147 Jalan Besar, Singapore 208865 | 391 Orchard Road, Takashimaya B2 Food Hall, #B208-4A
Operating hours
: Mon 12pm to 11pm, Wed & Thu 12pm to 11pm, Fri & Sat 12pm to 12am, Sun 12pm to 11pm; Closed on Tuesdays |Orchard: 10am – 9.30pm daily
Website | Facebook | Instagram
7. Matcha Azuki Mousse by FIX Grill & Cafe   Closed permanently.
At this poolside café, there are sundry dessert items to satisfy your sweet tooth. If you are a fan of matcha, you will make no mousse-take by coming to FIX to have a taste of the smooth Matcha Azuki Mousse.Not feeling like having a Japanese dessert? FIX also serves a Mexican-inspired treat called Bunuelos, made of crispy tortillas drenched in gula melaka and a scoop of ice cream. Seems like Bunuelos is hardly served in makan places around Singapore so be sure to give a try at this café!Address: 31 Ah Hood Rd, #01-06 HomeTeam NS, Singapore 329979Operating hours: Open daily, 11am-10pm
7. Traditional-inspired cupcakes by Julie Bakes
At Julie Bakes, you can look forward to kueh-inspired cupcakes every day, like badak berendam inventions. If you are a hardcore fan of traditional Malay bakes, look no further for the cupcakes here will not disappoint.
Credits:
Juliana
Jahayer on Facebook
What's even more impressive is that there are also cupcakes which are based on kuehs we might not have seen in local Muslim stalls nowadays. Perhaps, parents or grandparents might be able to identify this particular dessert (Talam Dang Anum) based on the taste. For the uninitiated (i.e. myself), it is a jackfruit-based kueh, and the folks at Julie Bakes have succeeded in adapting it into a sumptuous creation.
Credits:
Julie
Bakes
on Facebook
Address
: 14 Baghdad Street, Singapore 199653
Operating hours
: 12 pm to 9 pm or till bakes sell out (Tuesday to Sunday)
Facebook | Instagram
8. The Halia desserts
Up for some exquisite dessert in the midst of the Botanic Gardens? Have a go at The Halia's quaint creations which will leave you spellbound by the presentation of the food itself. One of the signature favourites on the Brunch menu, Pain Perdu is not to be missed. It is a hazelnut brioche with caramelised banana and hazelnut, fresh berries, ice cream and praline sauce.
Credits:
jsumei
on Instagram
Another popular choice at The Halia is the Die Die Must Have Chocolate, made of chocolate element and raspberry. How classy and unique can a dessert get?
Credits: @karenhosyon Instagram
Address
: 1 Cluny Road, Ginger Garden (enter via Tyersall Avenue), Singapore Botanic Gardens Singapore 259569
Operating hours
: Monday to Friday, 9am – 10pm; Weekends, 10am – 10pm
Website | Facebook | Instagram
9. Chendol soft-serve by Overrun
It's always a good time for softserve ice-cream right? Here at Overrun, you'll be overwhelmed with the flavours they have to offer.  One of the most popular flavours is of course the Chendol which comes with coconut shavings, gula Melaka and green jelly. You could probably share cup of the icecream with a friend as the portions are generous for prices from $6 onwards. Other interesting flavours to look out for every week are Ovaltine, Bandung, Mint Choc and Cotton Candy.
Credits:
fatinanisahayub
on Instagram
Want to bring home some instead? You can opt for delivery to eat 16 oz pints in the comfort of your home. As you dig into your ice-cream, don't forget to take a look at their baked goods and savoury breads/sandwiches!
Credits:
overrun.sg
on Instagram
Address
: 18 Baghdad Street, Singapore 199657
Operating hours
: Tuesday – Thursday, 12 – 8.30pm; Friday, 2 – 10pm; Saturday, 12 – 10pm; Sunday, 12pm till sold out; Closed on Monday
Facebook
|
Instagram
10. Durian Snow Ice by Dessert First
With year-round hot and humid weather in Singapore, it's the perfect excuse to indulge in cold icy desserts and the best place to find them would be Dessert First. This halal-certified dessert joint serves snow ice desserts which would delight your tastebuds.Durian lovers, don't miss out on the Durian Snow Ice which will leave you wanting more! Also, don't forget to try their Mango Snow Ice for a delectable blend of sweet and sour.
Credit: Dessert First on Facebook
Dessert First also serves traditional Chinese favourites like
Tang Yuan
(riceballs) in Ginger Soup and Yam Paste with Pumpkin and Gingko Nut so for those of you who like your desserts warm, this would be ideal for you.
Credit: @dianwithlove on Instagram
Address
: 8 Liang Seah St, Singapore 189029
Operating hours
: Sunday – Thursday, 1pm – 1am; Friday, 1pm – 2am; Public Holiday Eves open till 2am, Public Holidays open from 1pm
Facebook
 | 
Instagram
11. Chendol Bingsu by Oriental Ice Bistro
Another one to add to the list for those days that you really need to beat the heat. Oriental Ice Bistro is one of the only few places which sell halal
bingsu
(Korean shaved ice). What's more? Their
bingsus
also have a local twist to it. A must-try at the café is the Chendol Pak Dol. You can never go wrong with this local treat!
Credit: iceboxcafe.sg on Facebook
Another dessert that is sure to delight your tastebuds is the Avocado Gado.
Credit: Oriental Ice Bistro on Facebook
Well, if you find the desserts familiar, that's because Oriental Ice Bistro used to be IceBox Café but it has since reopened under a new management. Well, aren't we glad that we can still enjoy halal bingsu now? Don't forget to check out the other items on Oriental Ice Bistro's menu too – such as pizzas and baked rice.
Address
: 89 Rangoon Road #01-02, 218375
Operating hours
: Monday – Wednesday, Friday, 1pm – 10.30pm; Saturday – Sunday, 12.30pm – 11pm, Thursday, CLOSED
Facebook
 | 
Instagram
12. Ondeh-ondeh Softserve by Moosh Softserve
Recently a hit among visitors at Haji Lane is this quaint Muslim-owned softserve cafe! Boasting a variety of unique soft serve flavours in their menu (such as Nutella Brownies and S'mores), they're hard to resist in the scorching sunny Singapore.
Credit: @hsjrpat on Instagram
The most unique flavour we found was their Ondeh-ondeh Softserve Ice Cream! If you've always been a fan of this traditional Malay kuih (or want to try it), this ice cream version comes close.
Address
: 44 Haji Lane Singapore 189237
Operating hours
: Monday-Thursday, 12 - 8pm; Friday, Saturday, Sunday, 12 - 9pm
Facebook
 | 
Instagram
13. GASTRONÔMAD
This new fine-dining restaurant serves all their menu items with a lovable flair. With top notch presentation and flavours that are truly one of a kind, you won't want to miss this out if you're looking for a BIG treat.
Credit: @gastronomadsg on Instagram
Indulge in the dulche de leche gelato with moist dark chocolate sponge. Served alongside torched bananas, caramelised peaches and much more, this is a dessert you probably won't find anywhere else in Singapore!
Address: 
11, Sin Ming Rd, Thomson V-Two, #01-30, Singapore 575629
Opening Hours: Thur & Fri, 6.30 – 10.30pm, Sat & Sun, 12.30 – 9.30pm Reservations: Call 9362 8001 or book online
Website
Wow, aren't you spoiled for choice right now? So many cool desserts to choose from, so little time… Plan out your dessert trail and go on a gastronomic adventure around Singapore to hunt down these sweet treasures soon! [inlinewidget id=29715]