Eid al-Fitr, known as the "festival of the breaking fast", marks the end of Ramadan and is usually a time where Muslims come together to celebrate the day that's filled with happiness, gratitude and most importantly, food! ?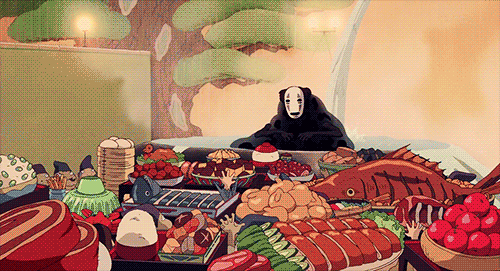 Credit: Giphy
In our part of the world, that means plates upon plates of rendang, ketupat, lemang, satay and more! But have you ever wondered about what Muslims across the globe indulge during Hari Raya? If you have, then get ready to take a culinary journey where we show you some of the traditional dishes in different coutries that mark this special holiday ?
1. Tagine
Named after the earthenware pot in which it is cooked, tagine is a popular Raya dish in Morocco. This slow-cooked, savoury stew is typically made up of vegetables, meat and includes various spices like turmeric, cinnamon saffron and ginger. Served with couscous, the aromatic flavours of this dish is definitely a festive favourite.
2. Sheer kurma 
For Muslims in countries like Afghanistan, India, Pakistan and Bangladesh, sheer kurma is a sweet treat that is enjoyed during Hari Raya. It consists of roasted wheat vermicelli in sweetened milk, sprinkled with nuts and can be enjoyed both warm and cold.
3. Maqluba
Popular in Middle Eastern countries, maqluba is a classic dish that is cooked in a large pot and then flipped upside down to serve as a large savoury cake! Made up of layers of rice, vegetables and meat from bottom to top, it is no doubt a dish that impresses people with its simple flavours and stunning visuals.
4. Nalli nihari
Nalli nihari is a popular national recipe in India that shines through its slow cooked mutton (mainly shank meat of goat or lamb). It can take up to four hours to make it, but the end results give you some of the best flavours especially from the use of all types of spices.
5. Haleem
Haleem is a 
ghee
-rich porridge that is made with lentils like gram 
moong dal
 and 
chana dal
, wheat, and minced meat. The garnish on haleem plays an important role; the crisp fried onions, ginger slices, green chilli, lemon juice and coriander leaves help deliver the perfect flavour to the dish. The dish is drenched in 
desi ghee 
and is served hot with naan. Some people like eating it as is; however, naan helps cut the spice. This dish is cooked for a good eight to 10 hours to make it just perfect.
6. Bolani
One of the most traditional Afghan dishes at during Eid is bolani, a flatbread stuffed with either leafy greens, such as spinach, potatoes, pumpkin or lentils. As one of the few savoury dishes enjoyed while celebrating the festive season, you can definitely find bolani on the tables of most households in Afghanistan.
7. Maamoul
Maamoul is an ancient Arab dessert which can be shaped like a dome, ball or a flattened cookie and contains fillings such as dates, walnuts, pistachios, almonds and figs. Made in countries like Syria and Lebanon.
8. Lokum
Also known as 'Turkish Delights' these bite-sized sugary cubes are a popular sweet treat in Turkey. This gel-like dessert is a combination of starch, sugar, and other fillings like dates, pistachios, and walnuts. It can be made in lots of different colours and is one of the prettiest Eid sweets we've seen!
9. Tufahije
Tufahija is a dessert enjoyed by Bosnians on Eid. It's poached apple drenched in sugar and stuffed with walnut, and is often served elaborately in a large individual glass filled with syrup and topped with whipped cream. A very sweet way of celebrating the end of the fast.
10. Ghraybeh
Known for it's distinctive fine crumb, smooth finish with a fuzzy outer layer and angelic off-white color, this Middle Eastern shortbread is especially baked for Eid - even during Easter and Christmas. They're what people gift one another during this time of the year and remains to be a welcomed tradition that is as old as time.