It's that time of year again when the allure of the end-of-year vacations begins to infect each and every one of us. But with so many options to choose from, just deciding on where to go in the first place is hard!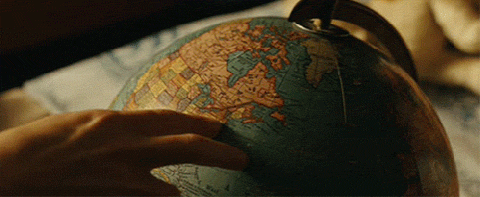 Credit: Giphy
So to make things easier for you, here's a list of the best end-of-year destinations to choose from ?
P.S. Been to any of these destinations before? Leave a review on our website and share your experiences with fellow Muslim travelers! 
1. Seoul, South Korea
Autumn lends a sense of romance that permeates the very air of Seoul, making it arguably one of the best times to visit South Korea's famed capital. This is when Seoul's ginko tree-lined avenues and promenades are awash with brilliant shades of yellow, brown and red ?
Credit: EON Travel and TOURS on Facebook
Coupled with the cooling air and average temperatures of 15 to 16 degrees, it makes for the perfect end-of-year escape ?
Based on 2016's fall forecast
, autumn peaks around the end of October, so be sure to plan your visit accordingly! Do also look out for the 2017 fall forecast when it comes out later this year.
Credit: travel oriented on Flickr
If you're still not convinced, though, read 
our ultimate guide to autumn foliage in Seoul
for the best places and spots to admire the stunning scenery ? Seoul is also one of the best muslim-friendly destinations in Asia, so don't miss out:
check out the yummiest halal eateries, best attractions and nearby prayer spaces in Seoul on our website!
2. Bosnia and Herzegovina
Gorgeous natural landscapes and rustic stone architecture come together in perfect harmony in Bosnia, which is easily one of the most attractive, underrated and affordable destinations on this list ?
Credit: Kevin Botto on Flickr
No need to jostle around with hordes of other tourists: with the crowded summer months over, Bosnia's quaint cities are much emptier and easier to navigate in autumn ? Between October and December, you can also expect cooler temperatures, breezier days and more affordable accommodation rates!
Credit: @omarghmr on Instagram
What's more, traditional Bosnian cuisine is absolutely sumptuous, so
check out these 11 best Muslim-friendly eateries in Bosnia to dine like a true Bosnian
 ?
3. Kyoto, Japan
The cultural heart of Japan, Kyoto is most spectacular in the autumn when the trees are ablaze with fiery hues of orange, yellow, and bright red.
Credit: Ingrid Truemper on Flickr
Take a leisurely stroll through one of Kyoto's tranquil Japanese gardens or explore the many temples dotting the city--you'll be swept away by the sheer beauty of the fall foliage ? For the best chance at catching the vibrant fall colours, pay a visit to Kyoto from mid October to mid December (fall peaks in mid November!)
Credit: Let's Go Japan 疯游日本 on Facebook
Be sure to
visit these top 5 places in Kyoto for the most breathtaking autumn scenery you can imagine!
If you've been to Kyoto before and fell absolutely in love with it, why not help out fellow Muslim travellers and
leave a review for your favourite attractions, eateries and prayer spaces in Kyoto on our website?
 ?
4. Lombok, Indonesia
Sometimes you just need to give yourself a good island vacay to relax those tired muscles (especially at the end of a long year!) But there's no need to go all the way to the Caribbean for that--with its crystal clear turquoise waters and white sandy beaches, Lombok is the perfect destination for that much-needed island getaway ?
Credit: @arieritonga on Instagram
Head down between October and November to take advantage of the off-season perks: cheaper accommodation rates and lesser crowds! The weather is also much more pleasant during these months;
rainy season in Lombok is much drier than nearby Bali, with lesser rainfall
. You won't need to worry about the weather being a dampener (get it?) ?
Credit: @bimariv on Instagram
#HHWT Tip: 
Weather forecasts for Lombok in October and November are
mostly sunny with very little rainfall
, but do check again before you go ? Save yourself the hassle of researching and
check out our 3D2N Lombok itinerary, perfect for that island getaway!
5. Melbourne
If warmer climates are more your thing even during the generally colder end-of-year weather, then a trip to the land down under will give you exactly what you're looking for ? While most of the world experiences autumn, winter, or the wet season at the end of the year, Australia greets the balmy weather of spring from September to November!
Credit: Chris Phutully on Flickr
Visit the Tesselaar Tulip Festival for a spectacular show of tulips in pink, white, orange, purple and more ? Every spring, almost a million tulips go on display here, so it's definitely worth a visit. It's almost a crime not to visit Melbourne's popular Brighton Beach for some fun under the sun. Be sure to snap that picture-perfect, insta-worthy shot of the colourful bathing boxes lining the beach!
Credit: Jon Lin Photography on Flickr
During these months, you can also expect cheaper airfares, cool temperatures averaging 14 degrees, and fewer crowds. Be right back, booking our tickets straight away ? While in Melbourne, there's also no shortage of
muslim-friendly eateries, prayer spaces and attractions, so be sure to check out all your options on our website!
6. Switzerland
There's really no better time to visit Switzerland than in winter, when the whole country transforms into a snowy-white winter wonderland! Just picture yourself making snow angels and building snowmen in all that snow ?
Credit: Ben Freeman on Flickr
In any case, a trip to one of the most peaceful countries in the world won't do you any harm now, will it? ? Stay in one of Switzerland's traditional wooden houses for an authentic Swiss experience, or hop onto the Glacier Express to catch the most scenic wintry views of the Swiss Alps!
Winter starts quite late in Switzerland (during the second half of December), so be sure to plan your visit to coincide with it ?
7. London, U.K.
Ah, the land of tea and biscuits! ? London is one of those destinations that you fall in love with and never want to leave, if you had your way.
Credit: Manish Prabhune on Flickr
October is one of the best times to visit the iconic capital of the United Kingdom: the leaves begin to turn into the familiar autumn hues and tourist crowds have more or less dissipated. Go on a walk through one of London's abundant parks, stroll through the picturesque Little Venice, or explore London's quiet boroughs at the peak of autumn ?
Credit: @a_ontheroad on Instagram
If it's your first trip to London and you're not quite sure what to do here, we've got you covered:
read about the 13 must-do activities to complete your London trip!
Even better, you can
check out our website for the top attractions, best muslim-friendly eateries and nearby prayer spaces in London!
Feeling lost will be a thing of the past ?
8. Andalusia, Spain
From the exquisite Alhambra in Granada to the stunning Real Alcazar in Seville, the grandeur and magnificence of Muslim Spain is definitely unforgettably breathtaking.
#HHWT Tip: 
The Nasrid Palaces within the Alhambra are especially stunning at night, when the whole place seems to glow with an otherworldly beauty ?
Credit: www.twin-loc.fr on Flickr
October is the best time to visit Andalusia, when the temperatures are more pleasant than in the searing heat of the busy summer months. Watch a flamenco performance, head up to the Sierra Nevada mountains for a bit of skiing, or be awed by the splendour of the Muslim architecture of Spain's buildings! ?
Still need convincing?
Check out the best places to immerse yourself in Spain's Islamic history here!
9. Auckland, New Zealand
Just like neighbouring Melbourne, Auckland's springtime only comes around towards the end of the year, so if you're looking for a relaxing year-end holiday that won't leave you freezing, this is your best choice ?
Credit: russellstreet on Flickr
Here's a lesser known secret: if you missed your chance to catch the 
sakura 
blossoms in Japan and South Korea earlier this year, you can still catch them in Auckland from September to December! ? And as if that isn't enough, you can also head over the Great Barrier Island to have those gorgeous beaches all to yourself.
Credit: @raphahela on Instagram
Worried about where to eat, pray, and go in Auckland? Have no fear ? 
Check out our website for the yummiest muslim-friendly eateries, nearby prayer spaces and top attraction in Auckland!
10. Iceland
Seeing the emerald green glow of the Aurora Borealis (Northern Lights) is definitely something you HAVE to have on your bucket list! ? The surreal landscapes of Iceland hold some of your best chances at catching this once-in-a-lifetime natural light show, especially from October onwards.
Even without the Northern Lights, a visit to Iceland is worth it just to take in its awe-inspiring natural beauty, be it the many silk-like waterfalls or the vast fields of lush greenery. Not so sure about visiting Iceland? Let
these stunning photos of Iceland
convince you to buy your plane tickets right away! ?
Credit: Giuseppe Milo on Flickr
There you have it! From sandy beach vacations to autumn foliage escapades, you'll be spoilt for choice for your coming end of year holidays ? If you've been to any of these gorgeous destinations before, share your experiences and
leave a review on our website
to help fellow Muslim travelers out! ?
Tags:travel-guide