From the skyscrapers of Tokyo to beautiful beaches in Okinawa, Japan's mesmerising mosaic of urban and natural landscapes gives the country a unique charm that many travellers are drawn to.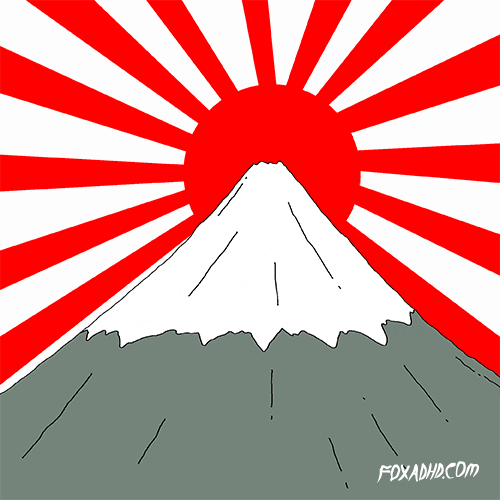 Credit: giphy
There are so many things to do and places to cover, that the question asked by travellers is, "What should I cover on my trip to Japan?" Well, to help you plan for your next adventure in the land of the rising sun, we've shortlisted the best attractions in each of Japan's top four regions so you can get the most out of your vacation! 🤗
1. KANTO
Kanto is definitely familiar to most travellers! This region is home to one of the most fashionable cities in the world, and most importantly, the best theme parks 😆
Meiji Shrine, Tokyo Metropolis
A vibrant metropolis, Tokyo is the beating heart of the country. It's not hard to understand why tourists are obsessed with Tokyo. It packs enough punch to appeal to just about every kind of traveller, from nature enthusiasts to shopaholics!

Credit: alya_rudan on Instagram
Start your morning with a visit to the Meiji shrine. The large shrine grounds are adorned with lots of lush greenery, which lends the shrine a peaceful atmosphere.
Address: Japan, 〒151-8557 Tokyo, Shibuya, Yoyogikamizonocho, 1−1
Opening hours: Between 5AM to 6.40AM – 4PM to 6.30PM (depending on month)
Website

P.S. Looking for other exciting attractions in Tokyo? Find out more about Tokyo's top attractions, nearby halal eateries and prayer spaces all on our website!
Disneyland, Chiba Prefecture
Not many travellers know this, but Tokyo Disneyland is actually located in Chiba Prefecture in Kansai 😱

Credit: prxoxo.95 on Instagram

Adventurers with a taste for thrills and chills will love the fact that it is home to a few theme parks, the most famous being Disneyland! Plus, it's also home to Disneysea which the only 'sea park' of the Disney franchise. All the more reason for you to put this city on your itinerary, especially if you're with your family 😎

Credit: __n___a___o__ on Instagram

Planning to cross Tokyo Disneyland off your list of theme parks to visit? Check out our tips to planning a perfect day at Tokyo Disneyland!
Opening hours: Daily, 8am – 10pm
Entry fees: 7,400 JPY (ages 18 and over), 6,400 JPY (ages 12 – 17), 4,800 JPY (ages 4 – 11)
Website

2. Kansai
If you enjoy reflective walks in beautiful parks, and love watching cultural performances, Kansai is definitely not to be missed!
Gion, Kyoto Prefecture
Kyoto remains the major cultural destination of Japan with fragments of its history being strictly preserved throughout the country.

Credit: Vicky_grt on Instagram
At Gion Corner, you can catch 7 different types of traditional Japanese performance art as well as interact with one of Japans most famous traditional figures, the Geisha (or Geiko as locals refer to them).
Address: Japan, 〒605-0805 Kyoto Prefecture, Kyoto, Higashiyama Ward, Hakatacho, 61
Opening hours: Two shows daily, at 6pm and 7PM (December till the second week of March, performances will be held on Fridays, Saturdays, Sundays and national holidays only.)
Entry fees: Adults: 3,150JPY, Students (16-22): 2,200JPY, Children (7-15): 1,900JPY, Infants (0-6): free
Website

Kinkaku-ji, Kyoto Prefecture
After that it is highly recommended that you also make a trip over to the famed 'golden pavillion' widely known as Kinkaku-ji!
Coated in a glorious shade of gold, this three-storey Zen Buddhist temple is surrounded by lush gardens and a large lake which lends the temple grounds a sense of tranquility and heart-stopping beauty 😍

Address: Japan, 〒603-8361 Kyoto Prefecture, Kyoto, Kita Ward, Kinkakujicho, 1
Opening hours: 9am to 5pm
Fees: Adults : 400JPY, Junior high and elementary : 300JPY.


P.S. Looking for yummy halal food and nearby prayer spaces while exploring Kyoto? Visit our website to find out more!
Universal Studios Japan, Osaka Prefecture
Your trip to Kansai would not be complete without a visit to Osaka. This city encapsulates everything about urban Japan that we love, from its incandescent towers to its dazzling neon lights. Up for more theme park fun? Head over to Universal Studios Japan, which happens to be the brand's first theme park in Asia!

Credit: suc_ilma on Instagram
Universal Studios Japan currently occupies a sprawling 54 hectares and is divided into nine themed sections, with the latest offering being Minion Park 😌

Credit: 1_seo__ on Instagram
If you're a fan of the Harry Potter franchise, be sure to set aside enough time to check out the Wizarding World section of the theme park! Get your own wand at Ollivander's, and if you're thirsty, head down to Potter and gang's favourite hideout, Hogsmeade, for a taste of Butterbeer, the popular wizarding beverage that is actually non-alcoholic! 😋
Address: Japan, 〒554-0031 Osaka Prefecture, Osaka, Konohana Ward, Sakurajima, 2 Chome−1−33
Opening hours: Daily, 9am – 9pm
Entry fees: 5100 JPY (Child), 7600 JPY (Adult)
Website

P.S. Looking for other amazing attractions in Osaka? Find out more about Osaka's major attractions, nearby halal eateries and prayer spaces- all on our website!
3. Kyushu (and Okinawa)
Kyushu and Okinawa make up the southernmost section of Japan. This area is known best for its subtropical climate, beautiful beaches and rich marine life which is why it's one of the most popular destinations in Japan! With plenty of tourists you can bet that there's plenty to do here with something for everyone!
Canal City Hakata, Fukuoka Prefecture
Shopaholics will love Canal City Hakata, an enormous shopping and entertainment complex aptly known as "the city within the city" 😎

Credit: Scott Denny on flickr

Exhausted after shopping? The mentaiko-red building is packed with entertainment choices such as a games arcade, a multi-plex cinema and even a theatre! If you prefer to recharge by taking a stroll instead, you can go for a walk along the beautiful artificial canal runs through the compound. Psst…you can't miss the fountain show in the middle of the canal which runs every half an hour!
Kerama Islands, Okinawa Prefecture
If you are more of a nature lover than a shopaholic, it's best you head straight for the Kerama Islands. At this island paradise, you can listen to the calming breaks of the sea waves as they break upon the shore.

Credit: keiko_seapic on Instagram
Enjoy the crystal clear waters while swimming alongside a rich and diverse variety of sea life including sea turtles and even manta rays, if you're lucky! You can find many tour organizations offering various snorkelling packages, with different combinations of activities and snorkelling spots, and prices usually range from 3000 JPY to 10,000 JPY 🤗
4. Hokkaido
Hokkaido is Japan's second largest island and yet, it is also one of the most sparsely populated one. Because of its small population, its vast wilderness remains largely unspoiled which makes it the place to immerse yourself in the marvelous beauty of Japan's vistas.
Daisetsuzan National Park
One of the best ways to experience Hokkaido is by making a trip to Daisetsuzan National Park 🍃

Credit: yamaya1127 on Instagram
The largest park of its kind in the country, Daisetsuzan National Park is filled with nothing but mountains, active volcanoes and lush verdant forests for you to explore!
Entry fees: Free
Opening hours: 8am – 5:30pm (June to October), 9am – 5pm (November to May)
Closed: Mondays, from November to May and December 31st to January 5th

Sapporo Snow Festival, Hokkaido Prefecture
Come winter, this bustling city in Hokkaido transforms into an ethereal wonderland 😍

Credit: かがみ~ on flickr
Every February, the people of Sapporo come together to celebrate Sapporo Yuki Matsui, otherwise known as the Sapporo Snow Festival! The main attractions of this festival are its beautiful snow and ice sculptures. These works of art are highly sophisticated, taking after people and buildings and can measure up to tens of metres high which makes for the perfect photo taking opportunity!
Sites: Odori Park, Susukino, and Tsudome
Entry: Free
Opening hours: Odori and Susukino sites : 6th to 12th February (lights off at 10PM), Tsudome site, 1st to 12th February (9PM to 5PM)
Website
Shiroi Koibito Park, Hokkaido Prefecture
If you're a chocolate lover, the name of this park should ring a bell in your head. Shiroi Koibito Park was opened by Ishiya, a chocolate company whose most famous product is a European-style cookie with the same name. 🍫

Credit: Lionel Leong on flickr
The park has a "free" area and a "paid" area. In the "paid area", you can view the private chocolate exhibits and better yet, watch how chocolate is made and try your hand at making some of your own! 😋

Credit: Mukashi Mukashi Photography on flickr
Shiroi Koibito Park has recently opened a prayer room for its visitors which means that you can now take your time touring the theme park without having to miss your prayers. Pretty sweet if you ask me!
Address: Japan, 〒063-0052 Hokkaido Prefecture, Sapporo, Nishi Ward, 宮の沢2−2−11−36
Opening hours : 9am to 6pm
Fees : 600JPY
Website

This wraps up our insider guide for the top 4 regions in Japan. Japan is gradually opening up to Muslim travellers and ramping up efforts to meet the needs of the community. While it may still be slightly difficult to find eateries catering to our needs, many restaurants here offer vegetarian and seafood options.  On top of that, most hotels also provide facilities such as a kitchenette where you can prepare your own meals. That said, with a little bit of research, there is no reason why you should hold off travelling to the land of the rising sun!
Tags: