[Update (27 Feb 2019): Please note that the owner of the stall, Duzy Noramzamnas, has since relocated to London and as such, has closed down his nasi lemak stall in Seoul 🙁 However, if you're ever in London you can still try his Nasi Lemak as he's opened a shop there called Nasi Lemak Nek Nong which continues to serve this delicious dish!]
You're probably able to relate to the times you're missing home.. food 😅 Comfort food, wherever you are in this world, is a language that speaks to everyone. For Malaysians, nasi lemak is probably one dish that's reminiscent of home. Piping hot coconut rice, fragrant pandan leaves, fried peanuts, crispy anchovies and irresistibly spicy sambal, now doesn't that make your hearts flutter and tummies rumble? 😋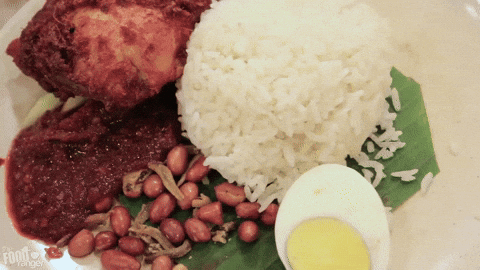 Credit: Giphy
The mastermind behind this ingenious idea is Duzy Noramzamnas, a 29-year old Sabahan Malaysian, who initially had problems finding halal food during a visit to Seoul. Now, he runs his own nasi lemak delivery business and it's so popular not only among Malaysians studying or working in Seoul, it's also gaining buzz among patrons from other countries like Netherlands, Japan, China, Indonesia and France. Talk about food bringing people from different cultures together 😉

Credit: Ben Duzy on Facebook 
What started off as an online delivery service expanded into a humble-looking stall, 'Nasi Lemak Berlauk Panas' at the rooftop of Itaewon Guesthouse. For RM19, patrons get to savour the  popular nasi lemak dish, which the South Koreans likened to their bibimbap! Add on the squid, mussels, chicken or egg if you don't mind paying a little more 😆
If you're wondering how he stocks up on ingredients like anchovies, chillies and mussels, they're found easily in wet markets like Noryangjin Market, while ingredients like belacan (shrimp paste), tamarind paste and coconut milk are bought in the foreigners' district of Itaewon (think Chinatown).

Credit: Ben Duzy on Facebook
Packed in a microwaveable container, his nasi lemak is so convenient to heat up and tuck into each time you're craving for a true meal from home. From packing 40 packets a day to having his own rooftop stall with his business partner, this Malaysian is serving up some home pride 😊 As you savour a delicious plate of the famous nasi lemak, admire the skyline from the rooftop and feel your troubles ease away.

Credit: Ben Duzy on Facebook 
This 29-year old fell in love with the Korean culture, so much so, he's now even offering Malaysian tourists a tour of Seoul – with amazing activities and of course, halal food! Next time you're missing home, who knows you may be able to have your favourite chicken rice or laksa and be reminded that home isn't that far away after all 💕
Tags: halal food guide, News, seoul, south korea,