Some food are so synonymous with the country, they may as well be the national dish. Indomie is so loved by Indonesians, those of us in Singapore and Malaysia can't help but be drawn to try it too! Well... Malaysians are currently rejoicing about the opening of Indomie cafes in their hometown. Good news, Singapore - it's your turn! From 15 January till end of March, Rumah Rasa, located at Bay Hotel, will launch a new menu with the popular Indomie as a key ingredient in their recipes. Who says instant noodles has to be only a late-night snack? ?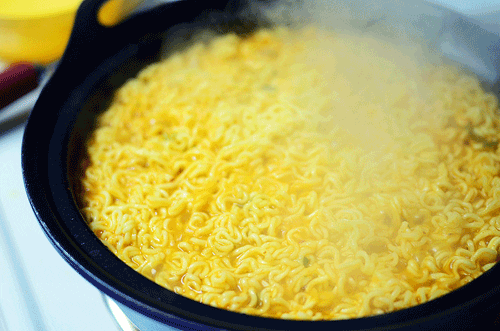 Credit: Giphy
Perhaps, one of the most interesting fusion on the menu is the Indomie Nuggets ($7.90). The Indomie noodles are coated with bread crumbs, and then deep-fried, but tastes so much like the original, no one will know they're actually noodles! Make sure to dip your nuggets into the Chef's Special Sauce for a burst of flavours in your mouth ? The Tossed Gado Gado Cold Indomie ($8.90) is the salad you want, where sides of tofu and tempeh are accompanied by the homemade gado gado (peanut) sauce and the addition of the Indomie noodles. You can't say you're not a veggie lover after this ?
Hitting the soft spot for every local, the Crispy Soft Shell Crab Indomie Served in Chilli Crab Sauce ($9.90) is sure to attract the die-hard seafood lovers. Fried to crisp perfection, showered in spicy chilli crab sauce, and served amidst the springy Indomie noodles, this dish will give you a taste of the well-loved chilli crab, but with a new twist!
The Beef Stroganoff Button Mushrooms Indomie Served in Lemak Chilli Padi Sauce ($9.90) calls for a zesty meal time! Slices of beef are marinated and soaked overnight, then cooked to just the right texture before being served on a plate with - you guessed it - the tasty Indomie noodles ?
The Homemade Begedil Soto Ayam Indomie ($7.90) is perfect for patrons who love a hearty, Indonesian cuisine. The fried potato ball and classic soto ayam combination is so deserving as the chef's signature dish!
Address:
 Rumah Rasa, Bay Hotels & Resorts, 50 Telok Blangah Road, S098828
Reservations:
+65 6818 6681 or
email
Website
Affordable and mouthwateringly good, oh what's there not to love about this? ? Experience Indonesia with a twist of local flavours the next time you tuck in to one of the best comfort food around - Indomie! [iframe seamless="seamless" style="border: none; overflow: hidden;" height="450" width="100%" scrolling="no" src="https://pollbuzz.co/frame/1984?type=poll"][/iframe]