Ever wondered what a gathering of the country's best fried chicken would be like? Well, save the date: from 18-19 November, you can get your hands on Malaysia's finest fried chicken! ? Credit: giphy
Presenting to you, Malaysia's Top 8
Ayam Lejen
(according to FriedChillies)!
1. Gerai Ah Kow
Credit: @nvshv on Instagram
Credit: @adele2307 on Instagram
2. Nasi Lemak Wak Kentut
Credit: Makan Sedap on Facebook
Credit: Makan Sedap on Facebook
3. Killer Gourmet Burgers (KGB)
Credit: @cheryleong on Instagram
4. Broasted Chicken King
Credit: Paula Bianca on Facebook
Credit: @friedchillies on Instagram
5. Nomms
Credit: @nomms.my on Instagram 
Credit: @nomms.my on Instagram 
6. Nasi Kandar Zainul
Credit: @syuhadamusa on Instagram 
Credit: @iramohdamin on Instagram 
7. MyBurgerLab
Credit: myBurgerLab on Facebook
8. Sweetree
Credit: @najahmuhidin on Instagram 
Credit: @bellefleur73 on Instagram 
Wait- wipe the drool off your face! Here's what you need to know if you want to be one of the chosen ones* at Ayam Lejen Festival next month:
 Mark your calendar and decide which session you want to attend. The 2-day festival consists of two 4-hour sessions a day.
 Call up your foodie buddies to share the news. Food tastes better when you're with friends!
 Be an early bird! Early passes are sold at RM48 whilst stocks last ?
 If you chickened out on the early bird deals, then you have to deal with paying for the RM58 entry fee ?
Start training for a big(ger) appetite. You will receive 8 portions of fried chicken, and you won't want to miss the special side orders available at the festival!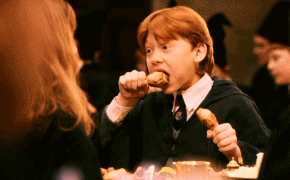 Credit:
giphy
Now, ready for the best fried chicken feast in your life?
Buy your Ayam Lejen ticket HERE!
Tags:news