From the bustling cities to gorgeous islands, there is plenty of sightseeing and exploring to do when you're in Malaysia! Forget about flying from one state to another- because really, the only way you can discover hidden gems in this marvelous country is by going on a road trip ?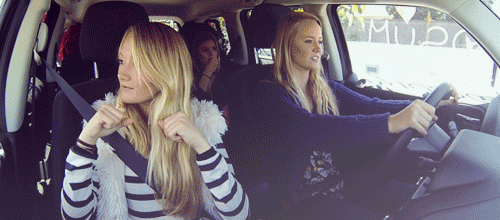 Credit: giphy
So, if you're looking for the best sights and sounds to check out, here's our ultimate road trip itinerary around Malaysia to get you started.
Day 1: Selangor - Perak (2.5 hours)
Credit:
@samuelteo89
on Instagram
"First we eat, then we do everything else" goes a quote by M.F.K. Fisher, an American food writer. Indeed, a hearty breakfast of nasi lemak is the only way you should flag off an epic road trip around Malaysia. There are many places you can go for nasi lemak, but we recommend going to Village Park restaurant in SS21, and if not, Nasi Lemak Bumbung in Sea Park.
Credit:
@emmyzura
on Instagram
Afterwards, take a walk down Laman Seni 7 in Shah Alam for the first of many selfie opportunities. Shah Alam has an up and coming street art lane filled with 3D murals, environment-themed artworks, and hanging installations for you to explore.
Credit:
@fillupyoursenses
on Instagram
Are you ready? Now, take the wheels and head down to Ipoh to do what the locals do: savouring and sightseeing. Aside from the hipster cafes, you can also visit the famous eateries from
our halal food guide in Ipoh
.
Credit:
@benz_sombatsathit
on Instagram
Afterwards, hunt down for their popular street art that is known for representing the many faces of Ipoh's community and their lifestyle.
Credit:
@wrenthrazelth
on Instagram
It will be difficult to leave a place as captivating as Ipoh, so spend the night here! ?
Day 2: Perak - Penang (2 hours)
Now that you're well-rested, take a two-hour drive to another quaint city called Georgetown in Penang. If you're a foodie at heart, you're going to love what Penang has in store for you.
Credit:
@natt_suttichada
on Instagram
Known as the capital of Malaysian street food, you can expect delicious cuisine wherever your tastebuds take you. Nasi kandar, asam laksa, cendol - you name it, they all taste incredibly delicious! ? In fact, it's so good that we dedicated an article solely on
the best halal eateries in Penang
.
Credit:
@syd1ng
on Instagram
Need to make space for more food? Walk off those calories by visiting myriad attractions in Georgetown such as Khoo Kongsi, Cheong Fatt Tze Mansion, the Camera Penang Museum and last but not least, their famous street art. Penang has many 
trendy and unique hotels
, so go on and get some rest!
Day 3: Penang - Perlis (2.5 hours)
It's tough to say goodbye to Penang but there's a scenic journey ahead when you drive to Kuala Perlis.
Credit:
@ellmarhamans
on Instagram
Perfect for local brunch with family or friends, there are many eateries that are run by friendly locals. Look out for mouth-watering laksa at Kak Su Laksa and crunchy cucur sotong at Restoran Nelayan ?
Credit:
@awebiru
on Instagram
Once you're done, capture memorable snapshots at Tasik Melati Recreational Park and get some history lessons at Kota Kayang Museum.
Day 3 continued: Perlis - Kedah (1 hour)
The midday heat signals the arrival of a sunny afternoon. Pack up and hit the road again where Alor Setar in Kedah lies ahead ?
Credit:
@nadzmenadzem
on Instagram
Depending on the season, you may just be greeted by golden paddy fields along the way, so do stop for a selfie wherever you can!
Credit:
@tajudinsik
on Instagram
Sightseeing is the best way to appreciate the character of Alor Setar. You can swing by the Zahir Mosque, view the landscape from the top of Menara Alor Setar, admire the local artworks at the Kedah State Art Gallery and more.
Credit:
@maykwan
on Instagram
Before calling it a day, take a seat at the local restaurants for a heart warming tea time and dinner.
Day 4: Kedah - Kelantan (6 hours)
It's going to be a six-hour drive from Kedah to Kelantan, so it's best to head out right after breakfast ?
Credit:
@steve.lew
on Instagram
Since it'll be a long ride, remember to stock up snacks, coffees and mineral water to refuel along the journey! 
? 
The moment you arrive in Kelantan, you'll be welcomed by the relaxed and laid-back settings of their capital city, Kota Bharu.
Credit:
@aliflina_hunting_food
on Instagram
Once here, savour the few daylight hours to mingle with the locals at Siti Khadijah Market, take snapshots at Istana Jahar, and have a sunset picnic at Pantai Irama Bachok. Just remember to try their local delights such as nasi kerabu, nasi ulam and the famous budu.
Day 5: Kelantan - Terengganu (3 hours)
If you love the calm and casual vibes of Kelantan, you'll definitely appreciate the tranquil atmosphere of Terengganu. Prepare to be mesmerised by the sights during your three hour drive, and do indulge in all the delectable street food you can find in its capital city, Kuala Terengganu ?
Credit:
@tweabag
on Instagram
Some might recommend that you visit the Crystal Mosque and Tengku Tengah Zaharah floating mosque, but we also suggest relaxing at Pantai Batu Buruk for sunshine and sea breeze ?
Credit:
@maryamshayaa
on Instagram
Alternatively, you can make a side trip to Lang Tengah Island where the sky and sea are bluer than the rest. For those who are planning a food trip, remember to check out
the must-try food in Kelantan and Terengganu
 ?
Day 6: Terengganu – Pahang (2.5 hours)
After spending a day in Terengganu, it's only natural that you should cover the fringes of Peninsular Malaysia by heading down to Pahang. Their capital city, Kuantan, makes a great pit stop.
Credit:
@izzahhaziqah_
on Instagram
Bury your toes in the soft,
soft
sands of Teluk Chempedak beach.  If you want to cool off, head to the Sungai Pandan Waterfalls for a refreshing swim ?
Credit:
@adherencenoble
on Instagram
From lip-smacking satay to grilled seafood, you will find plenty of eateries here in Kuantan serving delectable food that will tickle your taste-buds.
Credit:
@afiq_pak_marikh91
on Instagram
Then, Pahang - Johor (5 hours)
After your brief introduction to Pahang, hit the road again for a five-hour trek down to Johor. The trip to their capital city, Johor Bharu will be a long one, so pack up some snacks and drinks again.
Credit:
@airpoolstylo
on Instagram
You might arrive when the sun is slowly shying away in the horizon, but fret not, there's still plenty of things to see and food to eat at night.
~
Credit:
@bilikdenim
on Instagram
If you have the energy to explore the last sightseeing of the day, shop away in Johor Bahru's famous night markets and our favourite is Pasar Karat where antiques, shoes, arts and crafts, and clothes aplenty. For dinner and supper bites, get your refuel from
these halal cafes in Johor Bahru
.
Day 7: Johor - Melaka (3 hours)
What's next, you ask? We have the historical city of Melaka! A popular road trip destination among locals, we recommend freeing up your entire day for this place alone.
Credit:
@farid_muhamad_
on Instagram
Walking around and exploring the tourist attractions are a must. Take your time and visit the A' Famosa Fort, the Stadhuys, Baba Nyonya Heritage Museum and lots more. And of course, the Jonker Walk at night ?
Credit:
@yiphine_0526
on Instagram
Another fascinating thing about Melaka is the variety of local cuisine that you can sink your teeth into. Cendol, asam pedas sting ray, kuih keria, and coconut shake are some of our favourite discoveries from
our ultimate guide to halal food in Melaka
.
Day 8: Melaka - Negeri Sembilan (1.5 hours)
Negeri Sembilan is our last state before rounding up our week-long road trip. To truly appreciate what it has to offer, make your way to Seremban for attractions such as Jelita Ostrich Farm and Hutan Lipur Jeram Toi.
Credit:
@mnmhlmy
on Instagram
Just like the other places in Malaysia, there are many good eateries in Seremban lurking around the corner.
Credit:
@susankiey
on Instagram
Don't miss out on a refreshing bowl of chendol at Haji Shariff's Cendol to quench your thirst ? If you prefer something savoury, sit down to a plate of nasi campur at Azhaar Maju Senawang, or head over to Restoran D'Pantai for grilled seafood.
Then, Negeri Sembilan - Kuala Lumpur (1 hour)
It's time to close our chapter by saying hello to Kuala Lumpur.
Credit:
@angusgus95
on Instagram
As the evening skies set in, admire the famous Petronas Twin Towers and bustling Bukit Bintang that best represents the electrifying energy this capital city has.
Credit:
@d_airdrowndagger
on Instagram
What better way to round up your trip than a delicious supper? Head over to Bangsar for some late-night Mamak and teh tarik.
BONUS: Safety Tips for Road Trips
Preparation is important to keep your road trip adventure safe and sound. We have some travel tips that you will find superbly handy.
Send your car for a tune-up. This will ensure that your car is in tip top condition for a long road trip.
Reload your Touch & Go card. It saves time when you pass through the highway tolls. You can reload it at any petrol stations in Malaysia.
Bring a first aid kit. This will help to treat light injuries when clinics or hospitals are out of sight.
Download navigational apps. Waze and Google Maps are popular apps for directions on the road.
Bring a power bank. This is essential for drivers who are relying on their smartphones during road trips.
Bring a safety kit. Your kit must include jumper cables, flashlight, tire changing tools and more.
Make a pit stop. There are many R&Rs (Rest and Service Areas) along the Malaysian highways where you can take a quick nap, shop for snacks, and go for bathroom breaks. Prayer rooms are also available here.
Stay focus on the road. All road safety rules apply when you're on the road. Remember to not answer calls while driving and look out for potential hazards.
There you have it! Your greatest road trip adventure in Malaysia is only a drive away. Start by exploring Kuala Lumpur and then, lead the way to Perak, Penang, and Kedah before taking a relaxing route to Kelantan and Terengganu. Trust us, you will leave this road trip with a renewed perspective of Malaysia and the travelling spirit in you.