Mamma Mia! Positano Risto's the new Italian-inspired eating house in the heart of Bugis. Oh Italian food, you'll always have a
pizza
in my heart ? 100% Muslim-owned, delicious cuisines and a great place for you to lounge at - and the best part is you don't need to book a flight to Italy for this!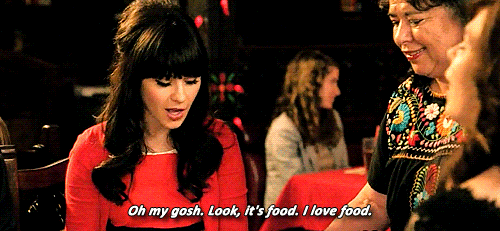 Credit: Giphy
Credit: Syed Omar Fadzil Bin Syed Alwee on Facebook 
Nibble on the appetizers, ranging from the eggplant parmigiana - the baked eggplant with mozzarella cheese, parsley and basil - or baked potato skins with cheddar cheese, turkey ham and sour cream ?
Credit: Positano Risto on Facebook 
Get ready your napkins! Tuck in to the signature dish on the menu, the Fetuccini Aragosta for that eye-catching fresh lobster on a plate. 500g of fresh lobster, generous serving of fettucini pasta and a ladle of homemade sauce makes any true foodie drool just at the thought of it.
Credit: Positano Risto on Facebook 
The
steaks
have been raised on the ribeyes and tenderloins served here. Juicy and flavourful, the ribeye will make you
udderly
thrilled with every mouthful ? Drizzled with the in-house steak sauce, mashed potatoes/fries on the side and fresh salad, its sure to give you a wholesome meal to tuck into.
Credit: Positano Risto on Facebook 
Craving for a bite of mac and cheese? The Positano Mac and Cheese mixes up your usual platter with the addition of crab meat! Indulge in the homely fare of macaroni, cheddar cheese and a dose of sprinkled breadcrumbs. We say, its the best choice for all the
cheesy
 people out there ?
Credit: Positano Risto on Facebook 
Take a sip from the refreshing choice of mocktails. The pop of colours aren't only perfect aesthetics for a snapshot, but will cool you off on a sunny day ☀️
Credit: positanoristo on Instagram
The Oreo Lava Tower is probably what you're eyeing for after all the feasting. The stacked oreos atop the chocolate lava cake, showered with caramel and a scoop of vanilla ice cream make anyone with a sweet tooth fall in love at first sight ?
Credit: Razidah Sahlan on Facebook 
Did you know that one of the co-founders, Imran visited the actual cliffside town of Italy's Amalfi Coast, Positano? With stunning beachfront views and streets aligned with cute boutiques and cafes, the coastal town tugged at his heartstrings. With his fiery passion to start a casual halal Italian dining restaurant and the newfound love for Positano, now Muslims and non-Muslims can finally taste the magic of Italy ?
Address: 
66 Bussorah Street, 
Singapore Opening Hours: 11:30AM - 3:00PM, 6:00PM - 10:00PM Reservations: Call +65 6292 1866 or make an online booking Website
[iframe seamless="seamless" style="border: none; overflow: hidden;" height="450" width="100%" scrolling="no" src="https://pollbuzz.co/frame/1837?type=poll"][/iframe]