Traveling alone can be daunting but not if you're well-prepared. Pick Japan! A safe, convenient and über friendly destination for your self-spoiling session. Time to get Japan off your bucket list and on your travel log ? So book your tickets and pack an extra pair of kawaii (cute) shoes because we're going on a trip to the land of manga strips ?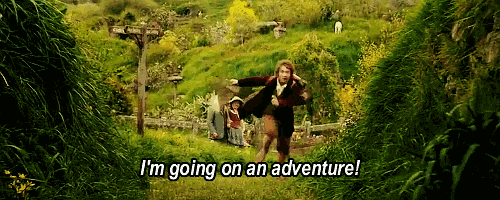 Credit:
giphy
Here's our top 9 picks for exploring the Land of the Rising Sun solo that will leave you saying
KonichiWOW
! [inlinewidget id=28208]
1. Enjoy the colours of Farm Tomita
Home of Japan's largest lavender fields, Farm Tomita's 12 hectares of lush includes flowers, herbs and various shops centred on the farm's floral produce. Stop and smell the lavender (literally) as you uncover the various types the fields offer. Farm Tomita also carries their own brand of lavender perfume and essential oil so you have an excuse to go back visiting when you're out of lavender goodies.
Credit: Hokkaido Walk on Facebook
While a summer visit is best to enjoy the rainbow fields, Farm Tomita has much to offer all year round. Don't forget to plan your trip ahead of time to be able to see the prettiest and smell the most fragrant of Farm Tomita's floral heaven as the flowers are seasonal.
Credit: @sola.graciason Instagram
With Daisetsuzan National Park as a backsplash, Farm Tomita is a sure treat for all your senses. Sight and smell aside, treat your taste buds to some vegetarian-friendly lavender soft serve to complete your purple adventure.
Credit:
@kangsoe15
on Instagram
Address
: Kisen Kita 15-go, Nakafurano-cho, Sorachi-gun, Hokkaido
Operating hours
: Oct-Apr; 9AM-4:30PM , Apr-Sep/Summer; 8:30AM-6PM (Depending on month)
Fee/Price
: $ - $$
Contact
: +81-167-39-3939 | 
Website
Directions: 20 minutes walk from Nakafurano Station [iframe src="https://www.google.com/maps/embed?pb=!1m14!1m8!1m3!1d11592.12974820165!2d142.427995!3d43.418149!3m2!1i1024!2i768!4f13.1!3m3!1m2!1s0x0%3A0xb76dcf0287606d92!2sFarm+Tomita!5e0!3m2!1sen!2s!4v1501510270337" width="100%" height="300" frameborder="0" style="border:0" allowfullscreen][/iframe] #HHWT Tip: The farm has a prayer room for patrons in one of the smaller gardens in the park, Hanabito Garden.
2. Take up ninja and samurai lessons
Take a break from exploring to break some smash boards! Learn the ancient arts of self-defense home-grown in the land of the sumo wrestlers, samurais and ninjas. The ninja or samurai classes cover a variety of lessons from meditation to weapon handling. Samurais were said to be of noble backgrounds while ninjas were trained spies and assassins so your difficult task is picking which one fits your alter ego better.
Credit:
@hisashi33
on Instagram
Spend a day learning the arts of the elusive ninjas or battle it out samurai-style! No Fruit Ninja or Samurai Jacks in these dojos as the instructor is the legitimate head of a ninja-samurai clan who now shares her art with curious visitors. There's also a photography session included with your new identity to keep as a token of your time battling for honour, pride, and mostly just entertainment ✌️
Credit:
@luxurytraveljapan
on Instagram
You could also opt for sumo wrestling, but I suppose it goes without saying that's not for the faint-hearted ?
Address
: The Kikai Shinko Kaikan building, 3-5-8, Shibakoen, Minato-ku, Tokyo
Operating Hours
: Sun-Fri; 10AM/1:15PM/4PM, Sat;2:30PM
Fee/Price
: $$ - $$$
Website Directions
: Get off at Kamiyacho Station, Tokyo Metro Hibiya Line, it's a 6-minute walk to the building [iframe src="https://www.google.com/maps/embed?pb=!1m18!1m12!1m3!1d3241.703260277107!2d139.74306631522782!3d35.659681980199345!2m3!1f0!2f0!3f0!3m2!1i1024!2i768!4f13.1!3m3!1m2!1s0x60188b962f6eb565%3A0x684b0d455a2c999b!2sKikai+Shinko+Kaikan!5e0!3m2!1sen!2smy!4v1500567857561" width="100%" height="300" frameborder="0" style="border:0" allowfullscreen][/iframe]
3. Head up to Mount Fuji
The tallest peak in Japan is the nation's most breath-taking view considering high altitudes limit oxygen flow. During the right season, snow-capped mountains offer tourists a panoramic view of Japan's 3776 m active volcano.
Credit:
@mylilnote
on Instagram
The stunning 2.5-hour drive from Tokyo will be worth every second with great sights to see along the way including hill stations and ski resorts. Traveling alone would mean cute solo pictures and no one to remember that time you fell face first down a snowy slope ?
Credit: @aisyahekafitri on Instagram
Note that the right season to catch snow would be during the months July through September. As it is a huge tourist attraction, early bookings would make life a lot easier and warmer when you're not stranded in minus Celsius weather!
4. Explore the underwater world at Osaka Aquarium Kaiyukan
One of the largest aquariums in the world in terms of species and capacity, the Osaka Aquarium Kaiyukan is a marine dream. With over 16 themed tanks replicating regions of the Pacific Rim, it is THE place to be for all your nautical needs. Start bright with the beautiful gardens of the "Japan Forest" tank and add on layers as you venture into the freezing "Antarctica" tank of ice-cold marine life.
Credit:
Shoko Muraguchi
on FlickrJust keep swimming
through the 4-storey spiral ramp uncovering the colourful sea life heading down below to the isolated creatures that linger the depths of the ocean floor ? Interactive sessions showcase training certain creatures undergo to keep healthy. One thing's for sure though- animals hate exercise as much as we do. Visitors can also feed marine mammals like otters and sea lions or pet sharks without worry of becoming lunch.
Credit:
Osaka Aquarium Kaiyukan
on Facebook
Address:
1 Chome-1-10 Kaigandori, Minato Ward, Osaka, Osaka Prefecture 552-0022, Japan
Operating hours:
Open daily; 10AM-8PM
Fee/Price
: $ - $$
Contact
: +81 6-6576-5501  |
Website | Facebook |  
Instagram
Directions
: 5 minutes walk from Osakako Station [iframe src="https://www.google.com/maps/embed?pb=!1m14!1m8!1m3!1d13128.029259050163!2d135.4289645!3d34.6545182!3m2!1i1024!2i768!4f13.1!3m3!1m2!1s0x0%3A0x6f83c520ae082ccc!2sOsaka+Aquarium+Kaiyukan!5e0!3m2!1sen!2s!4v1501519275978" width="100%" height="300" frameborder="0" style="border:0" allowfullscreen][/iframe]
5. Geek out at Akihabara
The colourful town of Akihabara or simply known as "Akiba" is the centre of otaku (geek) culture. Anime and manga fandoms thrive in the vibrant city so geek out on your favourite characters or get introduced to unique animations while visiting.
Credit:
@andres.sanchezg
on Instagram
It's also a tech hub so you'll have no issues going home with gifts for family and friends and spoiling yourself with gadgets and video games you never thought existed. Don't lose track if you're on a budget because it can be tempting to buy everything (Oh SO TEMPTING). Just because it's made in Japan, doesn't mean it's cheaper in Akiba!
Credit:
@fishermansporch
on Instagram
[inlinewidget id=28208]
6. Treat yourself at Kusatsu Onsen
The beauty of Japan lies within its clever balance of calm and chaos. Immerse yourself literally in Japanese culture by visiting one of the nation's many onsen (hot springs). Considered locally to be sacred, these hot springs that were once medicinal are now a
hot
favourite of visitors. Kusatsu Onsen in Gunma Prefecture is a 4-hour drive away from Tokyo but absolutely worth it when you're greeted by the scenic hot spring and serene atmosphere.
Credit:
Kusatsu Onsen Tourism Association
on Facebook
Pristine warm water, stunning views and no lecturer or boss to remind you of due dates? Almost too good to be true but once you're in Kusatsu, nothing's going to stop you from relaxing (except for closing hours). You've gone through airport security, hours on a plane and you've travelled long enough. Now gift yourself that much needed self-care session!
Credit: Patrick Vierthaler on Flickr
Address
: 3-9 Kusatsu, Agatsuma-gun, Kusatsu-machi 377-1711, Gunma Prefecture
Fee/Price
: $$-$$$
Contact:
+81 279-88-3722 | 
Website Directions
: 4-hour rides on JR highway buses from Tokyo's Shinjuku JR Highway Bus Terminal to Kusatsu [iframe src="https://www.google.com/maps/embed?pb=!1m14!1m8!1m3!1d12808.590123939732!2d138.5967109!3d36.6228353!3m2!1i1024!2i768!4f13.1!3m3!1m2!1s0x0%3A0x12ef9439de3e2003!2sKusatsu+Hot+Spring!5e0!3m2!1sen!2s!4v1500618118245" width="100%" height="300" frameborder="0" style="border:0" allowfullscreen][/iframe]
7. Explore Awaji Island
The island is a compact place of fun which offers visitors a variety of activities including horse rides, visiting its iconic suspension bridge or hiking up to ancient castles.
Credit:
halfrain
on Flickr
What's really placed Awaji on the map, however, is its role in introducing Bunraku (traditional Japanese puppet theatre) to the world.  Awaji Puppet Theatre offers tourists a show like no other featuring the intricate dolls of all shapes and sizes. Watch real people handle smaller puppet people in this traditional form of story-telling. Don't be surprised if the puppets are better-dressed than you, their elaborate costumes are part of their unique personas.
Credit:
MikaErkki
on Flickr
Address:
1528-1, Fukurakou, Minamiawaji-shi, Hyogo, Awaji Island
Fee/Price
: $$-$$$
Contact:
+81 799-52-0260
Directions:
There is a 1 hour 45 minutes train directly after transferring from JR Kobe line at Sannomiya Station [iframe src="https://www.google.com/maps/embed?pb=!1m18!1m12!1m3!1d3297.705290627724!2d134.71777731518952!3d34.25606298055104!2m3!1f0!2f0!3f0!3m2!1i1024!2i768!4f13.1!3m3!1m2!1s0x3553606972c87dd7%3A0xc80782c9c68ea2e2!2sAwaji+Puppet+Theater!5e0!3m2!1sen!2smy!4v1500618805404" width="100%" height="300" frameborder="0" style="border:0" allowfullscreen][/iframe]
8. Play with the deer at Nara Park
Situated in Japan's former capital, Nara Park is where you'll find Bambi's cousins wandering around for shika-senbei (special "deer-crackers"). The 1200 "national natural treasures" mean the deer are well taken care of and roam the grounds freely. Don't be surprised when a couple of them come over bowing expecting a treat for their trick, they're used to being spoilt. After all, being a national treasure should come with some perks, yeah?
Credit: Chang Ju Wu on Flickr
If you're still bitter about Bambi's ending then Nara Park has more to offer. Find the world's largest wooden building in the park's Todai-ji complex or check out the various gardens like Yoshikien for a traditional tea ceremony complimentary for foreigners. 4 words to sum up the Nara Park experience: Free tea with Bambi. Sounds like an offer
no one
 should refuse!
Credit:
@harry.sherry
on Instagram
Address
: Nara, Nara Prefecture, Japan
Contact
: +81 742-22-0375 | 
Website Directions:
5 minute walk from Kintetsu Nara Station [iframe src="https://www.google.com/maps/embed?pb=!1m14!1m8!1m3!1d13123.19205060237!2d135.843012!3d34.685047!3m2!1i1024!2i768!4f13.1!3m3!1m2!1s0x0%3A0xf96cacf357447456!2sNara+Park!5e0!3m2!1sen!2s!4v1501519584782" width="100%" height="300" frameborder="0" style="border:0" allowfullscreen][/iframe]
9. Visit the goldfish city of Yamatokōriyama
Since you're already in Bambi's neighbourhood, you might as well head northwest of Nara to the city of Yamatokōriyama. If you're a fan of
all gold everything,
the city's abundant goldfish motifs pay homage to its large industry of goldfish and koi cultivation. While most of us don't remember the last time we saw a phone booth, anyone who's been to the town probably can't relate.
Credit:
@taaakkako
on Instagram
A Kyoto goldfish club upcycled old phone booths into fancy public aquariums. The fish live in a clean healthy environment and can now call home whenever they want. What a life! Hope the fish aren't misusing the phone booths to prank call locals! ?
10. Explore Koriyama Castle
No visit to Nara is complete without exploring Koriyama Castle. The castle itself is worth the trip but the real deal is that it's an underrated attraction for viewing cherry blossom. The Oshiromatsuri festival runs during the cherry blossom season of late March through early April. Blossom season means better selfies and pictures for your social media, just sayin'.
Credit:
@ponpusit
on Instagram
Address:
Jonaicho, Yamatokoriyama 639-1011, Nara Prefecture
Contact
: +81 743-52-2010 | 
Website Directions
: 15 minutes walk from Kintetsu Station [iframe src="https://www.google.com/maps/embed?pb=!1m14!1m8!1m3!1d13128.535694789254!2d135.7793751!3d34.6513206!3m2!1i1024!2i768!4f13.1!3m3!1m2!1s0x0%3A0x37f3cdeb384b2c40!2sKoriyama+Castle!5e0!3m2!1sen!2s!4v1501604633584" width="100%" height="300" frameborder="0" style="border:0" allowfullscreen][/iframe] Not everyone loves traveling alone but in a land as vibrant and unique as Japan, you won't have to worry about that. All you need is an open mind, a flight ticket and a valid passport. You're bound to have a better time than the little explorer with a talking monkey and boots as long as Swiper's not swiping your credit card too much! P.S. Planning your solo Japan adventure already? Find out more about amazing halal eateries and nearby prayer spaces on
our website
!