You'll be swimming in a pool of melted bliss as you reel in a bite of the Burger Banjir at Nadim's Delights. If you consider yourself a cheese lover, the Burger Banjir's different from your usual patties and buns with the generous scoop of cheese sauce laden on top. Now, don't mouse around and head over to the diner for a
grate
day ?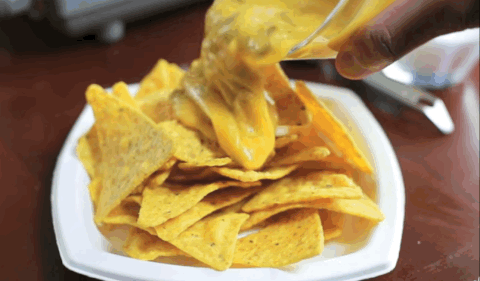 Credit: Giphy
100% Muslim-owned, the diner's opened from 12pm daily. Feast your heart out on the new craze in town, and don't forget to tuck in to those fries and beans on the side ?
Credit: Nadim's Delights on Facebook 
Aside from the Burger Banjir, the eatery also sells fish & chips, black pepper steak, spring chicken and of course, cheese sticks ? If you're looking for a burger but isn't quite a 
cheesy
 person, you can opt for the double patty chicken burger.
Credit: sdqh on Instagram
The lightly toasted buns, tender, juicy patty, cheese slice AND nacho cheese will tantalise your tastebuds with just the right amount of cheese ?
[P.S For more cheesy adventures, check out the cheesy steamboat buffet sure to satisfy any cheese lover!]
Credit: Nadim's Delights on Facebook 
Location:
Blk 508 Jurong West St 52 S640508, 
Singapore Opening hours: 12PM - 10PM daily
Website
So, are you a true cheese lover, going all out for the Banjir Burger?
Brie
it on, we say ? [iframe seamless="seamless" style="border: none; overflow: hidden;" height="450" width="100%" scrolling="no" src="https://pollbuzz.co/frame/1882?type=poll"][/iframe]