There's something spectacular about travelling to Tokyo, one of the bustling cities in the world. Whether you're here to visit the must-see tourist attractions or savour the best halal ramen in Tokyo, there are many ways to make your trip worthwhile. Let's not forget the unique experiences like walking across the Shibuya crossing! If that's at the top of your list, we have exciting news for you!
Credit: Giphy
Curious to know as to how the Shibuya crossing looks like from a bird's-eye view? Head over to the newly-opened Shibuya Scramble Square! Opened on 1 Nov 2019, this glistening building is conveniently connected to Shibuya station, so there's more reason to drop by after experiencing the famous Shibuya crossing and taking pictures at the Hachiko statue.
P.S. Confused by Japan's transport system? Check out our ultimate guide to navigating Tokyo's public transport!
Piercing the sky at 230-meters high, Shibuya Scramble Square is primarily an industrial and commercial building complete with offices and dining establishments. However, that's not the reason why we're here.
Make your way to Shibuya Sky, an observation deck that sits right at the rooftop of this building. Since the Shibuya Scramble Square is the tallest building in Shibuya, you can expect an unobstructed view of this bustling business centre!
The journey begins when you step off at the 14th floor where the Shibuya Sky ticketing counter is located. While you can purchase your ticket at the counter, we recommend buying in advance through their official website to get a good discount (more details below!).
Once you have a ticket in hand, take the elevator that'll lead you straight to the 45th floor. Then, you're only an escalator away from the 46th floor where you'll find yourself at the Shibuya Sky's Sky Stage.
The moment you reach the Sky Stage, THIS is the sweeping city view that awaits you! While you're taking it all in, spot popular landmarks like Tokyo Tower, Tokyo Stadium and of course, the Shibuya crossing! If you're lucky, you can see the magnificent Mount Fuji on a clear day too!
We hope you're not afraid of heights because you may need to pace closer to the glass panel to admire and capture the city view. Otherwise, you can gaze from the wooden steps where you can sit back and reflect on the best memories from your trip (we bet this is one of them!).
The Sky Stage also has a helicopter rooftop landing that is decked out with faux grass. Most visitors would lie down and admire the fluffy clouds that pass them by. We recommend doing the same because you can't get closer to the sky than the tallest building in Shibuya.
P.S. Looking for a prayer space? Check out these prayer spots near popular attractions in Tokyo! Shibuya mosque is just a 12-minute walk from Shibuya Scramble Square!
If you can't find a comfortable spot at the rooftop landing, the Sky Stage also has a long stretch of hammock that allows you to sit back and chill. While staring at the sky, listen to your favourite music and let the tunes drift your worries away.
If you prefer visiting in the evening, the Shibuya Sky closes before midnight, so you can definitely catch the sunset backed by the mellow horizon in Tokyo! Besides being a great vantage point, Sky Edge is a corner that provides a good place to capture an Instagram-worthy snapshot.
The queues may be long, but the wait will pay off! Landscaped by the modern high-rises of Shibuya and fluffy clouds, it'll be one of your favourite Tokyo snapshots to share with your loved ones back home.
P.S. Need more pictures for Instagram? Check out these striking hidden gems in Tokyo for your picture-perfect getaway!
Stay till nighttime to see a different side of Shibuya. As soon as the sun sets, the city lights up with massive neon billboards and bustling streets. It'll also be the right time to practice your night photography skills!
Remember to look out for the Shibuya crossing too! Just when you think the world's busiest intersection looks amazing in the day, it offers a different view of the Shibuya crossing at night. We recommend doing a timelapse shot, so you'll capture the neon billboards flicker and the people crossing in a frenzy!
Before the day ends, make sure to stay for the light show named Crossing Light! With 18 lights beaming at the Tokyo sky, consider it the ultimate finale before you retreat to your accommodation in Tokyo after a day well-spent in Shibuya.
P.S. For dinner, there's a halal-certified Manhattan Fish Market that's only a 6-minute walk from Shibuya station!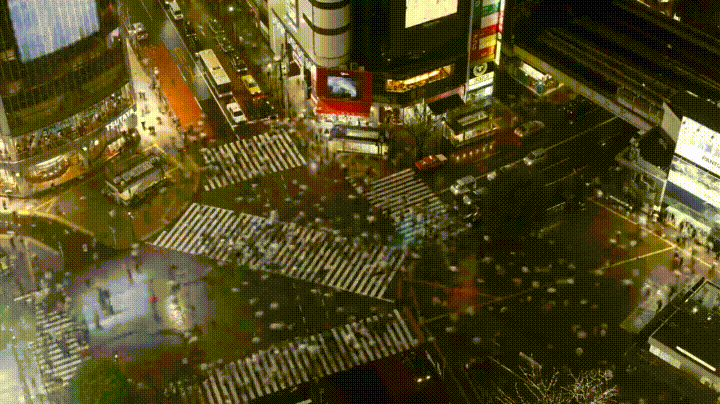 Credit: Giphy
#HHWT Tip: Purchase your tickets in advance through their official website to get an online discount. The online ticket price is ¥1,800 (adults) and ¥500 (children below 3-5 years old). Do note that only limited tickets are available for Shibuya Sky, so we recommend getting your tickets early.
Opening hours: Open daily; 9AM-11PM (last admission at 10PM)
Address: Shibuya Scramble Square, 2-chōme-24 Shibuya, Shibuya City, Tōkyō-to 150-0002, Japan
Admission: ¥2,000 (adults), ¥600 (children between 3-5 years old), Free (children below 3 years old)
Directions: Alight at Shibuya station and walk towards B6 subway exit to reach Shibuya Scramble Square