The metropolitan city of Shanghai is no stranger to tourism, being one of fast-growing travel destinations in Asia! Amidst the towering skyscrapers,  European influenced architecture and futuristic skyline, the city still maintains a certain rustic charm to it, with its' traditional temples and quieter historical districts which seem to transport you to another time?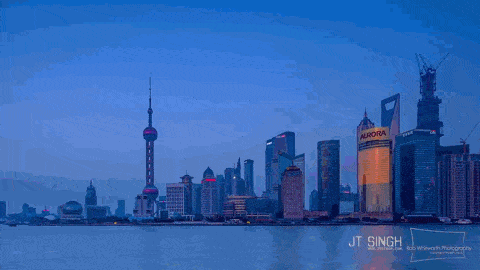 Credit: giphy
The seamless blend of new and old draws in tourists from all over the globe, eager to experience the hustle and bustle of city life yet still having the option of retreating to a nearby traditional water town for a breath of fresh air. If you're a first-timer to this amazing city, here's 9 experiences you absolutely must have?
P.S. AirAsia X is having amazing deals for direct flights from Kuala Lumpur to Shanghai (from RM379)! This promo is valid from 15 May to 21 May 2017, and the travel period is from 15 May to 4 September 2017. Find out more about promotional fares to Shanghai and other China destinations here.
[ BOOK IT NOW! ]  The promotion has ended!
1. Experience the magic of Disney at Shanghai Disneyland✨
Of course, a trip to Disneyland is first on the list for any traveller to Shanghai, both new and seasoned! The newest Disney park in Asia to open its' doors to the public, it's also the second cheapest park in the world, falling behind Paris by only $3? The park itself is divided into 7 themed areas; Mickey Avenue, Gardens of Imagination, Fantasyland, Treasure Cove, Adventure Isle, Tomorrowland, and Toy Story Land.
Credit: xiquinhosilva on Flickr
The moment you step foot into the park, the Enchanted Storybook Castle will immediately catch your eye, being the tallest, largest and most interactive castle in Disney history! And while other Disney park castles are dedicated to a certain Disney princess, this castle represents all your favourite princesses?
#HHWT Tip:
Stay till the night for a spectacular fireworks display you'll never forget!
Credit: xiquinhosilva on Flickr
Other popular attractions include the TRON Lightcycle Power Run, Pirates of the Caribbean: Battle for the Sunken Treasure, Soaring Over the Horizon, Peter Pan's Flight and more! Plus now there's no worrying about exploring Disneyland on an empty stomach! Head to Food Republic in Disneytown, right next to Disneyland (you can re-enter the park again with your ticket). There's a halal restaurant - Yershan Restaurant - that whips up yummy Chinese-Uighur cuisine at pretty affordable prices.
Credit: Jeremy Thompson on Flickr
#HHWT Tip:
Being the only Disney park in China, long queues and waiting times are a given. To beat the crowd, get yourself a
complimentary Disney Fastpass
 and shorten your waiting time! Do note that these tickets are subject to availability, so snatch them up quickly!
Address:
 310 Huangzhao Rd, 川沙新镇 Pudong Xinqu, Shanghai Shi, China
Opening hours:
 Varies daily – do check the
daily schedule
prior to your visit
Ticket prices:
1 Day Pass - ¥370.00, 2-Day Pass - ¥670
Website
2. Have your fill of yummy halal food at the Shanghai Muslim Food Market
Fellow Muslim travellers, you're in for a gastronomic treat? Held every Friday at the junction of Aomen Lu and Changde Lu, the Shanghai Muslim Food Market is run by a community of Uyghurs, a Turkic ethnic group from Northwestern China.
Credit: @carbnolicious on Instagram
Expect lip-smacking street food like dumplings, meat buns, noodles and freshly baked Uyghurs goods, at super affordable prices! This market is also a meat lovers' heaven; the enticing smell of succulent, barbecued lamb skewers will definitely leave your tummy rumbling?
Credit: @carbnolicious on Instagram
Aside from traditional Uyghurs cuisine, you'll also find other sweet treats with distinctive Middle Eastern influences! Similar to the ones sold at Moroccan street markets, you can savour pastries stuffed with spiced dried fruit and copious amounts of nuts. Don't forget to wash down your carb-laden meal with a refreshing cup of yogurt!
Credit: @carbnolicious on Instagram
Address:
1328 Changde Lu, near Aomen Lu (1328常德路近澳门路)
Operating hours:
Every Friday, 10am to 3pm
3. Have a stunning bird's eye view of Shanghai from Oriental Pearl Tower
The 5th highest tower in the world, the Oriental Pearl Tower stands at a whopping 468 metres! So, it certainly comes as no surprise that this gargantuan TV tower is one of Shanghai's iconic landmarks.
The structure itself consists of three spheres of varying sizes, which serve as viewing platforms for sight-seeing. Tourists and locals alike flock to the second sphere for one reason only -  the glass-bottomed sightseeing floor! Imagine being suspended 259 metres above ground and having a 360° view of everything that's below you! A great way of conquering your fear of heights,
safely?
Credit: @ale.ri91 on Instagram
For a stunning view of the city, make your way up to the highest sphere, called the Space Module! Here, you can snap amazing landscape photos of the city skyline till your heart's content?
Credit: Caroline Léna Becker on Flickr
#HHWT Tip:
Make a pit stop at the Shanghai Municipal History Museum, located in the tower's basement, to learn more about the city's developmental history!
Address:
1 Century Ave, LuJiaZui, Pudong Xinqu, Shanghai Shi, China
Opening hours:
Daily
, 
8:30am - 9:30pm
Admission Fee:
 ¥220 (Entry to all spheres and Municipal History Museum)
Website
4. Travel back in time at Yu Garden
Believed to have been built more than 400 years ago during the Ming Dynasty, Yu Garden has fiercely withstood the test of time and the classical architectural layout of this garden remains unchanged till this day! The garden is also divided into 6 scenic areas; Sansui Hall, Wanhua Chamber, Dianchun Hall, Huijing Hall, Yuhua Hall, and the Inner Garden.
Credit: SteFou! on Flickr
The moment you step into this garden of happiness, you'll feel as though you've been transported to another time! The ancient Chinese architecture, beautiful classical gardens and rockeries will leave you feeling tranquil and completely at peace? Even a simply stroll along the garden compounds will do you wonders!
Credit: MojoBaron on Flickr
If you happen to visit Shanghai during Chinese New Year, you'll find the entire garden decorated with vibrant lanterns and massive light installations of zodiac animals! Perfect for those night shots?
Credit: 凌智 (Suzuki) on Flickr
Address:
218 Anren St, Huangpu Qu, Shanghai Shi, China
Operating hours:
Daily; 8:30am - 4:45pm
Admission Fee(s):
Peak: ¥40 (1 April-30 June, 1 Sep-30 Nov), Off-peak: ¥30 (1 Jul-31 Aug, 1 Dec-31 March)
Website
P.S. AirAsia X has some amazing deals from Kuala Lumpur to Shanghai (from RM379)! Promo is valid from 15 to 21 May 2017. Click here for more info on promo fares to Shanghai and other China destinations. Plus, AirAsia X flies 11 times weekly to Shanghai, so you can catch a flight to the city anytime you want!
[ BOOK IT NOW! ] The promotion has ended.
5. Shop the night away at Nanjing Road
Shopaholics, rejoice! Shanghai's most famous shopping street, Nanjing Road, is the go-to destination for all things fashion? With over 600 individual businesses, from your more high-end fashion brands like Tiffany & Co. and Mont Blanc to more humble traditional stores selling silk goods, jade and more, you'll need an extra suitcase just for your bag of spoils?
Credit: Mathias Apitz (München) on Flickr
Just like New York, Nanjing Road is a street that never sleeps since it's open 24 hours! The huge, blinding billboards and endless stream of people is truly reminiscent of the Big Apple, except instead of English billboards, most are in Chinese characters?
Credit: Maher Najm on Flickr
Address:
Nanjing Rd Pedestrian St, NanJing Lu, Huangpu Qu, Shanghai Shi, China
6. Welcome to Tianzifang, the hidden hipster shopping paradise
Hidden away in the alleys of the Old French Quarter, Tianzifang remains a secret to most locals and tourists. Unlike its' much busier and well-known counterparts like the nearby Xiantiandi area, this hipster enclave still retains its' authentic 1930's charm and architecture; brick buildings with stone doorframes and solid wooden doors, commonly known as Shikumen.
Credit: xiquinhosilva on Flickr
The narrow alleys are lined with affordable cafes, arts and crafts shops, design studios, private galleries and boutiques! You'll also find quite a few talented craftsmen and artists creating works of art right in-front of your eyes and later selling their masterpieces at handsome sums.
Credit: xiquinhosilva on Flickr
If you're looking for a place to soothe your artsy soul, swing by this hidden hipster shopping paradise!
Address:
 China, Shanghai Shi, Huangpu Qu, DaPuQiao, 泰康路210弄
7. View 'the museum of buildings' at The Bund
Affectionately know as The Bund, this mile-long waterside promenade along the Huangpu River is a tourist hotspot and the pride of Shanghai! To the west of the promenade, lies 52 buildings of different architectural styles ranging from Gothic, baroque, to neoclassical. Given the diversity in designs, this cluster is known as "the museum of buildings"!
For even better views of this iconic sight, we'd definitely recommend taking the Huangpu River night cruise! While meandering along the river, the sight of  historical architecture on the Bund as well as the modern skyscrapers makes for an interesting contrast; showing how modern and traditional life intertwine.
Credit: SF Brit on Flickr
Address: 
Zhongshan East 1st Rd, WaiTan, Huangpu Qu, Shanghai Shi, China, 200002
8. View classical Chinese art at The Shanghai Museum
History buffs, this is for you? Considered one of China's first world-class modern museums,  The Shanghai Museum is made up of 11 galleries and 3 exhibition halls, all dedicated to showcasing masterpieces of  Chinese art that date back to as far as the Neolithic period!
Take your time to fully absorb more than 6,000 years of history conveyed through traditional artworks in various media like bronzes, ceramics, sculpture, ink painting, calligraphy and even furniture!
Oh, and did we mention that entrance is free?? Save those
yuans
for something else and brush up on your ancient Chinese history instead!
Address:
201 Renmin Ave, RenMin GuangChang, Huangpu Qu, China, 200003
Operating hours:
Daily; 9am - 5pm
Admission Fee:
Free!
Website
9. Have a picnic day at Fuxing Park
If you're looking to just kick back and chill, Fuxing Park is the perfect place for a day of relaxation. This French colonial-styled park offers a brief respite from the hustle and bustle of Shanghai's city life, complete with sprawling green fields and big, open spaces for all kinds of activities!
Credit: @eiramsiuol on Instagram
Located in the centre of the park, the mattress-like flowerbed is a sight for sore eyes! Usually arranged in various colorful patterns and depending on the season, you can find the most exquisite, fragrant fauna like roses and camellia?
Credit: @shengq on Instagram
Kids (and the young at heart?) will fall in love with the mini amusement park within the park! Hop on the carousel or take a drive in a bumper car before settling down for a small picnic on the many grassy patches.
Credit: @dianersison on Instagram
If you're lucky, you might even catch a few impromptu street performances by enthusiastic locals!
Address:
516 Fuxing Middle Rd, Huangpu Qu, Shanghai Shi, China With a multitude of experiences ranging from living out your Disney fantasies, munching on halal Chinese snacks to witnessing magnificent Chinese architecture in all its grandeur, we'd be surprised if Shanghai isn't at the top of your travel bucket list! Have we convinced you to visit Shanghai?
If we have, don't forget to check out AirAsia X's amazing flight deals from Kuala Lumpur to Shanghai! The promo is valid from 15 May to 21 May 2017, and the travel period is from 15 May to 4 September 2017. Check out this link to find out more about promotional fares to Shanghai and other China destinations!
[ What are you waiting for? BOOK IT NOW!✈️ ] The promotion has ended.
This article was brought to you by AirAsia X.