If you love Japanese food as much as we do, you'll know that feeling of utter heartbreak when you come across a mouthwatering display of Japanese curry rice, knowing it's probably not halal ?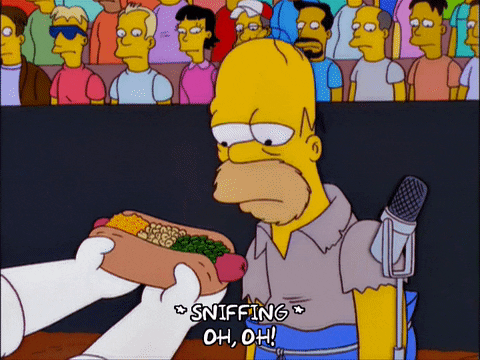 Credit: Giphy
But what if we told you you can now get your Japanese curry fix at one of the most popular local eateries in Osaka? That's right:
Matsuri in Osaka
has a brand new Japanese curry menu. From curry rice to curry Ramen to Nasi Goreng curry, we just can't get enough! ?
P.S. Have you dined at Matsuri before? Share your experiences by leaving a review on our website and help out fellow Muslim travellers! 
Note: 
Matsuri serves alcohol and is not halal-certified, but halal meat is available, so do dine at your own discretion ?
Mt Fuji Curry
Credit: Halal Media Japan
Steaming hot rice swimming in a pool of super-healthy vegetable Japanese curry, you'll definitely want second helpings for this one ?  Ask to add some chicken 
katsu 
to your dish for that extra kick.
Price: 
¥700
Curry Ramen
Credit: Halal Media Japan
It's almost a crime to leave Japan without having 
ramen. 
Try Matsuri's sumptuous new curry ramen: thin noodles mixed with thick soup, it's bound to kickstart your lifelong love affair with authentic Japanese 
ramen ?
Price: 
¥850
Dry Curry
Credit: Halal Media Japan
If you're feeling more than a little homesick, this dish will help to chase those blues away! Spicy dry Japanese curry is served with Nasi Goreng, vegetables and eggs, giving you that much-needed taste of home ?
Price: 
¥700
Curry Dipping Noodles
Credit: Halal Media Japan
This one's perfect for those who prefer to choose how much Japanese curry they want for themselves. Help yourself to all the curry you want with these dipping noodles! You can also choose either cold or hot soup to accompany your
soba
 ?
Price: 
¥850 With Matsuri's new halal Japanese curry menu, that feeling of missing out on one of Japan's most popular local dishes is now a thing of the past ?  What's more, the menu is also vegetarian-friendly, although you can request to add chicken 
katsu 
or 
karaage 
if you want. So the next time you're in Osaka, be sure to head on down to Matsuri for some tantalizing halal Japanese curry dishes. Remember to
leave a review on our website
 if you've tried dining at Matsuri and loved it ?
Address: 
3-27-17 Yoshino, Fukushima-ku, Osaka-shi, Osaka
Opening Hours: 
Lunch (11 am - 2 pm), Dinner (5 pm - 12 am) [iframe src="https://www.google.com/maps/embed?pb=!1m18!1m12!1m3!1d3280.4919385538715!2d135.47269231303983!3d34.69277010547899!2m3!1f0!2f0!3f0!3m2!1i1024!2i768!4f13.1!3m3!1m2!1s0x6000e6696b068d75%3A0xe4cdc8308db88843!2sMatsuri!5e0!3m2!1sen!2ssg!4v1502081046986" width="100%" height="450" frameborder="0" style="border:0" allowfullscreen][/iframe]
Tags:halal-food-guidenews