Bulgogi, japchae and tteokbokki - all things Korean are all the things we love ? Heading to Seoul isn't merely a trip to the sky-high N Seoul Tower or hunting down the best bargains in Myeong-dong streets. You want to walk the talk from the way you speak, dress and even eat! At Halal Kitchen, the first Halal Korean restaurant in Buckhon/Insadong, you'll get to eat true Korean dishes as well as take a stroll down Gyeongbokgung Palace just five minutes away!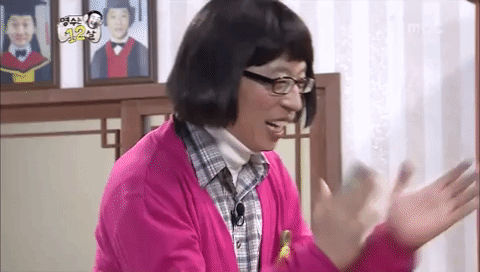 Credit: Giphy
Eat your fill at Halal Kitchen and get 
10% off your total bill
when you sign up on our website!
[inlinewidget id=33727] Be immersed in the Korean culture as you walk down Gyeongbokgung Palace, the most stunning and largest of all five palaces! Travel back in time to the Joseon Dynasty when it was first built. After all that exploring, head down to Halal Kitchen to indulge in the vast array of traditional Korean cuisines!
Pick up your chopsticks and try the japchae (glass noodles), seasoned with soy sauce. Accompany your meal with slices of beef and strips of veggies for the perfect appetizer ?
Craving for something with a little more tanginess? Then you got to try the tteokbokki (stir-fried rice cakes), dipped in spicy sauce seasoning with small eggs at the side.
Of course, you'll need something to cool off, so how about washing it down with some omija tea (sweet-sour tea with magnolia fruit)? This traditional tea made from dried magnolia berries is a classic!
It's time to get to the real highlight - the bulgogi, yanggalbi and dakgalbi. Enjoy your beef bulgogi, thinly marinated slices of meat, barbecued to perfection ? Have it with rice  to satisfy your growling tummy.
Indulge in the yanggalbi-jim (braised short rib lamb) with either the spicy or soy sauce, depending on your tastebuds. Either way, the meat will certainly melt in your mouth ?
Shown here is the braised short ribs(lamb) with soy sauce
Are your pants bursting at the seams yet? If you've got more room to fill, your meal won't be complete without trying the dakgalbi-deopbab (stir-fried chicken with rice). Such a common dish in the Korean household, it's a loss if you don't try this here! Be warned, this is yet another zesty meal. Deliciously spicy, it's a favourite choice for friends to share, making it the perfect food to end your night ?
Have you had enough? After tucking in to the mouth-watering spread, it's time to lay down your chopsticks and simply sit back and enjoy the amazing view this place has to offer. Craving for a hearty dinner or just back from sightseeing? Then this is the perfect stop for you.
#HHWT Tip:
The restaurant provides a prayer space, so fret not, you can eat to your heart's content without having to rush to a mosque! Eat your fill at Halal Kitchen and get 
10% off your total bill
when you sign up on our website!
Address:
 86-4 Samcheong-ro, Jongno-gu, Seoul
Opening Hours:
11:00AM - 9:00PM (Closed on Tuesdays)
How to get there:
Gyeongbokgung Palace is your landmark. Find Samcheong police office and an e-mart convenient store. After 100m, you'll see 'Boy London' fashion store. Take a right turn and you'll see the 'Halal Kitchen' sign. [iframe src="https://www.google.com/maps/embed?pb=!1m18!1m12!1m3!1d3161.8113306338896!2d126.97986931531219!3d37.58306017979477!2m3!1f0!2f0!3f0!3m2!1i1024!2i768!4f13.1!3m3!1m2!1s0x357ca2c5f3eaa5cf%3A0x2a7c39425f2b154d!2s86-4+Samcheong-ro%2C+Jongno-gu%2C+Seoul%2C+South+Korea!5e0!3m2!1sen!2ssg!4v1507863583605" width="600" height="450" frameborder="0" style="border:0" allowfullscreen][/iframe] [inlinewidget id=33709] Bring your food buddies or Korean-loving pals for an authentic dining time next time you're in Seoul and the only words you'll hear are Saranghaeyo ❤️ You know what they say, when in Korea, eat as the Koreans do ? [iframe seamless="seamless" style="border: none; overflow: hidden;" height="450" width="100%" scrolling="no" src="https://pollbuzz.co/frame/1732?type=poll"][/iframe]