For Muslims all over the world, Ramadan is a special month where people bring themselves
closer to Allah (s.w.t)
,
increase their acts of ibadah
and
make spiritual reflections
. It's a challenging yet rewarding time as we immerse ourselves in the beautiful blessings of Ramadan.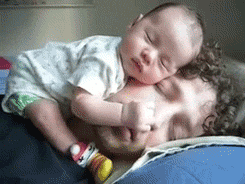 Credit: Giphy
But for newly-turned parents, this blessed month becomes extra special as they prepare to go through the fasting month as first-time moms and dads. Our team member, Takeem, happens to be one of them and today, he shares with us what spending Ramadan with his eleven-month-old daughter (she turns 1 in two weeks!) has been like from the very first day until now ?
Note: 
The answers have been edited for length and clarity.
1. What were some of your thoughts and feelings in the weeks leading up to Ramadan? 
I felt so excited because this would be my first Ramadan as a father and it also meant I would get to shop for raya clothes for my daughter! But due to the Movement Control Order (MCO) in Malaysia, my wife and I won't be able to do that anymore.
2. Did you have any expectations or concerns going into Ramadan as a new dad? And how did you prepare yourself?
My main concern was not getting enough rest because on a regular day, I would have to get up a few times late at night to take take care of my daughter. Usually, she wakes up between 2am - 4am, so to prepare myself, I decided to have my sahur based on my daughter's timing so that I would be able to rest properly after.
3. How did the first week of Ramadan go for you? 
My first week was a bit difficult since I had to adapt to a new routine. Not getting enough of sleep makes me feel really tired during the day because on top of fasting, I'm busy helping my wife look after our daughter while she cooks or does the household duties (and vice versa). Even when breaking fast, my wife and I take turns watching her because my daughter gets cranky if no one's there to accompany her.
4. What were some of the differences between experiencing Ramadan with and without a child?
The differences are that our Ramadan this year is more hectic and time-consuming as we have to manage our schedule in order to take care of our daughter. Before this, we could focus more on ourselves during Ramadan but this time, not so much. Also, we're not able to perform Terawih together since we have to take turns looking after our energetic daughter who loves running all around the house.
5. What were the challenges you faced during Ramadan as a new dad?
The main challenge was managing my time because I'm waking up in the middle of the night and early morning to tend to my daughter. It's quite tough to get proper rest and since I'm working from home, I can't fully focus all the time. But I'm slowly getting the hang of this new responsibility and it's getting better day by day.
6. What did you like about going through Ramadan as a new dad and what have you learned so far?
What I like most is getting to spend time with my wife and daughter. My first Ramadan as a father is a once-in-a-lifetime moment and I know that I'll miss it a lot when I look back on it in the future. The most rewarding thing so far is seeing my personal growth and being able to reflect and improve myself so I can be a better Muslim and dad for my daughter in the future. So, despite all the tiredness, I'm very grateful for this experience
7. What tips would you give to other new or future fathers on how to go through Ramadan with kids?
Firstly, you must be super patient with your wife and kid during stressful situations. Do your best to handle yourself with maturity and composure. Try to discuss with your partner more on how to deal with problems, and help them in any way possible. Learn to appreciate the experience because it is one of those moments that you will definitely cherish later. P.S. Want to read more stories about Ramadan experiences? Check out our article on
HHWT's very own non-Muslim team members fasting for a day
!