So, you've dined at
delicious banana leaf rice joints
and indulge in some of
KL's flavourful nasi lemak eateries
. Where then, should one begin when it comes to the Chinese food scene? While it may be overwhelming to think of all the char kuey teows and Hokkien mees out there, let us guide you through this by starting off with an internationally loved
dish: soup dumplings, also known as xiao long bao!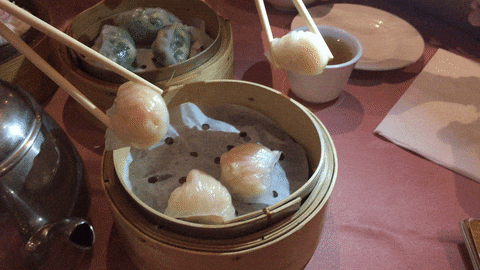 Credit: GIPHY
Finding a good soup dumpling spot can be pretty tricky (especially when it's usually made of pork), but we're here to tell you that one of the best places to experience this wonderful dish is at DIN by Din Tai Fung.
Disclaimer: 
This article features an eatery that serves alcohol. We recommend that you dine at your own discretion.
Did you know that Din Tai Fung started out as a cooking oil retail shop? The founder decided to dedicate half the store to selling xiaolongbao which then quickly became a hit! 
The growing popularity of the dumplings caused Din Tai Fung to transform into a fully-fledged restaurant. Running on many years of success, the eatery has won many awards and that includes achieveing the prestigious Michelin star for its Hong Kong branch.
Earning a reputation for authentic Chinese dumplings, Din Tai Fung has now expanded across the globe with chains of restaurants in different countries like Japan, the United States, Australia, Singapore and Thailand. 
In Malaysia, there are halal and non-halal branches of Din Tai Fung. So, make sure to head to the only two halal outlets known as DIN by Din Tai Fung which are located in Nu Sentral Mall and Suria KLCC. Now, you can see (or taste) for yourself what these world-renowned soup dumplings are all about! ? 
As one of the restaurant's savoury hits, the soup dumplings are a must-try whenever you stop by Din Tai Fung for a meal. If you're a first-time Xiao Long Bao eater, there is actually a proper way to eat these juicy dumplings ? According to the 4-step process on the restaurant's menu, here's what you should be doing before savouring these yummy creations:
Prepare a mix of vinegar and soy sauce in a ginger dish with the recommended ratio of 1 part soy sauce to 3 part vinegar.

Dip the dumpling into the sauce.

Place the Xiao Long Bao on a spoon and poke a hole to release the broth inside.

Enjoy your dumpling!
Credit: @becca_l_72 on Instagram
While it's tempting to plop the whole dumpling into your mouth, it's better to avoid any burns by letting it cool down a little first. 
Besides their signature soup dumplings, another enticing choice off the menu is the shaomai. Known to be the meatier cousin of the Xiao Long Bao, these delectable pockets are perfect for pleasing your taste buds ?
While you're dining here, don't miss out on Din Tai Fung's internationally loved dishes by savouring on the Muslim-friendly versions offered at this eatery! Have a taste of their fragrant chicken chop fried rice or the mouth-watering sweet & sour chicken.
Keep the flavour train going and have yourself a flavourful bowl of braised beef noodle soup accompanied by some crispy shrimp & chicken wontons. Through these wonderful dishes, you'll be able to get a taste of Taiwan! ?
P.S. Fulfill your love for Chinese dishes with these
halal eateries in Penang serving authentic Chinese food
!
Credit: @dintaifungmy on Instagram
Coming to the end of a wonderful meal is always bittersweet. So, turn the sweet up a notch by getting the Chocolate Xiao Long Bao! Served in the iconic bamboo steamer as well, let these dumplings cool for a bit before popping one into your mouth. Once you do, enjoy the amazingly rich taste of chocolate and before you know it, you'll be ordering another round of these just like we did ?
Whether you're having a big brunch fest with your family or fulfilling an evening crave with friends, a meal at DIN by Din Tai Fung is guaranteed to leave you with a memorable dining experience. So, clear off your calendar and head down to this restaurant for some top-class dumplings and Chinese fare. 
Nu Sentral Mall
Halal status:
Uses ingredients sourced from halal-certified suppliers. Do note that alcohol is served in the establishment. So, we recommend that you dine at your own discretion.
Opening hours:
Mon-Fri; 11AM-9PM, Sat; 11.30AM-9.15PM, Sun & PH; 11.30AM-9PM
Address:
L3.07, Nu Sentral Mall, Jalan Tun Samanthan, Brickfields, 50470 Kuala Lumpur, Federal Territory of Kuala Lumpur
Contact:
+603-2276 3332
Website
|
Facebook
|
Instagram
Suria KLCC
Halal status:
Uses ingredients sourced from halal-certified suppliers. Do note that alcohol is served in the establishment. So, we recommend that you dine at your own discretion.
Opening hours:
Mon-Fri; 11AM-10.30PM, Sat; 10.30AM-10.30PM, Sun; 10Am-10.30PM
Address:
Suria KLCC, Lot 417 & 417A, Level 4, 405, Persiaran Petronas, Kuala Lumpur City Centre, 50088 Kuala Lumpur
Contact:
+603-2181 0321
Website |
Facebook
|
Instagram