Travelling has become more than just a pastime. It plays a huge part of who we are as we continue to discover a world beyond our home. It broadens our horizons, introduces us to new cultures, and sometimes, puts us outside of our comfort zone.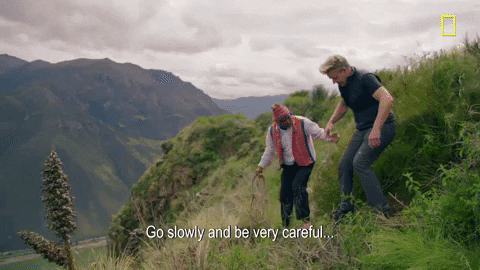 Credit: Giphy
In light of the COVID-19 pandemic, travelling has taken a back seat. We're now staying safe at home, practising social distancing and keeping our hygiene in check. Despite how much we yearn to travel again, the pandemic may stay for a long time and this has moved more countries to embrace the new normal.
Credit: a.canvas.of.light on Flickr
Since 11 May 2020, Sabah is one of the first states in Malaysia to
reopen its domestic tourism, sports and recreational activities
under the Conditional Movement Control Order (CMCO). Accommodation, adventure and recreation, food and beverages as well as ticketing services in Sabah are now open with strict standard operating procedures (SOPs), which includes wearing face masks at all times, maintaining a one-meter distance and washing our hands frequently. In a bid to revive the tourism sector in Sabah, 24 nature and marine parks are welcoming visitors including Mount Kinabalu, Tawau Hills Park, Gaya Island, Boheydulang Island, and more. Since
interstate travel in Malaysia is not allowed
and
flights to Sabah are limited to essential services and official matters
, this move will encourage
more Sabahans to visit these attractions
. The reopening of these parks also provides a glimpse of the new normal for nature attractions in Sabah, and possibly, the rest of Malaysia.
Nature parks
Mount Kinabalu
Credit: Sabah Parks on Facebook
Standing tall as the highest mountain in Malaysia, an adventure seeker's trip to Sabah would be incomplete without climbing Mount Kinabalu, but how will the new normal change the way we hike?
Credit: Sabah Parks on Facebook
Mount Kinabalu is among the natural attractions in Sabah that reopened on 16 May 2020. According to Sabah Parks director Dr Maklarin Lakim, only 100 hikers are permitted to climb Mount Kinabalu in a day to maintain social distancing while hiking. Previously, the daily quota was 169 hikers per day.
Credit: Sabah Parks on Facebook
During Sabah Parks's hiking simulation that took place on 16 May, you can catch a glimpse of the dining hall at the Laban Rata resthouse on Mount Kinabalu where climbers would need to maintain a one-meter distance while dining. Dining hall operators are also required to wear masks and gloves at all times.
Credit: Sabah Parks on Facebook
Sabah Parks is also taking a step further by placing hand sanitizers in the accommodation area and other strategic locations. Besides that, the accommodation also sees extra space between the beds to adhere to the new SOPs. It was also shared that the permit fees remain the same for Malaysians (RM50 for hikers above 18 years old and RM30 for hikers below 18) and international tourists (RM200 per adult and RM80 per child).
Tawau Hills Park (Taman Bukit Tawau)
Credit: Sabah Parks on Facebook
Other nature parks like Tawau Hills Park are also implementing SOPs to keep their staff and visitors safe during the pandemic. Since it's a popular picnic and camping spot among the locals, the park will be updating their daily visitor count at the entrance to ensure that all visitors are updated on the daily limit of 100 visitors. According to Borneo Today, the Assistant Manager of Tawau Hills Park, Martin Moguring, also said that they've implemented
a one-way route at the entrance and exit to minimise close contact between visitors
.
Credit: Sabah Parks on Facebook
Temperature screening, social distancing, and hand sanitation will also be done at the entrance and other several locations in the park. As of May 2020, only visitors above 16 years old are allowed to enter Tawau Hills Park.
Marine parks
Tunku Abdul Rahman Marine Park and Tun Sakaran Marine Park
Credit: Mohd Fazlin Mohd Effendy Ooi on Flickr
Another way to appreciate the natural beauty of Sabah is by visiting their scenic islands. Surrounded by clear turquoise waters and warm sunshine, there are two main marine parks that are easing up on restrictions while still adhering to the new SOPs.
Tunku Abdul Rahman Marine Park
Gaya Island
Sapi Island
Manukan Island
Mamutik Island
Sulug Island
Tun Sakaran Marine Park
Bodgaya Island
Bohey Dulang Island
Sabangkat Island
Selakan Island
Mantabuan Island
Sibuan Island
Maiga Island
Church Reef and Kapikan Reef
Credit: Sabah Parks on Facebook
For both marine parks in Sabah, the Sabah Parks director has imposed
a daily limit of 100 visitors
to practice social distancing at the park, especially while using various facilities on the island. Previously, overcrowding had been a major issue for Tunku Abdul Rahman Marine Park as
the daily numbers can reach up to 400 to 500 visitors per island
.
Credit: Sabah Parks on Facebook
All Sabah Parks, including the marine parks, required staffs to wear a face mask and safety equipment to stay safe while managing the arrivals of visitors. Similar to other attractions, temperature screenings and keeping a one-meter distance are also part of the SOP. If you're planning to visit Sabah in the next few months, Sabah Parks has announced that
there will be a 50% discount on entry fees for all Sabah Parks
from now until 16 November 2020, in hopes to entice local residents to visit these attractions. While it's tough to plan our next getaway during these trying times, we remain hopeful that someday, we'll get to experience the wonders of Sabah and
conquer other bucket list adventures in Malaysia
. In the meantime, the new normal we see in Sabah's nature attractions will provide a glimpse on
how we'll travel differently after the COVID-19 pandemic
.