We don't know about you, but when we were 10 years old, most of us were still just fascinated with our Pokemon and video games--and not much else ?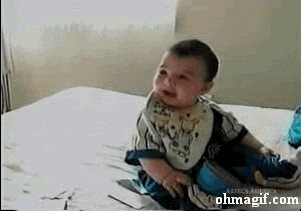 Credit: Giphy
Very few of us would've already had everything figured out, yet that's exactly how Danish Harraz is! At 10 years old, this precocious self-taught Malaysian chef already has his own cooking and baking business--Danish's Red Kitchen. As if that isn't impressive enough, he has a 5-year-plan for himself and plans to expand into a cafe one day ?
Credit: @danish.harraz on Instagram
At the tender age of 3 years old, Danish started to play with kitchen utensils and cooking equipment, but it wasn't until he was 5 years old that it bloomed into a full-fledge passion and he started to cook and bake by himself. The 10-year-old counts celebrity chefs Chef Wan and Gordon Ramsay as his role models, and even says that if he had the chance to meet them, they would definitely be impressed with his Butterscotch Nutella Bread Pudding.
"Most of the time, you need to prepare the custard and the bread pudding separately, but mine is different: the custard is baked together with the bread pudding, and I sprinkle cranberries and nutella too, so you'll be astonished!"
Credit: @danish.harraz on Instagram
Having learnt most of his cooking and baking skills through YouTube and Google, Danish calls the Internet his culinary school, and humbly says that he's "just a kid who loves to cook and bake and who believes, in this life, where there's a WILL, there's a WAY and NOTHING worth having comes easy."  
Credit: @danish.harraz on Instagram
He shares his recipes and food reviews on Facebook and Instagram, where he's amassed a huge following of almost 60,000 followers! With his cheery disposition and recipes like Peach Banana Cake, Easy Peasy Cheesy Quesadilla and Spicy Cheesy Carbonara Meatballs, it isn't hard to see why ?
"I just want to share [my recipes] with people, and I want to help them. I want to share it with [people like] working mums who don't have time, so I pull out simple and fast recipes. If they're happy, I'm also happy."
Credit: @danish.harraz on Instagram
Being a social media star isn't without drawbacks though, the 10-year-old has already encountered his fair share of hate from naysayers and keyboard warriors alike. Undeterred, though, he continues to practice positivity and kindness--10% of the revenue from Danish's Red Kitchen goes to Need To Feed The Need (NFN), a local organization which aims to provide one meal every Thursday to the disadvantaged in Kuala Lumpur.
Credit: @danish.harraz on Instagram
"My 'special ingredient' is kindness… and that's what drives me to do the things that I do." - Danish Harraz
With a heart as golden as his, a beautiful smile, and cooking and baking prowess that (we dare say) surpasses that of grown adults', this is one 10-year-old who is definitely going places in the future, inshaAllah ?
P.S. Follow him on Instagram (@danish.harraz) and like his Facebook page (Danish Red Kitchen)!
Tags:inspiration