McDonald's, we're loving the new additions to your menus! From getting netted in by the Fish & Fries in Malaysia, kicking up a storm with the Ninja Burger in Singapore or simply being wowed by the 'Cita Rasa Kesempurnaan Italia' choices in Indonesia, McDonald's the king of the fast food game for a reason! All's fair in love and food, so let us crown the one that truly deserves a spot in our tummies. Let the battle of the meats begin ?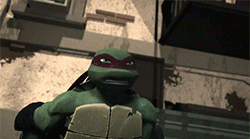 Credit: Giphy
Singapore: Ninja Burger
Singapore, your Ninja Burger is a crispy chicken patty slathered in sweetly divine Japanese Nanban sauce, with sliced cucumbers and two charcoal sesame buns thrown into the kick-ass recipe! The sleek, black burger, like any true ninja, needs a sidekick. The Seaweed Shaker Fries' a crowd pleaser and sure boosts up the ratings on the taste factor!
Credit: McDonald's on Facebook[P.S Are you team ninja or samurai? Only one way to find out which burger team you're in!]
Taste:
3/5
Creativity
: 2/5
Favourite addition:
3.5/5
Most complete meal
: 4/5
Malaysia: Fish and Fries
We know Malaysia's up to some fishy business ? The Fish and Fries' tender fish fillet with a crispy crust was previously introduced for a limited time in Indonesia, Thailand and Philippines, and now, the batter (we meant baton) has been passed to Malaysia. With a tub of tartar sauce on its side to complete your fish and chips meal, it'll give Malaysians a slice of London in one bite ?
Credit: Dabao Today on Facebook [P.S Reel in to the new craze on shore, the Fish and Fries! Find out more about it here!] 
Taste:
3.5/5
Creativity
: 3/5
Favourite addition:
4/5
Most complete meal:
3/5
Indonesia: Cita Rasa Kesempurnaan Italia
Indonesia's Italian picks will have you saying "Mamma Mia!" The Alfredo Italian Burger; with a beef patty, scrambled egg, special tomato sauce and cheese, already sounds too good to be true ? Wash down this mouthwatering goodness with a sip of the Italian Soda - an infusion of mangos, melons and raspberries! So refreshing ?
Credit: McDonald's on Facebook
Taste: 
4/5
Creativity:
4/5
Favourite addition:
3.5/5
Most complete meal:
3.5/5
WINNER: Indonesia: Cita Rasa Kesempurnaan Italia
Taking the crown for now, the Italian menu from Indonesia is the best contender for the win ? While each boasts its own merits, the Italian-inspired choices knock the bun off the oven this time. Plus, The Alfredo Italian Burger with McDonald's infamous scrambled egg reminds us of the familiar taste of of the Egg McMuffin. As the throne may shift from one heir to the next, who knows, we may have a new king to crown the next time ? [iframe seamless="seamless" style="border: none; overflow: hidden;" height="450" width="100%" scrolling="no" src="https://pollbuzz.co/frame/1804?type=poll"][/iframe]