Summon your inner Samurai- McDonald's is bringing back your favourite warrior, and you'll need strong willpower to resist it! ?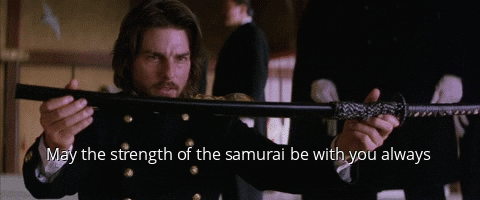 Credit: giphy
Yes- you guessed it right! Say 
hai 
to the Samurai Burger at McDonalds tomorrow ($6.10 ala carte). The burger comes in two flavours (chicken and beef) so there's no reason to chicken out from this burger challenge! ? [caption id="attachment_33621" align="alignnone" width="900"]
Samurai Beef Burger[/caption] Of course, your meal is not complete without our all-time favourite shaker fries ($8.80 meal with Samurai burger)! But it's no longer just the seaweed shaker fries. McDonald's is introducing sesame AND seaweed shaker fries! Your favourite seaweed fries are now lavishly sprinkled with the umami fragrance of roasted sesame?
And don't you stop there? McDonald's first Creamy Herb Chicken Pie ($1.80) is a pie full of goodness. Filled with chicken, carrots, potatoes, peas and mushrooms in a thick, creamy sauce - all in a crispy, flaky pie pocket, this one's bound to make you drool!
Need something cooling to end your meal? Well, we're pretty sure the Dinosaur McFlurry ($3) will do the trick?
Bet you're totally ready for McDonald's new menu now! Let us know in the comments what new food items YOU would like in their next menu and who knows, it just might come true ?