[Updated 24 Jul 2019]
Summon your inner Samurai- McDonald's is bringing back your favourite warrior (along with the popular McDonald's Shaker Fries!) and you'll need strong willpower to resist it! ?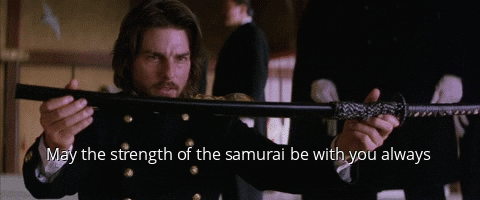 Credit: giphy
Yes- you guessed it right! Say 
hai
once more to the Samurai Burger ($6.10 a la carte) at McDonalds tomorrow (25 Jul 2019) along with its loyal sidekicks- the Seaweed Shaker Fries and the Matcha Mc Flurry!
Credit: McDonald's Singapore
The burger comes in two flavours - chicken and beef- so there's no reason to
chicken out
from this burger challenge! ?
Credit: McDonald's Singapore
Teleport (your tastebuds) to Japan when you upsize your meal for the Seaweed Shaker Fries that'll make you gush, 
oishii
! You can even get the Samurai Special Meal that comes with a single Samurai Burger, Large Seaweed Shaker Fries, and a cup of Heaven & Earth Green Tea for just $8.90! Best of all, the burger 
and 
fries are available after breakfast hours at all restaurants island-wide - and you can even order them through McDelivery and GrabFood (while stocks last) if you don't feel like leaving the house to satisfy your cravings. ?
Credit: McDonald's Singapore
If your appetite demands even more, get the Double Samurai Burger ($8.10 a la carte) that comes with not 1, but 2 juicy patties to sink your teeth into! ? Honour your appetite with the Samurai Special (for only $8.80!), which comes with the Seaweed Shaker Fries and Heaven & Earth Green Tea- perfect to satisfy your warrior appetite! ? And to finish off your meal, try out the 
brand-new 
Matcha Dip McFlurry! McDonald's classic vanilla soft-serve gets a new twist with crunchy Matcha Dip - from just $3.10! The Matcha Dip McFlurry will be available at all restaurants and dessert kiosks island-wide so tell your supper kakis it's time to get dessert!
Credit: McDonald's Singapore
Not a McFlurry fan? Don't worry, you're not being left out! The popular Matcha soft-serve is making a comeback too! Whether you're having it in a Cone, Twist Cone, ChocoCone, or Sundae - the options are endless! And they start from just $1.10 at every dessert kiosk island-wide! ?
Credit: McDonald's Singapore