Saudi Arabia is home to the grand Kaabah and where our beloved Prophet Muhammad SAW rests. Performing your pilgrimage in the Holy Land is a dream come true and a sight so pure and magical, even a thousand words aren't enough to paint the picture before you ? In the latest move by the Saudi Arabia's government, women over 25 can now travel to the country on a tourist visa without the need for a chaperone.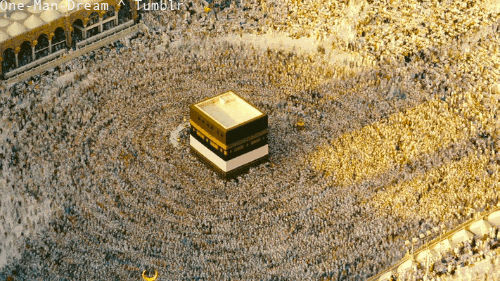 Credit: Giphy
This new move doesn't apply for umrah/hajj visas, and isn't eligible for those who are in the Kingdom for work duties. For women under the age of 25, they will still need to be accompanied by a family member. But women entering the country on a tourist visa, and not for pilgrimage purposes can now look forward to travelling without an accompaniment for as long as 30 days.
Credit: yourstrulyshadae on Instagram
While millions of Muslims visit Saudi Arabia annually for their Hajj, visitors who are in the Kingdom as a tourist often face difficulties entering. Currently, Saudi Arabia allows visas for a restricted number of countries, but even then, strict rules and regulations have to be abided by. This new change of letting women above 25 to enter on a tourist visa only follow suit other recent rulings such as dropping the cinema ban, allowing women to drive, and letting both genders mix at a national celebration. The Kingdom is trying hard to shake off its super conservative image and wishes to welcome more visitors into the country. The crown prince, Prince Sultan Bin Salman plans to boost tourist numbers even during periods where Muslims aren't performing their pilgrimage, and expands the city's economy.
Credit: iluminatedance on Instagram
While you still need to apply for an umrah/hajj visa, there are other magnificent sights you can marvel in as a reminder of the beauty of Islam. There's many signs of His creations everywhere you look, and what better than to discover them in Saudi Arabia? ?
Credit: Tribes of the World on Flickr
Stand at the 'Edge of the World', located about 90km outside of Riyadh and it'll further astound you with its endless plains. As you look across the far horizon from the tip of the cliff, the panoramic view you're witnessing first hand will leave you humbly in awe.
Credit: Ayesha Hadji on Facebook 
This historic location of Mount Uhud is reminiscent of the battle between Muslims and Meccan forces. Feel infinitely close to the beloved Prophet as you pay respect to 50 of his companions, of which the most notable was his uncle Hamza.
Credit: ardierianto on Instagram 
Of course, you can't miss Madain Saleh, where tombs of the Nabatean people rest, and the Al-Ula village situated close by actually houses museums, mud sites, ruins and tombs of the Khuraibah. 
Credit: From My Notebook on Facebook 
From the moment you land in the airport and step foot into the Kingdom, the surreality of the place engulfs you. Even if you're coming as a tourist, it's pretty safe to say that being anywhere near the blessed city of Mecca instantly humbles you and have you immensely thankful to be here ❤️ [iframe seamless="seamless" style="border: none; overflow: hidden;" height="450" width="100%" scrolling="no" src="https://pollbuzz.co/frame/1990?type=poll"][/iframe]
Tags:news