Ever dreamt of becoming a Japanese martial arts master? Then you wouldn't be a stranger to the iconic yellow jumpsuit first worn by Bruce Lee (and then Uma Thurman) in "Kill Bill"!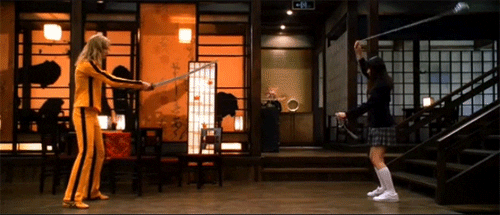 Credit: Giphy
But even if yellow jumpsuits don't suit you (pun intended ?), you can still channel your inner Japanese martial artist when you dine at Gonpachi in Tokyo's Nishiazabu district--the restaurant which inspired the memorable set in the "crazy 88" fight scene in Quentin Tarantino's Kill Bill!
P.S. Been to Tokyo before? Leave a review for your favourite eateries, prayer spaces and attractions in Tokyo on our website!
Credit: Nuno Capela on Facebook
Credit: Annette Slowik White on Facebook
Best of all, they've just recently launched a Muslim-friendly menu which is sure to be a "killer" hit among Muslim travellers everywhere ? So not only do you get to dine in an authentic Edo-style interior at Gonpachi, you can also treat yourself to some authentic halal Japanese food here too! Enjoy sumptuous classic Japanese favourites like 
ebi shinjyo
 (fried shrimp),
 sumiyaki
 (charcoal-grilled beef and chicken), and
 tempura 
in Gonpachi's rustic environment for just ¥6,500.
Picture courtesy of Global-Dining, Inc. 
From fried shrimp dumpling with yuzu chili sauce to 
kuroge
 beef sirloin skewers to spicy snow crab, squid and vegetable 
tempura, 
who could say no to all that mouthwatering, lip-smacking goodness? ?  * As if that isn't enough, help yourself to Gonpachi's kuzumochi and vanilla ice cream with kinako and black sugar syrup--because there's always room for dessert (of course!)
*see Gonpachi's full Muslim-friendly menu at the end of this article. 
Picture courtesy of Global-Dining, Inc. 
Trust us, it's so irresistible, you'll be wiping those plates clean and asking for second servings before you even know what hit you.
Disclaimer: 
Although the meat and seasonings used for the Muslim-friendly menu at Gonpachi is halal, alcohol is served in the restaurant, so do dine at your own discretion ? [inlinewidget id=28208]
Credit: Gonpachi Nishi-Azabu on Facebook
Good things come to those wait: remember to place your orders for the Muslim-friendly menu 3 days in advance. Gonpachi also employs Muslim staff with whom they cooperate to prepare Muslim-friendly menus. They'll even take pains to prepare disposable cutlery and wooden chopsticks just for you and your dining party. Top marks for such thoughtfulness ?
Credit: Gonpachi Nishi-Azabu on Facebook
So the next time you're in Tokyo, why not drop by Gonpachi Nishiazabu to try to their Muslim-friendly offerings? You'll definitely want to come back for more after your first visit! [inlinewidget id=28208] Gonpachi Nishiazabu
Price: 
¥6,500- (8% consumption will be added.)
Address: 
西麻布1-13-11, Minato-ku, Tokyo, Japan, Tokyo 106-0031
Opening hours: 
11:30 AM - 3:30 AM [iframe src="https://www.google.com/maps/embed?pb=!1m18!1m12!1m3!1d3241.681204675593!2d139.72131875103224!3d35.66022528010205!2m3!1f0!2f0!3f0!3m2!1i1024!2i768!4f13.1!3m3!1m2!1s0x60188b7a9a5e0913%3A0x1290299c462e0387!2sGonpachi+Nishi-Azabu!5e0!3m2!1sen!2ssg!4v1503400718502" width="100%" height="450" frameborder="0" style="border:0" allowfullscreen][/iframe]
Full Muslim-friendly Menu:
Assorted Appetizer (3 kinds: green Soybeans,Namul,Soy Sheet) Salmon Crapaccio Fried Shrimp Dumpling with Yuzu Chili Sauce Assorted Tempura (3 kinds) (Snow Crab,Squid,Vegetable) Spicy Grilled Mackerel Skewer of Chicken Thigh Skewer of Kuroge Beef Sirloin Skewer of Seasonal Vegetable Japanese Vegetable Curry Kuzumochi and Vanilla Ice Cream with Kinako and Black Sugar Syrup