Updated 19 March 2019
So you're planning for an adventure. You have Europe in mind, but your bank account doesn't agree with you. Plus, as a novice traveller, you want an adventure to a place that does not require any instant noodle-cooking back in the hotel room. Most important of all, you want to have a good time and probably learn something new.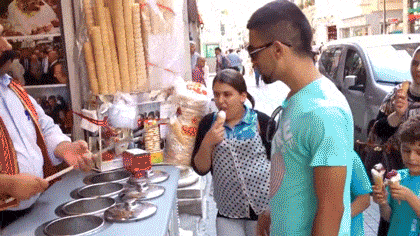 Credit: Giphy
Well, surprise, surprise, what you are describing is Turkey, and where else in Turkey does the magic happen other than
Istanbul
!
Where to stay?
Ok, first things first. You need a place to stay. There are two famous areas in Istanbul that comes to mind when you talk about travelling to Istanbul, namely
Sultanahmet
 and 
Beyoğlu.
These two areas are almost neighbouring each other, separated by the Golden Horn, a river valley that connects with the Bosphorus and the Sea of Marmara. Depending on what type of person you are, you might have a tendency to choose either one.
1. Sultanahmet
Sultanahmet is the more historic area of the two and the main advantages of staying in a hotel in Sultanahmet is that it is closer to most of the famous tourist attractions such as the Aya Sofia, Blue Mosque, Topkapi Palace Basilica Cistern, Grand Bazaar, etc. However, the downside of this is at night, the area sort of goes to sleep along with the tourists. If you are not a night owl or bringing along your family during your travel, this is the neighbourhood for you.
2. Beyoğlu
Beyoğlu is the modern part of Istanbul famous for its restaurants and cafes as well as its nightlife. It's also home to Dolmabahçe Palace, the Galata area with its famous tower, Istiklal Caddesi, etc. If the nightlife, shopping and food are your things, this is the area for you. The area is basically alive 24 hours a day, 7 days a week, but if you're worried about the noise, the hotels are located away from all the hustle and bustle of the nightlife, albeit within walking distance. If you ask me which area would I choose, I'll answer both. It is, after all, an adventure. Try out both places. If you have a week in Istanbul, you can maybe spend the first 3 days in Sultanahmet before relocating to
Beyoğlu.P.S. Looking for places to stay in Istanbul? Check out 11 great hotels in Istanbul for every traveller (near major attractions!)
Where to visit?
#HHWT Tip
: Consider getting an Istanbul Museum Pass to skip the line, save money, and get access to other attractions in Istanbul, especially if you're visiting in summer! Depending on the number of attractions and museums you wish to visit, the fees range from €15 (93 TL) to €50 (310 TL) per person.
Check out Istanbul Tourist Pass to know more about it
!
1. Hagia Sophia
Built by Emperor Justinian as the greatest church of the Byzantine Empire, the Aya Sofia or formally known as the Hagia Sofia was converted into a mosque after the conquest of Constantinople by the Ottoman Empire. It is now a museum and one of the greatest landmarks of Istanbul.
Address:
Hagia Sophia,
Sultan Ahmet Mahallesi, Ayasofya Meydanı, 34122 Fatih/İstanbul, Turkey
Opening hours:
Summer schedule from 1 April - 31 October Daily, 9AM - 7PM (last entrance at 6PM)
Winter schedule from 25 October - 15 April Daily, 9AM-5PM (last entrance at 4PM)
Note: Hagia Sophia Museum will be opened to visitors on Mondays from 1 April 2019 until further notice
Entrance Fee:
72 TL per person
Website
2. Blue Mosque (Sultan Ahmet Camii)
The Blue Mosque was built by Sultan Ahmet 1st from 1609 to 1616. The nickname "Blue Mosque" comes from the interior decoration of the mosque that consists of tens of thousands of blue Iznik tiles. Muslims are welcome to pray in the mosque, but for non-muslims, visiting is only allowed outside prayer times.
Address:
The Blue Mosque, Sultan Ahmet Mahallesi, Atmeydanı Cd. No:7, 34122 Fatih/İstanbul, Turkey
Opening hours:
Open daily, Mon-Thu & Sat-Sun, 8.30AM-11.30AM, 1PM-2.30PM, 3.30PM-4.45PM (subject to prayer times)
Note
: Do note that the mosque is still an active space for worshippers and closed to tourists during prayer times. In general, the daily opening hours are from 8.30AM until one hour before dusk. It excludes 90 minutes prayer times (there are five daily prayers) and two hours of Friday noon prayers.
Website
3. Topkapı Palace (Topkapı Sarayı)
Topkapı Palace was built by Mehmet the Conqueror in the 15
th
century. Located beside the Bosphorus, this palace is where the Ottoman Sultans ruled over their empire until the 19
th
century. It is a stunning display of Islamic architecture.
Address:
Topkapi Palace, Cankurtaran Mahallesi, Topkapi Palace Museum, 34122 Fatih/Istanbul, Turkey | Gulhane Park, near Sultanahmet Square, Istanbul, Turkey
Opening hours:
Summer schedule from 1 April - 2 October Wed-Mon, 9AM- 6.45PM (Closed on Tue)
Winter schedule from 2 October - 1 April Wed-Mon, 9AM- 4.45PM (Closed on Tue)
Entrance Fees:
72 TL (ticket excludes access to Harem Section, for which a separate ticket must be purchased for 42 TL)
Website
4.  Basilica Cistern
The Basilica Cistern is a huge underground hall supported by 336 columns in 12 rows. It was once used to store the imperial water supply. It was built by Emperor Constantine but only finished during Emperor Justinian in the 6
th
century.
Address:
The Basilica Cistern, Alemdar Mahallesi, Yerebatan Caddesi, No:1/3, Istanbul 34410, Turkey
Opening hours:
Daily, 9AM-6.30PM (subject to the summer and winter schedule)
Entrance fee:
20 TL per person
5. Galata Tower
Get a birds' eye view of the city of Istanbul from the top of the Galata Tower, located in Beyoğlu. Constructed in 1348, the tower was part of a sub-city belonging to the Genoese that stretched all the way to the Bosphorus.
Address:
Galata Tower, Buyuk Hendek Cad., Istanbul, Turkey
Opening hours:
Daily, 9AM-8.30PM
Entrance fee:
25 TL per person
P.S. Did you know that Galata Tower is one of 11 incredible attractions every traveller has to visit in Istanbul?
6. Istanbul Archaeology Museums
This huge museum complex that's equivalent to the British Museum brings together historical artefacts from Turkey and throughout the Middle East while sweeping through the vast history of the region. There are 3 main sections, Museum of the Ancient Orient; the main Archaeology Museum; and the Tiled Pavilion of Mehmet the Conqueror. Expect to spend a good part of a day in this area.
Address:
Istanbul Archaeology Museums, Osman Hamdi Bey Yokuşu, Gulhane Park
Opening hours:
Summer schedule from 1 April - 30 October Tue-Sun, 9AM- 6.45PM (last entrance at 6PM; closed on Mon)
Winter schedule from 30 October - 31 March Tue-Sun, 9AM- 4.45PM (last entrance at 4PM; closed on Mon)
Entrance fee:
36 TL per person
Website
7. Grand Bazaar (Kapalı Çarşı)
For the shoppaholics, the Grand Bazaar offers a wide range of Turkish local products where you'll surely find something to your liking. It is basically the world's first shopping Mall and takes up a whole city quarter.
Address:
The Grand Bazaar, Sokak 12, Kapalicarsi, Istanbul
Opening hours:
Mon-Sat, 9AM-4.30PM (closed on Sun)
8. Süleymaniye Mosque
Not to be mistaken as the Sultan Ahmet Mosque or the Blue Mosque, the Süleymaniye Mosque sits on the hill above Sultanahmet district. In its garden area lays an interesting Ottoman cemetery, home to the tombs of Sultan Süleyman the Magnificent and his wife Haseki Hürrem Sultan, also known in the west as Roxelana.
Address:
Süleymaniye Mosque, Sinan Aga Mah. Zeyrek Cad. No:4 | Zeyrek, Fatih, Istanbul, Turkey
Opening hours:
Daily, 9AM– 5.30PM (subject to prayer times)
Note
: Do note that the mosque is still an active space for worshippers and closed to tourists during prayer times.
9. Museum of Turkish and Islamic Arts
A visit to Turkey is incomplete without learning about its arts and culture. Housed in the palace of İbrahim Paşa, who was Grand Vizier for Sultan Süleyman, it is a must-see when you are in Istanbul. Turkish carpet collections, exquisite ceramics, calligraphy and wood carvings are on display here for your viewing pleasure.
Address:
The Museum of Turkish and Islamic Arts, Binbirdirek Mh. Atmeydanı Sk. No: 12, 34122 Sultanahmet, Istanbul
Entrance fee:
42 TL per person
Opening hours:
Summer schedule from 1 April - 31 October Daily, 9AM- 7PM
Winter schedule from 1 November - 31 March Daily, 9AM- 5PM
Note
: Do note that the museum opens at 1PM on the first of religious holidays
Website
10. Dolmabahçe Palace
Built by Sultan Abdul Mecid I in 1854, the Dolmabahçe Palace replaced the Topkapı Palace as the main residence of the Sultan. Unlike the Topkapı Palace, it clearly portrays European influence in its decorations and architecture.
Address:
Dolmabahçe Palace, Vişnezade Mahallesi, Dolmabahçe Cd., 34357 Beşiktaş, İstanbul, Turkey
Opening hours:
Tue-Wed & Fri-Sun, 9AM-4PM (Closed on Mon and Thu)
Entrance fees:
60 TL per person
P.S. Planning to save on admission fees? We have 8 free attractions to check out while you're in Istanbul!
What to eat?
1. Turkish Breakfast
For the complete Turkish experience, spend some time having a Turkish breakfast in the morning. It usually consists of tea, bread, white cheese, olives, tomatoes, cucumber, butter, honey, jam and an omelette or boiled egg. The most common and recommended place to have a Turkish breakfast is along the Bosphorus coastline areas such as Bebek, Rumelihisarı where there is a huge choice of establishments.
2. Simit
Simit is Turkey's answer to the bagel. It can be practically bought everywhere from early in the morning where you can hear street vendors strangely call out "Secak Simit! Secak simit!" (Hot Simit! Hot Simit!), yet, the simits are rarely even warm. But that's not a bad thing since they are usually eaten at room temperature.
3. Pide
This oval-shaped bread comes in different styles and toppings with Kaşarlı Pide (melted cheese) and Sucuklu Pide (melted cheese and spicy sausage) among the most famous of them. Plain pide is also used in other dishes such as kebabs.
4. Iskender Kebap
There are a lot of types of döner kebap, but my favourite one is Iskender Kebap. Thinly sliced
döner
meat is served with pieces of pide, a kind of pita bread. The pide pieces are dressed with butter and tomato sauce with yoghurt served at the side. Dip the döner slices and pide into the tomato sauce and yoghurt and you've got a ticket to food heaven.
5. Lahmacun
This is my favourite dish when I'm on a budget due to the fact that they are relatively cheap and also filling. Also known as the Turkish style pizza, Lahmacun consists of a thin piece of oval pide, topped with ground meat, onions, pepper paste, sometimes tomato, pepper, parsley, and spices. It's usually served with a salad and lemon on the side.
P.S. Hungry for more? Check out 9 cheap (and absolutely delicious) eats that you need to try in Istanbul!
6. Börek
Börek is made up of several thin layers of flaky pastry and filling. There are different types of fillings to choose from such as spinach, cheese and minced beef. Locals have this particular dish for breakfast or for a quick lunch. There are also variants of this dish such as Çibörek, kalem böreği, Su böreği and a few more that you must also try.
7. Balık ekmek
Literally translated as fish bread, it is basically grilled or fried fish stuffed in a large piece of bread. A popular spot to find this fast food is at Eminönü, on the shore next to Galata Bridge. Suitable for its close proximity to the sea, where fresh fish is caught every day.
8. Mantı
Often called Turkish Ravioli, Mantı is a hot dumpling dish served with cold yoghurt and garlic. The dough is made of flour, water and salt, but sometimes eggs are added to increase the flavour. The filling usually contains ground beef or lamb, onion, salt and pepper. It is served with yoghurt, garlic and tomato sauce cooked with butter, while topped with spices. Imagine digging into one of these for lunch. Famous places to enjoy Mantı are Casita Mantı Nişantaşı in Şişli, Fıccın in Beyoğlu, Emek Mantı in Yeniköy, Bodrum Mantı in Arnavutköy, and Aşkana in Ulus.
9. Sütlaç
Also described as the Turkish baked rice pudding, Sütlaç has become my number 1 dessert since I set foot in Turkey. The main ingredients are rice, milk, vanilla and egg. Although baked, the dessert itself is served cold, suitable for a hot summer afternoon. Sütlaç is easily available in most restaurants in their list of desserts.
10. Ayran
Ayran is a yoghurt drink made by mixing yoghurt, water and salt together. The drink is served cold and fresh in restaurants or you can also get it in supermarkets. But for those unacquainted with Turkish cuisine, Ayran is an acquired taste and you may or may not like it at first taste.
Note:
 I think it's important to know that while meat sold and used in restaurants are halal and most of the restaurants do not serve alcohol, speciality restaurants particularly the
meyhane
restaurants serve alcohol along with Mezze and traditional dishes.
Meyhane
restaurants are places where the youth hang out and catch up with friends. Kind of like the
Mamak
restaurants in Malaysia. So, dine at your own discretion when visiting these restaurants or avoid them if you are unsure. Once you have that sorted out, you are free to sink your teeth in!
11. Kumpir
Kumpir
 is Turkey's version of the baked potato. And it's a superbly delicious version too - the potato is baked, then cut open with the insides mashed up to fluffy perfection. And then it's topped to high heaven with yummy toppings! From corn, pickles, peas, black and green olives, to grated cheese, carrots, and red beet, the whole thing is then covered with ketchup and mayonnaise. You can find easily this dish in the seaside town of Ortakoy, or keep an eye out for vendors selling it in Taksim Square!
P.S. Turn it into a food trip and check out 11 Istanbul's best eateries you must try (near tourist attractions!)
The Last Word
Istanbul as a whole holds a wealth of Islamic history through the Ottoman Empire. A visit there will make one proud of what Muslims have achieved in the past. Istanbul surely is a city worth visiting! To keep the inspiration alive,
discover the best of Turkey with our 6D5N Muslim-friendly itinerary
. So it's time to plan and book your ticket to the incredible Istanbul! ?