An ethereal wonderland and home to nature's most dramatic landscapes, Iceland is known to many as 
the 
place to view the Northern Lights.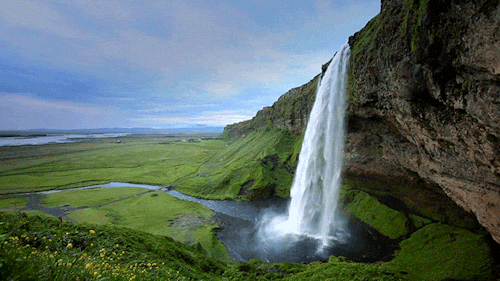 Credit: giphy
More and more travellers are warming up to Iceland for its unmatched beauty and tranquility, and we know you are too!  So here's an itinerary for an epic 9 days, 8 nights adventure on this magnificent Nordic island.
1. Accommodation
There are several accommodation options in Iceland you can choose from to suit your own adventure and budget. Most of them are located near major attractions, so you can get a good night's rest after an exciting day out exploring!
Hotels
Hotel stays are your best bet if you are particular about your creature comforts and don't have a strict budget to stick to ?
Credit: Hotel Grimsborgir on Facebook
The Ring Road in Iceland which runs around the island in a circle and connects most of the must-visit places in the country is evenly punctuated with hotels. This means that you can stay at a hotel for a few days and visit nearby attractions, before driving a shorter distance to your next destination. We love Hotel Grimsborgir for its tasteful and cosy furnishing, and its proximity to attractions on the Golden Circle route.
Website
|
Facebook
Guesthouses
If you enjoy staying at lodgings with a more homely feel, then you can take a pick at the many guesthouses that dot the country!
Credit: Gistiheimilið Lónsá / Lónsá Guesthouse on Facebook
These guesthouses are usually family-owned properties and range from stylish bed-and-breakfasts to relatively simple farm cottages. Many guesthouses have a kitchen where you can prepare your own meals! When you stay in Lonsa Guesthouse in Akureyri, you can also expect friendly interaction with the owner's family who stays on the upper floor ?
Website
|
Facebook
Airbnb
For experienced travellers who have stayed in Airbnbs before, the good news is that you can also use the website to search for more accommodation choices in Iceland.
Credit: @jintycasey on Instagram
However, the availability of Airbnb lodgings are subject to the owners' schedules, so it's best that you check out listings on the website and make your bookings early ?
Website
2. Transportation
Driving
Driving is the best way to get around, simply because there is not much public transport in Iceland! It is highly recommended to book your car months ahead online to save on costs, especially if you will be travelling during peak season (mid June- August)! Many car rental companies offer free airport pickup as well, which saves you more money 
and 
lets you start your adventure straight away after touchdown ? There are a few car rental booths in Keflavik International Airport you can 
check out here
 ?
#HHWT Tip
: Do remember to keep a spare tire with you at all times while driving around Iceland. You don't want to be stuck freezing in the icy wilderness with a punctured tyre, do you ?
3. Must-Visit Places
Golden Circle route (Day 1-3)
A wildly popular route with tourists is the Golden Circle, which loops around southern Iceland and covers a number of beautiful landmarks in the country. The Golden Circle route is only 300km long, but you can take any time from 1 to 3 days to cover it, depending on the activities you choose to do along the way.
Thingvellir National Park
The first stop on the Golden Circle route is 
Thingvellir National Park
.
Credit: @mra_taxthebass on InstagramThingvellir
, which was declared a World Heritage Site in 2004, holds a lot of historical significance being closely rooted to Iceland's history and the Icelandic nation.  In fact, the park's name literally translates to "Parliament Plains" as it was the site of the national parliament's assemblies until 1978 ?
Credit: 
Onasill ~ Bill Badzo
 on Flickr  Thingvellir's 
beauty has inspired many painters, such that the National Gallery of Iceland itself owning over a 100 paintings by a single painter with 
Thingvellir 
as a subject!
Haukadalur Geothermal Area
The next stop on your Golden Circle route is 
Haukadalur Geothermal Area
, where you can see geysers in action. What are geysers, you might ask. A geyser is a hot spring that erupts from time to time, throwing a stream of boiling water up tens of metres into the air ? It's so amazing, you must see it for yourself!
Credit: @matzewalter1964 on InstagramStrokkur
 is one of Iceland's most active geysers, erupting once every 6-10 minutes. Typically, 
Strokkur
 spouts water 15-20m high, but it is known to sometimes erupt to a height of 40m!
Credit: Christian Barrette on flickr 
The great 
Geysir 
is another geyser you can find cradled in the valley of Haukadalur. The 
Geysir 
is known to erupt up to 70 metres high but these days it is less active. Nevertheless, it is still famous for giving its name to other geysers around the world ?
Gullfoss Falls
It seems only natural that waterfalls are the next phenomenon you must see on this day trip. Only an 11 minute drive away from Haukadalur
, GulfossFalls
is located in the canyon of the Hvítá river, which flows from the glacial lake Langjokull.
Credit: 
Dani Oliver
 on flickr
Gulfoss
, which means "golden falls", contains glacial sediment which gives the water a golden shimmer in the sunlight ?
Credit: Greg Kurk on flickr
What makes this waterfall an incredibly majestic sight however, is seeing the frothy glacial water plummet down 32 metres a three-step "staircase" in two stages, before it plunges into a rugged crevice!
Kerid Crater
The final stop on your Golden Circle drive is Kerid Crater, a magical lake found in a 3000-year old volcanic crater in the Grímsnes area in south Iceland ?
Credit: @_asoki_ on Instagram
Lake Kerid is so clear, it forms a looking glass from which you can admire the reflection of the overhead skies ?
Svartifoss (Day 3-4)
Upon completion of the Golden Circle route, you can drive eastwards towards 
Svartifoss, 
which is about 300km away from Kerid crater.
Credit: Raymond Ling on flickrSvartifoss
, which means "black falls", is an iconic attraction located in Skaftafell in 
Vatnajökull National Park
 in Iceland. The waterfall is surrounded by dark, jewel-like geometrical protrusions, which are actually lava columns! The base of the 
Svartifoss 
is a bed of sharp rocks that jut out, making it an otherworldly sight indeed ?
Seljalandsfoss Waterfall
Credit: Mpora on Facebook 
Myvatn Nature Baths (Day 5-6)
Located in a geothermal area just east of the Grjotagja rift and west of the colourful Namafjall mountain, you can look forward to soaking and relaxing while you enjoy a spectacular view over the Lake Myvatn.
Credit: 
NH53
 on Flickr
Good news for those who dislike crowds: unlike the famous Blue Lagoon, the Myvatn baths that is open all year round is more intimate and less touristy. A 5000-square meter man-made lagoon with 3.5 million litres of 36-40 °C hot water, the bottom of this water body is made of sand and gravel! Beware that it gives off a rather strong smell of sulfur, but the good news is, the water of this nature bath is actually good for your skin.
Credit: 
Jennifer Boyer
 on Flickr
If you wish to swim in the bath, you can rent towels, swim suits and bathrobes at the official booth for an additional cost.
Aldeyjarfoss Waterfall
Take a short hour of detour to visit the majestic Aldeyjarfoss Waterfall. Though this is a stunner on its own, not many people visit it as it's off the beaten path which makes us to want to visit it even more!
Credit: Raymond Ling on Flickr
Snaefellsjokull National Park (Day 7-9)
Drive along the Snaefellsnes Peninsula to get to the first national park in Iceland. The drive is a bit long but you get to explore the adventurous world of the ocean, coastline and beach, as well as other lifeforms in the sea while you're here!
Credit: 
Iceland Info
 on Facebook
Known as the Jewel of West Iceland, this national park is home to the country's most famous volcano. The glacier in this national park is famous for the great powers and energy that many spiritually-minded people sense when they are near it. It has been said to be one of the seven great energy centres of the earth!
Credit: 
Snæfellsjökull Glacier
 on Facebook
Fun fact: Did you know that the magnificent cone-shaped volcano that is covered with ice all year round has inspired writers and artists for centuries, one of whom is Jules Verne for his novel 'A Journey to the Centre of the Earth'?
4. Must-Do Activities
Diving Between Two Continents
In the heart of 
Thingvellir National Park 
is the 
Silfra Fissure, 
which is a crack between the North American and Eurasian continental plates. 
Silfra 
is the only place in the world where you can dive or snorkel between the two continents!
Credit: @adammartinphotography on Instagram
Another reason the fissure is a highly popular diving spot is its high underwater visibility, which means you can dive tens of metres down and see the split in the continental plates yourself ?
Whale-Watching
If you have always dreamed of seeing these majestic sea mammals up close and personal, you definitely can't miss out going whale-watching in Iceland ?
Credit: 
Nick
 on Flickr
Get your cameras ready to snap pictures of these gentle marine giants when they appear right in front of your eyes. Good news! They can be found in different locations around Iceland, including Reykjavik. It is recommended to go whale-watching between May and September.
Explore An Ice Cave
Ice caves are a type of cave that forms in the ice of a glacier. Truly a mesmerising sight to behold, you can explore ice caves safely with a tour guide in southwest Iceland at 
Langjokull
 or in the southwest of the country at 
Vatnajokull
.
Credit: 
Chris Marquardt
 on Flickr
Yes, it is for your own safety that you go ice caving with an experienced guide in case of any emergencies! Do note that ice caving season is only from November to March, so book your spot early to avoid disappointment ?
Hike Up Asbyrgi Canyon
Asbyrgi canyon lies in the north of Iceland that is about 50 minute drive to the east from Husavik on the Diamond Circle road. You definitely can't miss out on one of the most admired walking destinations in the country!
Credit: 
Mehran Djojan
 on Facebook
There are hiking trails ranging from 30 minutes to 7 hour long. Check out the suggested hiking routes 
here
.  
Northern Lights
The Northern Lights is one of the most amazing natural wonders of the world. They are called the Northern Lights because they are a glowing, flickering display of colours mostly seen in the northern hemisphere.
Credit: 
National Park Service, Alaska Region
 on Flickr
When flying in and out of Iceland, you might be able to see the Northern lights from your plane window if it's dark outside. Do remember to say your prayers before embarking on this trip, who knows, you might be one of the lucky ones who get to witness it! If your plane lands at night, take the road to Reykjavik through an empty, moon-like landscape. The 45 minute drive is a perfect place to spot the Northern lights. The most popular place to see the Northern light is at the Jokulsarlon glacier lagoon.
River Rafting
Another way to view the magnificent landscapes in Iceland is by rafting in its glacial rivers ?
Credit: 
When in Iceland
 on Facebook
Paddle away with your friends down the turquoise waters and prepare to be blown away by the amazing view of the surrounding glaciers!
Snowmobiling
You can also combine your Golden Circle tour with various activities such as snowmobiling on the 
Langjokull
.
Credit: 
Peter Halling Hilborg
 on Flickr
The 
Langjokull
 glacier is the second largest glacier in Europe and offers incredible views of some of Iceland's most famous sights. Do note that snowmobiling experiences are only available from June to October.
5. Food
Ali Baba Restaurant
You may not know this, but Iceland 
does
 have a few restaurants that serve halal food!
Credit: 
Ali Baba
 on Facebook
Ali Baba is a Mediterranean restaurant in Reykjavik and serves delicious Syrian and Italian cuisine such as shawerma, kebabs, grilled meat, pizza and more ?
Credit: 
Ali Baba
 on Facebook
Other Muslim-owned restaurants in Iceland include:
Address:
 Veltusund 3b, Reykjavik 101, Iceland
Website | Facebook
If you love nature's dramatic landscapes, you will definitely appreciate Iceland for everything this magical wonderland has to offer - from waterfalls and glacial lagoons, to mountains and geothermal spas ? Well, go on - start planning your epic trip to Iceland 
now
! [iframe seamless="seamless" style="border: none; overflow: hidden;" height="450" width="100%" scrolling="no" src="https://pollbuzz.co/frame/1560?type=poll"][/iframe]