The past few weeks have been difficult for us as we're staying safely at home and practising social distancing. Since these safety measures are necessary to flatten the curve in our country, we have to make our trips to the outdoors, such as supermarkets and restaurants, to be as efficient as possible.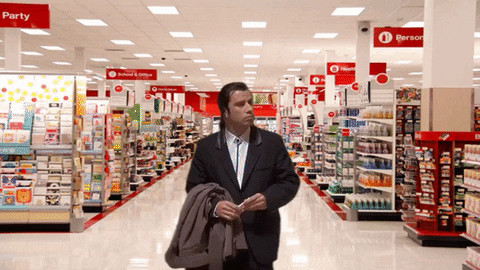 Credit: Giphy
If you're planning to reduce your time outdoors, there are many things you can do to make your supermarket outing more efficient. From bringing a grocery list to choosing the right time to shop, we hope these tips will come in handy!
1. Plan your meals
Creating an efficient meal plan is important to prevent food wastage at home. If you're preparing meals for your family, come up with a weekly menu, so you'll know how much ingredients you need and when you can prepare a meal from last night's leftovers. Better yet, create a two-week meal plan and use it as a guide for your fortnightly supermarket trips. If you need some cooking inspiration, check out
our healthy and delicious recipes you can try at home
and
easy recipes that use four ingredients or less
!
2. Keep an inventory of your household products
Keeping an inventory of your household products is the best way to identify which supplies you should stock up or ingredients you need for your home. If you're using your last bottle of ketchup or tube of toothpaste, note it down in your inventory list. It's always good to have another set of supplies, so you won't rush to the supermarket when you ran out of eggs, sugar or soy sauce.
3. Make weekly or fortnightly trips to the supermarket
Depending on your household needs, plan a weekly or fortnightly trips to the supermarket. That way, you can make the best of your single trips and only shop for the things you need. We recommend shopping on days when the supermarket stocks up fresh meat, seafood and other goods. If the supermarket receives their new stocks every Wednesday, swing by the supermarket on the same day or the next day.
4. Eat before you shop
Credit: tisay on Flickr
If there's one thing we learned from our shopping experience, try not to shop when you're hungry. When you browse the supermarket shelves with an empty stomach, everything will appear tempting and appetising to you. Then, you're likely to purchase potato chips, cookies, or ice cream out of hunger, instead of needs. Enjoy a hearty breakfast before you shop, so you're less likely to buy a snack or candy you don't need.
5. Stick to your grocery list and budget
There are many golden rules of effective shopping, and it includes creating a grocery list and sticking to your budget. Similar to creating a daily to-do list, follow your grocery list to avoid steering away from what you need. We also created a
#StayHome grocery checklist that consists of important essentials to buy at the supermarket
. Another thing to remember is to set a budget, so you won't go overboard with your spending.
6. Go to a grocery store that has all the items you need
Some shoppers make multiple trips to different stores to compare prices and find the supplies they need. To stay efficient, it's best to visit a grocery store or hypermarket that has all the items you need. Since shopping at multiple stores can take up a huge chunk of your day, do your research online. Some supermarkets have online stores where you can check the prices and brands in advance. Once you've note down the items you need, head over to the store and identify what you need easily. Before you go, make sure to
practice these important hygiene tips when shopping in your local supermarkets
.
7. Pick a good time to shop
Choosing a good time to shop also makes a huge difference in keeping your shopping trips efficient. Early risers would shop on weekend mornings, but it's usually the most crowded time of the week. If you prefer not to bump trolleys with anyone, head over to the supermarket on weekdays and preferably after lunch. You might need to bear the afternoon heat, but at least you get to shop around comfortably as most shoppers would be resting at home.
8. Choose long-lasting groceries
If you prefer to shop every week or fortnight, it's important to identify the fruits, vegetables and other food items that will last for a long period of time. For vegetable and fruits, stick to frozen vegetables, apples, potatoes, and carrots. For dairy products, look out for eggs, UHT milk, and hard cheese. To ease your research, we've also created
a helpful list of long-lasting grocery items
that you can buy at the supermarket.
9. Check for promotions and bundle deals
To make the most of your shopping budget, look out for promotions and bundle deals. You can pick up the brochure at the supermarket, keep an eye out for the supermarket's newspaper advertisement or compare the prices on each online store. Spotting these deals will be helpful if you're planning to buy extra laundry detergent, cooking sauces, rice, canned food or any other long-lasting items. Since most supermarkets have buy-one-free-one deal, you can save up a lot too!
10. Bring a shopping bag
Instead of paying extra for a plastic bag, bring a recyclable shopping bag or canvas bag to carry your groceries with. Besides bringing a separate bag for wet and dry goods, arrange your groceries by placing the heaviest item at the bottom (e.g. laundry detergent) and breakable items (e.g. eggs and sauce bottles) at the top of the pile. You can also line the base of your shopping bag with a piece of newspaper in advance if you're carrying wet goods such as seafood and poultry. Make sure to prepare this at home before your shopping trip! There are many things you can do to make your supermarket outing more efficient. Whether you're making weekly trips to the supermarket or sticking to a budget, we hope these tips will be helpful for your future shopping trips!