Travel souvenirs have a way of reminding us of our past trips as well as the moments and experiences that come with it. In celebration of Have Halal, Will Travel (HHWT)'s 5th birthday, we asked our team members to share stories behind their favourite souvenirs, which is inspired by
this Lonely Planet article
. From a hanging decoration in Jeddah to painted coconuts from the Maldives, we hope these stories will inspire you to relive your amazing travel memories behind every souvenir.
Travel stories behind our favourite souvenirs
1.A bookmark of the oldest bookstore in Seoul
It was a cold winter day on the day I got my favourite souvenir - which is a bookmark of a sketch of the oldest bookstore in Seoul, also called Daeo Bookstore.
I only have fond memories of this day - I visited a museum exhibit, tried
sannakji
and
hotteok
for the first time, which were all activities I was very excited about! The bookstore itself was extremely warm and cosy, and served the best hot chocolate by the cutest ahjumma ever ? - Khaliesah
2. An Aladdin booklet from London
I'm not one to buy souvenirs while travelling, but when I found out that my sister made plans for us to watch Aladdin the Musical during a London trip, the Disney kid in me decided one thing: I have to get something to remember the moment. Not just a picture in front of a poster (which I did take) or a ticket stub (which I still have). 
So just moments before the curtain went up, I flagged down the usherer who was selling the programme and held on to this little booklet from the moment the first note played right till the cast took their bow.
It now sits in the drawer of my desk and when I'm feeling nostalgic - an often occurrence these days - I flip through the pages to read about the creative process behind the show that truly made a mark in my life - Ili Mariah
3.A hanging decoration from a random gift shop in Jeddah, Saudi Arabia
I was on my last day of umrah trip in Jeddah and the group was stopping by a gift shop while our bus was changing its flat tyre (that's a story for another day).
I have only a few Riyal left in my pocket and decided to grab a gift for my friend. I was torn between getting prayer beads for a friend or this cute camel for myself, as I can only afford one souvenir with the money I had left.
After much thought, I bought the prayer beads. In my head, I promise to get this camel for myself once I get back to the holy land. 
All of a sudden, the shop owner put the camel into my purchase. I refused, I said I only wanted to purchase the beads. Turns out, he gave it to me for free. I cannot contain my excitement and almost cry because of this less than 5 dollar item I cannot afford.
That moment wasn't just about this cute camel. That was the moment where I witnessed how Allah SWT can fulfil one's wish in a blink of an eye. How Allah SWT can change one's heart in a matter of seconds. And how a kindness, no matter how small it is, can make someone's day, or even someone's life forever. And I aspire to do just a tiny kindness as much as I can ever since - Tiara
4. Painted coconuts from the Maldives
The Maldives was the last trip I went on before travel restrictions kicked in and it was a really eventful trip. My eyes were very swollen in the middle of the trip (I couldn't figure out why) and I was really disappointed because it was our last full day on the island.
We made plans to snorkel and swim the entire day but I couldn't because I was afraid that it would make my eyes even puffier. 
We decided to do coconut painting instead, an activity that the resort probably planned for families and kids. It wasn't an activity that we would usually consider because we're not the most artistic people. I mean, just look at what we painted (it's our cat Meeko and the Maldivian sunset by the way)!
But it was a really different experience and I remember thinking to myself while painting that although I could barely open my eyes, it was calming and it felt wonderful to be doing something different.
Also, it was a good reminder that while it's easy to sulk in a corner when things go wrong, try to make the best out of the situation! - Suzana
5.Postcards and trinkets from the United States and Canada
I have this souvenir board at home where I keep postcards, keychains and badges from the trips I took during my exchange programme in the United States (including a keychain of Brunei which my Bruneian exchange friends gave me!).
Postcards and keychains might sound cliche, but I love them as they remind me a lot about the places I visited.
Though my exchange programme was 6 years ago, these souvenirs remind me of the amazing time I had during that time and the places I visited!
My favourite postcard is the one that says, "You are here". I actually got it from a hostel (Planet Traveler Hostel) I stayed in Toronto - pretty cool, right??
The staff at the hostel was very hospitable and since it was Christmas, they even had a Christmas dinner for us and there was a vegetarian option! I remember having so much fun joking around with my best friend (who was on the trip with me) and the other guests in the hostel, including this girl from London who's super hilarious!
We had such a good laugh together. You might only meet some strangers once during your travels but the memories you make will definitely last a lifetime - Faruq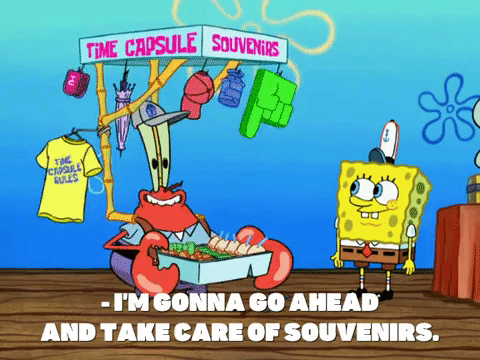 Credit: Giphy
While we find ourselves in challenging times, we hope these stories will inspire you to relive your favourite travel memories from the souvenirs you brought home. If you're looking for more HHWT birthday stories from us, check out our recommended reads below.