The hunt for Muslimah swimwear has always been a tricky issue. Sure, there are plenty of options out there to choose from, but when it comes to searching for ones that offer a combination of modesty, aesthetic and functionality, many tend to throw their hands up in defeat and give up altogether.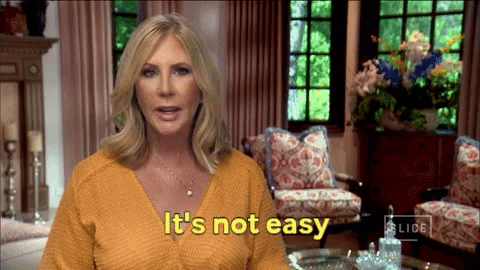 Credit: Giphy
It's a challenging task that sometimes has you compromising between a trendy piece that you have to adjust several times throughout the day or a comfortable fit that has an unflattering style, which means no Insta-worthy photos. Either way, the struggle is definitely real ?
Credit: Nike
So when
Nike unveiled their very own line of modest swimwear called the Nike Victory Swim Collection
just three months ago, the news came as a major win for Muslim women everywhere! Inspired by the successful introduction of the Nike Pro Women's Hijab (which you can find in outlets in Malaysia and Singapore), this game-changing line was thoughtfully designed and curated not only for female athletes seeking full coverage and full range of motion in the water, but also to encourage more women to discover the joy of sport. 
Credit: Nike
The line includes the Nike Victory Full-Coverage Swimsuit along with options for separate pieces, namely the Nike Victory Swim Hijab, the Nike Victory Swim Tunic Top and the Nike Victory Swim Leggings.
Recently, HHWT had the chance to test out the collection's swim separate options and in this review, we'll be sharing how it feels like to wear the separates in the water, its unique highlights and recommendations from the experience.
While testing these pieces in the waters of Maldives, the separates felt light and comfortable thanks to its warp-knit fabric. Whether it was snorkelling in the ocean or swimming in the pool, moving in the water was made easy ?
 Since the pieces are made out of this unique material, it also
meant that they dried really quickly in the hot sun. Just within a few hours, the swim separates were ready to be used for another dip in the water which meant not having to wait too long until the next swim. 
Besides that, the pieces also offer UPF+40 sun protection, a definite plus in our books
as we're always on the lookout for swimwear that offers protection from the rays!
For Muslimahs, covering your aurah is important so we're happy to say that the
Nike Victory Swim Hijab
- featuring an integrated mesh pocket, stayed in place with no inner cap needed ? On top of that, the Nike Victory Swim Tunic Top that comes with a built-in sports bra was a nice touch as it was appropriately loose fitting. Having said that, because the swimwear was tested in a specific house reef with strong currents, the loose fit of this particular piece caused it to ride up a little. We would highly recommend finding a way to tie or pin down the top to prevent it from floating upwards.
Credit: Nike
The Nike Victory Swimwear Collection is available exclusively on
nike.com
, along with select physical retailers (the closest ones to us being Nike Dubai and Nike London, but also Nike Santa Monica and the Nike New York City House of Innovation). Whether you choose to get the Women's Swim Hijab (RM165 / SGD55 / IDR550,000), Women's Straight-Leg Full-Coverage Swimming Leggings (RM280 / SGD94 / IDR930,000) or Women's Full-Coverage Swim Tunic (RM330 / SGD110 / IDR1,100,000), it's definitely exciting to see Nike move forward with a modest swimwear collection ?