Salam everyone! We've been working at HHWT for close to 2 years and if there's one constant throughout our journey, it's our mission. From finding the best halal local food to itineraries to travel tips, our mission at HHWT has always been to inspire the Muslim community to explore more of this beautiful world our Lord has created ?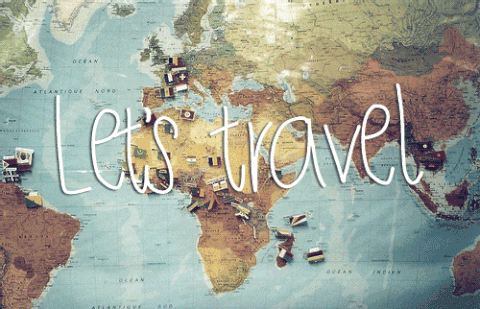 Credit: giphy
With that in mind, we felt that there's still so much more that can be done for Muslim traveller. We've been speaking to brands and we realized that there is a general lack of understanding of the Muslim market. There wasn't any in-depth research done on the Muslim traveller so we decided to take on the research ourselves. Together with a group of passionate individuals, we banded together to launch the FIRST EVER report on the
 Modern Muslim Traveller (MMT)
! You can download a copy of our report 
here
.
Who is the Modern Muslim Traveller?
Now, you might be asking - "What
 does this have got to do with me?"  
Well, everything! This report is 
all about YOU
, and that is by no means an exaggeration! The insights that we gathered for this report came from you, our readers who've come together and joined us on this journey ? After 3 months of tirelessly carrying out our research on the needs and wants of our fellow brothers and sisters across Singapore, Malaysia and Indonesia, we gained a better understanding of what goes through the mind of a Muslim traveller.
Major airlines, hotels and tourism boards now have a much better understanding of MMTs and our travel habits, and will now work towards providing better products and services for the Muslim travel community.? Hopefully you won't have to stick to your usual fare of curry on your next flight out ?
24 August 2017: The Official Launch
On 24th August 2017, we unveiled the report to a diverse group of brands, ranging from airlines (KLM/ Air France), tourism boards (Korea Tourism Organization), government bodies (Hokkaido Government Representative Office) to accommodations (Airbnb). Everyone was super eager to hear about our findings and how they can better cater to Muslim travellers ?
It's humbling to know that world-class brands are looking to us for insights and advice. HHWT represents the 8.6 million Muslims that we've reached out to, we are YOUR voice! From highlighting the struggle of finding halal food in a non-Muslim majority country, missing out on local experiences to something as simple as having more than one option for your in-flight meal, rest assured that you've been heard.
27 brands attended our launch at Grand Hyatt Singapore, which provided the perfect event space for the occasion.
Our guests certainly had a burning thirst for knowledge, and by the time the event ended, we had rumbling tummies to feed! ? They quickly dug in to the delicious spread provided by Grand Hyatt Singapore, specially prepared in the hotel's in-house halal-certified kitchen. P.S. Did you know that they're one of the few halal-certified kitchens found in Singapore hotels!
We treated our guests to a myriad of explosive flavours, from spicy tandoori chicken, fried fish with a tangy glaze to even smoked salmon ? Grand Hyatt Singapore can whip up anything your heart (and tummy ?) desires. The amazing spread coupled with the wide open residential style inspired dining area makes the hotel great for any occasion!
P.S.  Did you know that our co-founders Suzana and Mikhail had their wedding reception here too? ? For those with a sweet tooth, you'll absolutely love the desserts they have available. Adorable French pastries, small slices of strawberry cheesecake, we ended the event on a sweet note! ?
Fun fact: For drinks, we had glasses after glasses of lychee tea specially made for everyone who attended our lunch, a signature drink that can only be prepared by a selected few chefs.
Alhamdulillah, the event proved to be a huge success! Of course, this wouldn't be possible without the combined efforts of our amazing research team, fellow brand partners, Grand Hyatt Singapore, and of course, YOU, the modern Muslim traveller ? This report is only the tip of the iceberg of what's to come for HHWT, and we truly hope that you'll continue on this journey with us, InshaAllah ? You can download a copy of our report 
here
.
A huge thanks to Grand Hyatt Singapore for being our official event sponsor! 
Tags:news