Islamic festivities represent one of the most beautiful displays of the diversity and flexibility of the Islamic tradition in accommodating different cultural customs all around the world ?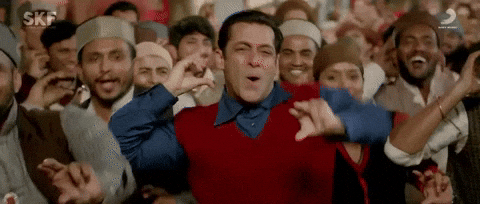 Credit: Giphy
Regardless of ethnicity or culture, though, for Muslims everywhere, Eid Al Adha symbolizes the power of love and sacrifice in our personal spiritual relationships with God, exemplified in Prophet Abraham's selfless sacrifice. Take a look at how Muslims everywhere choose to celebrate this beautiful day while still keeping to their rich local cultural traditions ?
1. China
Being one of the first places in the world outside the Middle East to receive the message of Islam, China has a huge Muslim population of 21 million spread all across its vast land, so Eid al Adha is anything but a small affair here. [caption id="attachment_28872" align="alignnone" width="900"]
Waiting for Eid prayers at Nunjie Mosque in Beijing, China's oldest mosque[/caption]
Credit: Serendipity Tailormade on Facebook
In fact, in some parts of China, preparations for Eid al Adha begin weeks before the day of Eid al Adha itself, to meet the overwhelming demand from Chinese Muslims. Cookies and snacks are baked in advance as part of the festivities as well! On the morning of Eid al Adha, local Chinese Muslims throng the mosques in droves to complete their prayers, and families find joy in reuniting to feast and spend time together after living miles and miles apart from one another.  
Credit: Almolham on Facebook
Islam reached the shores of China as early as 674, even earlier than it did in some of today's most populous Muslim nations, through the efforts of the ten Companions who where promised Paradise, Sa'd ibn Waqqas. He travelled all the way from Mecca to China just to spread Islam! [caption id="attachment_28877" align="alignnone" width="900"]
A Chinese Muslim imam recites du'a for the congregation at The Great Mosque of Xi'an, China[/caption]
Credit: Park Hotel Group on Facebook
Today, the beauty of Islamic tradition is wonderfully melded with the grandeur of ethnic Chinese culture ?  Nowhere is this more accurately represented than in the gorgeous mosques found across China. You'll not find such authentic Chinese architecture in mosques anywhere else in the world ? But if you still can't get enough of Chinese mosques,
check out these 5 incredible mosques you wouldn't believe are in China
!
2. Pakistan
From East Asia, we move to South Asia and the vast land of Pakistan, home to a whopping 178 million Muslims, making it one of the largest Muslim populations in the world. [caption id="attachment_28889" align="alignnone" width="900"]
A Pakistani family celebrating Eid Al Adha at Badshahi Mosque in Lahore, Pakistan[/caption]
Credit: Express Tribune on Facebook
It makes sense, then, that Eid al Adha is celebrated here as a public holiday--4 whole days of public holiday, to be exact! ? [caption id="attachment_28890" align="alignnone" width="900"]
A colorful jemaah for Eid Al Adha prayers in Lahore, Pakistan[/caption]
Credit: Press TV on Facebook
Before heading to the mosque, women adorn their hands with intricate organic henna designs and don colourful headscarves, while men wear traditional 
salwar kameez 
and put on fragrant 
attar, 
a natural perfume oil. [caption id="attachment_28896" align="alignnone" width="900"]
Pakistani women making du'a at Badshahi Mosque, Lahore, Pakistan[/caption]
Credit: Bharat Live News on Facebook
Mosques all over Pakistan are overrun with Pakistani Muslims dressed in every colour imaginable, proudly wearing their traditional ethnic costumes as they dutifully commemorate the occasion through the Eid prayers. [caption id="attachment_28895" align="alignnone" width="900"]
Eid al Adha prayers at Data Darbar, Lahore[/caption]
Credit: Manjeet Singh on Facebook
The sheer numbers of Muslims out in full force on Eid al Adha itself means that getting a spot in the mosque for the Eid prayers is a skilled art in itself. Crowds often overflow into Pakistan's streets, making for an awe-inspiring sight showcasing the devotion of Pakistani Muslims in fulfilling their religious duties! ?
3. Japan
Even though Muslims may be an extreme minority in Japan, Eid Al Adha is still celebrated with much fervour and gratitude here! [caption id="attachment_28900" align="alignnone" width="900"]
Eid al Adha prayers at Tokyo Camii, Japan[/caption]
Credit: Swedish Muslims Dawah on Facebook
Prayer halls at Tokyo Camii, the biggest mosque in Japan, are filled to the brim with local and foreign worshippers alike, and the mosque's stunning Turkish architecture is even more enlivened with the rainbow-like colours worn by the congregation. [caption id="attachment_28901" align="alignnone" width="900"]
Muslims of every ethnicity celebrating Eid Al Adha at Tokyo Camii, Japan[/caption]
Credit: Zyea Paramitha on Facebook
Often, there isn't enough space to accommodate all the Muslims in Japan for Eid Al Adha festivities, so sometimes celebrations are sometimes even held elsewhere in public spaces, like the Korean International School in Osaka. [caption id="attachment_28903" align="alignnone" width="900"]
Eid Al Adha feast at a mosque in Niigata, Japan[/caption]
Credit: Anas Ridhwan Fauzi on Facebook
Most Muslims in Japan come from other countries, and for them, Eid al Adha represents the rare chance to relive the festive atmosphere back home. It's no wonder that Eid Al Adha here is coloured by a tinge of bittersweet reminiscence.
Credit: Swedish Muslims Dawah on Facebook
4. Kazakhstan
Kurban Ait
, as Eid al Adha is known in Kazakhstan, is a true-blue family affair, and perhaps the very spirit of 
Kurban Ait 
itself is exemplified in this Kazakh saying:
"Share the good actions so there will be more, share the bad actions so they will not commit more." - Kazakh saying
Credit: Swedish Muslims Dawah on Facebook
Just as Eid al Adha serves to encourage Muslims to look after one another in the spirit of sharing, Kazakh culture places a heavy importance on brotherhood and sharing amongst its people.
Credit: Swedish Muslims Dawah on Facebook
On
Kurban Ait,
Kazakhs come together to exchange gifts and share food with one another and with the disadvantagd. For them, Eid al Adha is a celebration of not just local culture but religious beliefs as well ?
Credit: Mary Jane D. Sevilla on Facebook
Known for their generosity, people here also celebrate by opening up their houses to each other for visits and sharing sumptuous spreads of Kazakh cuisine, strengthening the ties of kinship that bind the entire community together ?
Credit: Swedish Muslims Dawah on Facebook
5. Kosovo
Over in the Balkans, Muslims in Kosovo commemorate Eid Al Adha (locally known as 
Kurban Bajramit
) by dressing up smartly in their finest clothes to head for Eid prayers.
Credit: 康之安坂 on Facebook
In Kosovo's capital, Pristina, the grounds of the Sultan Mehmet Fatih Mosque overflow with locals waiting to perform the Eid prayers. Warm greetings are exchanged and the air is permeated with a sense of brotherly love.
Credit: Islam & Peace on Facebook
Young children draped in bright traditional Kosovo costumes and colourful skullcaps sit on their father's laps, following along with the 
du'as 
for the well-being of the congregation made by the imam.
Credit: Wikimedia Commons
6. Egypt
When it comes to Islamic celebrations, who could forget one of the busiest and most historic countries in the world--Egypt?
Credit: Islam & Peace on Facebook
Eid Al Adha celebrations here take on a carnival-like atmosphere here that brings warmth and happiness into the hearts of Egyptian Muslims.
Credit: Aswat Masriya English on Facebook
In the capital, Cairo, children play games with one another and are treated to colourful balloons ? Perhaps most interestingly, over at Al-Seddik Mosque in Cairo, Eid al Adha congregations pray underneath a huge swath of balloons that are released after prayers are completed.
Credit: @rogeranis on Instagram
A burst of colour explodes onto the scene once the balloons are released, as if to signal the pure joy of the Eid al Adha celebrations itself.
Credit: Roger Anis Photography on Facebook
7. Indonesia
At 202.9 million, Indonesia is the most populous Muslim nation in the world. Eid Al Adha is quite a sight here, with all of them flooding mosques, streets and even markets everywhere to complete their Eid prayers in congregation.
Credit: China Xinhua News on Facebook
Come rain or shine, whether there's space or no space, Indonesian Muslims come out in full force to stand shoulder to shoulder in unison on Eid al Adha.
Credit: Kalamullah on Facebook
Children are treated to colourful helium balloons, while the atmosphere amongst the adults is one of sombre reflection and contemplation.
Credit: Sanaullah Mojaddedi on Facebook
8. Makkah
Credit: Al Jazeera English on Flickr 
Almost two million Muslims are seen descending on Makkah to perform one of the five pillars of Islam: Hajj.
Credit: Islam English Page on Facebook
Pilgrims begin their Hajj from the Kaaba, the holiest site in Islam as it holds the Masjid Al Haram, to Mina where they recite prayers and spend the night in the valley where prophet Ibrahim stoned the devil as he tried to lead him astray.
9. Medina
Credit: [ethan.hunt] on flickr
Muslim pilgrims flock to the city of Medina after completing the "fifth pillar" of Islam. They traditionally visit Makkah's nearby city to pray at Prophet Muhammad's Mosque, either before they begin the Hajj ritual or once they have completed it.
Credit:
[ethan.hunt]
on flickr Pilgrims are seen at the street market nearby Nabawi Mosque, interacting with the local vendors who sell almost anything from fabric to jewelleries. Discovering Muslim lifestyles, customs and traditions around the world has a way of ushering each one of us into the warm embrace of companionship, which is somehow always amplified through festive Islamic celebrations like Eid Al Adha. We don't know about you, but we certainly can't wait for Eid Al Adha to come around again soon!
Tags:inspiration