We need a break. Honestly Muslims need a break – am I right? If it isn't the constant bombardment of hate in the media, it's the horrible comments on the random Facebook thread.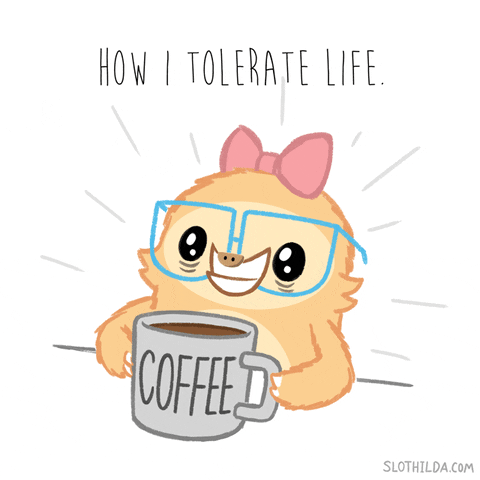 Credit: Giphy
We've done some remarkable things in the world – we created coffee, if you didn't know, and the toothbrush too (AKA the miswaak ?), among other
Muslim inventions that completely changed the world.
Let us introduce you to Muslim folk winning at life. Truly, they are out there changing the game, perspectives and breaking down barriers. They're making such a positive impact on generations past, present and future ❤️
1. Noor Tagouri
Born in the US to Libyan parents, Noor graduated from one of the top Journalism universities at age 20 and is well on her way to achieving her dream of being the first Muslim Hijab-wearing TV anchors in the US.
Credit: @noor on Instagram
She now works as a reporter at Newsy, a Missouri-based video news network that provides breaking news updates across the United States. A true leader in her field, Noor encourages breaking down barriers and helping others to recognise their true worth in a multi-cultural society. She recently launched #TheNoorEffect, a clothing line created to empower women and combat sex trafficking.
Credit: Lisn Up on Facebook
Credit: Noor Tagouri on Facebook
She's definitely one to take note of in the next few years. Be sure to follow her on Instagram (
@noor
) to keep up with her work!
2. Moeen Ali
If you follow cricket, you may have heard of the nickname: ''the beard that's feared'', a moniker belonging to Moeen Ali, a British-born Pakistani who plays international cricket for England.
Credit: Moeen Ali on Facebook
Making headlines for his sporting achievements and being hailed as one of the best cricket players England has ever seen, Moeen has come very far from his hometown Birmingham.
Credit: Moeen Ali on Facebook
Aside from being a national cricket hero, Moeen is also an ambassador for StreetChange, teaching and playing cricket with children from impoverished areas in the UK, and a global brand ambassador for the international NGO Orphans in Need – he even has the logo on his bat!
3. Harry Fear
Harry Fear is a award-winning broadcast journalist, documentary filmmaker and public speaker. He shot to international fame for his unique live video streaming coverage of the Gaza – Israel conflict in 2012, for which he was nominated for various awards. International news agencies RT, BBC, Al Jazeera & CBC all featured Harry and his eyewitness testimonial.
Credit: Harry Fear on Facebook
His amazing work continued where he reported from the Calais jungle amidst the refugee crisis, and he's currently working on a documentary about the tragic Grenfell Tower fire that occurred earlier this year. He's also travelled to over 29 countries and is an avid photographer: just this summer, he travelled to Cairo, documenting his travels on Instagram (
@harryfear
) and Facebook and sharing beautiful photos of the mosques he visited there.
Credit: Harry Fear on Facebook
Credit: Harry Fear on Facebook
4. Muniba Mazari
An artist, Model, TV host, activist and motivational speaker – Muniba has it all under her belt! After a car accident that left her paralysed at the aged of 21, she was determined to not let it define her, delivering a TED talk where she goes in-depth about how the experience changed her.
Credit: 
Muniba Mazari
on Facebook Becoming Pakistan's first wheelchair bound model, and a newsreader for Pakistan national TV, she's definitely shooting down stereotypes left, right, front and centre.
Credit: Muniba Mazari on Facebook
Muniba is also Pakistan's first UN ambassador for women, dedicating her time in the service of others and helping a nation come out from a dark corner to find beauty in life and love.
5. Yasin Osman
Born to Somali parents. Yasin is a 25-year old Toronto-based photographer. His work on the global humanitarian crisis put him in the international spotlight, and in 2016 he was listed as one of Toronto's change-makers to watch.
Credit: @yescene on Instagram
Credit: @yescene on Instagram
With the camera from his Mother's phone, Yasin started photographing his neighbourhood, an area which was infamous for its poverty, violence and drugs.
Credit: Yasin Osman on Facebook
In 2015 Yasin started the project #ShootForPeace – a clever play on words! Making full use of his love for the camera, he teaches and inspires young children to take great photos just like himself, saying: "The children in this community have so much on their backs and I wanted to see them express themselves creatively and share some of that untapped emotion that is within them. Since photography was a love of mine I couldn't think of a better medium of expression."
Check his website out
or follow him on social media (
@yescene
/
@shootforpeace
) to stay updated on his latest projects!
6. Mona Haydar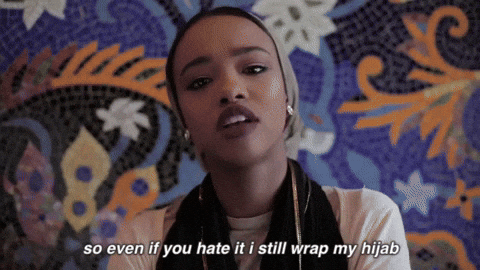 Credit: Giphy.com
This uber-cool GIF is in fact taken from Mona's amazing debut song, 'Wrap My Hijab' , which actually made the list of the 25 top feminist anthems! Even more amazing is that she was 8 months pregnant in the video ?
Credit: @themostmona on Instagram
From a young age, Mona had a passion for poetry. The music video was prompted after a negative incident on an airplane – she then turned her pain into a wonder form of art, and has since become an advocate for Muslim women who want to wear their Hijab proudly and without judgement. Check her videos out on YouTube
here!
Credit: Chris Grosso on Facebook
It's not just her music that she's known for, though. Even before dropping her first music video, she went viral for starting the "Ask A Muslim" initiative along with her hubsand, offering free coffee, donuts and flowers to passersby in exchange for positive learning about Islam as a way to combat Islamophobia ❤️
Credit: @themostmona on Instagram
Aside from all that, she also teaches classes on mindulfness, Islamic spirituality, creative writing and poetry.
7. Riz Ahmed
A humble, funny intellectual and a creative genius – Riz Ahmed made history when he became the first Asian man and first Muslim to take home a Lead Actor Emmy Award. In many of his films he often addresses terrorism-related issues. When he's not on the big screens, though, he's performing as half of the rap duo 'The swet shop boys'.
Credit: Riz MC on Facebook
He's also deeply involved in global humanitarian causes, joining up with the DEC to raise funds for the Rohingya crisis and raising over $200,000 for Syrian refugees on World Refugee Day 2017.
Credit: PACC - Pakistani American Community Centre on Facebook
Last year, he was invited to UK parliament to deliver the annual diversity lecture and gave an impassioned speech about the importance of Muslim representation in the media, definitely one of our favourite so far.
8. Amani al Khatahtbeh
Amani is a visionary when it comes to advocating for Muslim women. An established tech guru, she created the "MuslimGirl.net" website at just 17 years old and went from a mere 1000 hits a month in the beginning to breaking the 100 million hits mark a year!
Credit: Amani al Khatahtbeh on Facebook
All the work she does stems from growing up post-9/11 in the US, where it was difficult for Muslims – especially young Muslims on their journey into the teen years. She published her first book 'Muslim Girl – A Coming of Age' in October 2016.
Credit: Amani al Khatahtbeh on Facebook
She also created Muslims Women's Day – 27
th
March 2017; in which a number of media platforms including; MTV, Teen Vogue & Cosmo all flooded the internet with positive and diverse stories of Muslim women. We look forward to this year's Muslim women's day!
9. Paul Pogba
French born Guinean Paul Labile Pogba is one of the most expensive football player in the world. His mother; Yeo Mariba, single handily raised him and his twin brothers. Yeo has been described by Paul as his inspiration – He followed Islam after being introduced by his Mother.
Credit: Paul Labile Pogba on Facebook
He is a part of UEFA's respect campaign that promotes great inclusion, diversity and accessibility in football. Combatting all forms of racism is the fundamental part of the campaign. Something which is very close to Paul as he even had the #EqualGame shaved into his hair! He has a whopping 18.9 million followers on Instagram (
@paulpogba
), and often shares pictures of him in the mosque, Ramadan messages and some amazing snaps of him performing Hajj!
Credit:
@paulpogba
on Instagram
10. Tengku Ahmad Syahmil
Tengku was featured in Forbed 30 under 30 for Asia's social entrepreneurs. for co-founding Skolafund, a crowdfunded website with a mission to make higher education accessible for all. It's a site that students, especially those in need, use to fundraise their scholarships to universities.
Credit: Tengku Ahmad Syamil on Facebook
Skolafund aims to be the biggest financial platform in Asia by giving students access to alternative finance solutions, and they're well on their way: the site went online in 2015 and raised over USD5000 within just 4 months for 6 students!
Credit: 
Skolafund.com
on Facebook Imagine if all of these amazing young Muslims were in the same room together - it'd be world changing! The undeniable positive influence they carry is contagious, and they're a true inspiration to future generations to come. We celebrate and welcome more of their work and look forward to seeing those that they have inspired!
Tags:inspiration