Andaman Sea in the west, Gulf of Thailand in the east –Thailand is home to hundreds of beautiful islands! With many island paradises on offer, it's no wonder waves of tourist flock to Thailand each year. White sand beaches, clear waters and beautiful island landscapes – you'll definitely be coming back for more ?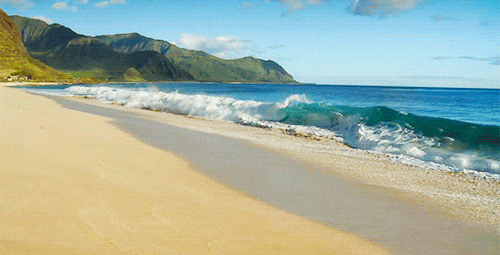 Credit:
Giphy
Besides the highly popular islands of Phuket, Koh Phi Phi and Koh Samui, there are still some lovely islands you are unawares of. Here are 8 stunning islands in Thailand you probably never knew about ?
1. Similan Islands
Heard of the Similan Islands? Located northwest of Phuket just 90 minutes away by speedboat, calling the group of 11 islands in the Mu Koh Similan National Parks beautiful is an understatement!
Credit: @bunowind on Instagram
Renowned for rich marine life, the Similan islands are blessed with clean unpolluted white beaches, crystal clear waters and vibrant coral reefs! Perfect conditions for snorkelling or scuba diving makes it no wonder that the National Geographic Society rank Similan as one of the top 10 diving spots in the world.
Credit: @cainedelacy on Instagram
Don't miss out on visiting Koh Huyong for a chance to observe nesting sea turtles, Koh Payan to see tunas and sharks near the reef and Koh Miang to explore underwater tunnels and caves.
Credit: @ste.schm on Instagram
As part of the park's efforts to preserve the islands' natural beauty, visitors are only allowed from November to April. Accommodation is limited to few bungalows and tents on Koh Miang regulated by park authorities. Alternatively, you could base yourself in nearby Khao Lak and explore the islands over a few day trips.
2. Koh Lipe
Often unknown to tourists is the island gem of Koh Lipe in the Andaman Sea. As Thailand's southern-most island far from the mainland, it's still relatively unscathed by tourism. Pearly white beaches, turquoise waters and friendly locals are just some of its allure!
Credit: @viagemeturismo on Instagram
What does one do on Koh Lipe you ask? Diving and snorkelling is the top activity on the island. There are many diving shops around offering trips to nearby reefs. You can also visit the island's many beaches! Pattaya Beach, largest and most popular, offers the usual fanfare of restaurants and stalls while Sunrise Beach with its shallow bay is great for swimming. To get away from crowds, the quiet and relaxed Sunset Beach is the place to be.
Credit: @giac0m0_1979 on Instagram
Apart from the beach and the sea, Koh Lipe's interior should also be explored! Trek around the island and immerse yourself in its lush vegetation and fauna. Visit the village of the Sea Gypsies or Chao Ley near Sunrise Beach to learn more about them and their way of life. Being increasingly developed, Koh Lipe offers plenty of accommodation to suit a range of budgets. Amenities such as ATMs and hospitals are also available ?
3. Koh Wua Talap
Koh Wua Talap with its magnificent limestone cliffs and caves offers a different island experience! In the shadow of nearby and highly popular Koh Samui, this lesser heard of island in the Gulf of Thailand should not be missed.
Credit: @_maedl_ on Instagram
Climb to the island's panoramic viewpoint 100m above sea level to enjoy splendid views of the surrounding limestone islands located within the Mu Koh Ang Thong National Park! Although the 500m trek is slightly steep, it takes less than hour to climb and is well worth it. Do remember to observe your surroundings as you never know when you might be graced by the presence of cute dusky leaf monkeys!
Credit: @tonmaithaiart on Instagram
You can also visit the nearby Lotus Cave to view stalactite & stalagmite formations ?
Credit: @hugomarcalo on Instagram
If trekking is not for you, then sit back and enjoy the island's beach and take a dip in the sea while enjoying food from the island's restaurant. Visitors to Koh Wua Talap often combine a trip to the island with a visit to neighbouring Koh Mae Koh. The island's main attraction is its breathtaking hidden emerald lake surrounded on all sides by limestone cliffs and connected to the sea by an underground tunnel ?
4. Koh Muk
Just 13km away from the Thai mainland, Koh Muk is an island with a unique character! Unlike other islands on this list, Koh Muk is home to a predominantly Muslim community of fishermen. Slowly gaining popularity amongst tourists, the island is beginning to be developed.
Credit: @addicted.to.the.beach on Instagram
The main attraction on the island is its Emerald Cave locally known as "Tham Morakot". Semi-submerged, the cave is ideal for tourists in longtail boats or kayakers to visit. We suggest the latter so you get to explore leisurely and be awed by the cave's stalactite formations.
Credit: @sparkling_hunter on Instagram
A visit to the cave would be incomplete without a stop at nearby Ao Sabai, a small uninhabited beach surrounded by high cliffs. Its seclusion makes the spot feel like a secret refuge ?
Credit: @plima on Instagram
If cave exploration does not appeal to you, Koh Muk also offers a few beaches such as the Hat Sivalai and Hat Lodung. Alternatively, you could also visit the nearby Koh Libong to see the wild population of endangered dugongs in their natural habitat!
5. Koh Kut
Touted as one of the most beautiful islands in Thailand, Koh Kut has everything you could wish for in an island paradise – soft powdery white beaches, clear waters and tranquillity in the air.
Credit: @byjoellepaquette on Instagram
Off the east coast of Cambodia in the Gulf of Thailand, the island's remote location means most tourists are put off by its distance from the mainland. But if you would have to pick one island getaway out of this list, we'd recommend Koh Kut!
Credit: @whitewitch.love on Instagram
Arriving in Koh Kut, one could feel an almost imperceptible easing of the pace of life. With very few tourists, no public transport available and poor 3G connection would feel like an escape from civilisation – perfect for your relaxing holiday.
Credit: @laura.amacias on Instagram
Apart from enjoying Koh Kut's many beaches, the interior of the island that is covered by dense jungle can also be explored. Just a short trek into the seemingly impenetrable foliage and you'll encounter the Khlong Chao Waterfalls – a guaranteed afternoon of fun! The much smaller and quieter Klong Yai Ki Waterfalls in the North-West of the island is also worth a visit.
6. Koh Kradan
Within close proximity of Koh Muk, Koh Kradan struts a fine balance of laidback relaxation and engaging activities. The island offers a serene environment for one to unwind with its beautiful scenery and clear waters.
Credit: The Seven Seas Resorts on Facebook
Visit Koh Kradan beach, a 2km long narrow stretch of sand. Voted by The Guardian readers as the 9
th
best beach in the world in 2016, the beach should not be missed! Other beach options include Ao Niang beach or the small Ao Pai beach to the north of the island.
Credit: @aof_saruntanee on Instagram
Make sure to end each day with a visit to Chonglom Bay. Commonly referred to as Sunset Beach, the view of the sun dipping over the horizon from the nearby hill is breath-taking!
Credit: @nannie_tanya on Instagram
If you've had enough of lazing on the beaches, Koh Kradan has numerous snorkelling sites near shore. As there is no fishing community on the island, marine life is abundant in the sea surrounding the island. Corals and schools of fishes are easily found in the waters along the southeastern edge of the island up north till Koh Kradan beach. Tourists also commonly rent kayaks to explore the island's coastline! It takes just 3 hours to circle the island.
7. Koh Phra Thong
Koh Phra Thong offers the most unique landscape amongst Thailand's islands. The island's beauty lies in the range of scenery available from mangroves to the east of the island to a savannah interior  ?
Credit: @tor_vittapol on Instagram
There are no lush jungles or mountainous terrain on the island's interior. Instead the largely flat interior with its sand dunes, long grasses and peeling trees have led many to draw comparisons to the Savannahs of Africa!
Credit:
@anywheremag
on Instagram
The island's commitment to ecological preservation has meant minimal development leaving large strips of untouched tan beaches along the coast as well as endless mangroves. To accommodate tourists and reduce the carbon footprint, many homestay programmes are offered to visitors.
Credit: @samingwho on Instagram
Koh Phra Thong is also a hotbed of biodiversity. In the interior savannah-like areas sand lizards and kingfishers can be found. This is also a great place for birdwatching as over a 100 species have been spotted in the area including rare glimpses of the endangered stork. Along the beaches, sea turtles are also known to swim ashore at night to nest their eggs! How cool is that? ?
8. Koh Lao Liang
The tiny twin islands of Koh Lao Liang are dominated by beautiful limestone cliffs that go as high as 80m. These immense natural wonders are not only for viewing but is one of the main draws of the island!
Credit: @hzeer42 on Instagram
Rock climbing enthusiasts are beginning to explore the various routes available along the cliffs. Although a few bolted ones have been put in place, there are loads of potential for undiscovered routes. For a more varied climbing experience, visitors can also climb rock outcrops over the sea. This allows them to climb unroped as a fall would only mean a refreshing dip in the waters below ?
Credit:
@pierrejaeger
on Instagram
Although climbing is the main activity on the island, its pristine beaches are also great for swimming and basking in the sun. The calm waters and corals around the islands also afford opportunities to snorkel and kayak. Accommodation on the island involves 2-room tents that can be rented. These well-furnished tents come with the use of snorkels and kayaks. Beautiful islands are abundant in Thailand! Next time you plan on a Thai island getaway, why not give one of the islands on this list a try? If you think we've missed out on any other islands, let us know in the comments below ☺️
Tags:thailand